Giuseppe "The Godfather" DeNatale
Back on November 30th, (2007) we posted the article below about IKF Pro Muay Thai World Champion Giuseppe DeNatale and the car accident he was in that almost took his life. We posted this article again to bring those who missed it up to date, and we have followed the first information piece with an article written by Shamona Harnett of the Winnipeg Free Press. We have copied the article word for word because we wanted to keep it as a part of our site, not knowing if it would be removed soon from the Winnipeg Free Press site. Shamona did a great job on the article and we thank her for her interest in "The Godfather!" She can be reached by e-mail at Shamona.Harnett@freepress.mb.ca
---
FRIDAY, NOVEMBER 30th, 2007, AT 8:00 PM, PT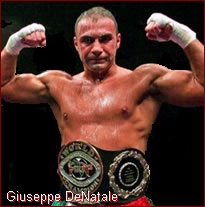 IKF
CHAMP RECOVERING
Earlier this week we received notice that IKF World Muay Thai Champion Giuseppe DeNatale of Winnipeg, Manitoba, Canada broke his back on November 13 in a bad car accident. The accident almost cost him his life. He has 3 broken vertebrae and we are awaiting more updates on his condition and as we receive them we will keep you all posted as to his condition.
"He's going to be all right but he broke three vertebrae in his back. ... Knowing he is going to make a 100 per cent recovery takes some of the sting out of the news." said training partner Joe Doerksen on November 16th.
Giuseppe is the current IKF Heavyweight Muay Thai Champion. He has defeated fighters such as Carter Williams & Dewey Cooper in K-1 and has been training trains Joe Doerksen, Chris Fontaine, Rodrigo Munduruca in Winnipeg, Canada.
DeNatale won his IKF World title on April 15th, 2006 in Winnipeg, Manitoba, Canada when he stopped Duncan Airlie James of Glasgow, Scotland at 1:53 of the third round.
Everyone here at the IKF are keeping you in our prayers Champ and we pray for a safe and speedy recovery.
---
MONDAY, DECEMBER 17th, 2007
Kickboxer Nearly Killed,
But He Won't Stop Believing
By Shamona Harnett - Winnipeg Free Press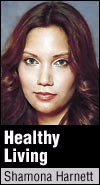 WHEN World Heavyweight Muay Thai kickboxing Champion Giuseppe DeNatale used to step into the ring, the ominous, gun-celebrating opening song from The Sopranos -- Woke Up This Morning -- would rip through the public address system, mingling with the roar of the crowd.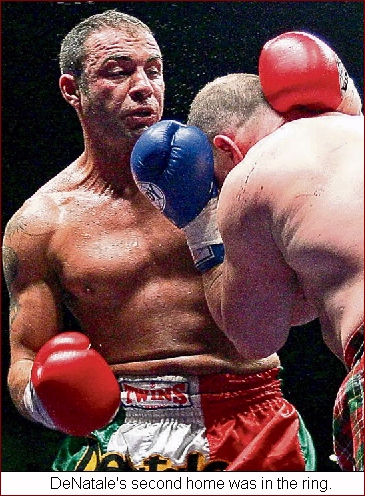 On Nov. 13, the hulky Winnipeg boxer was listening to another tune from his favourite Mob-themed television show when his car crashed and rolled, nearly killing him.
"It was Don't Stop Believing," says DeNatale. Clearly spooked by the coincidence, he holds up his iPod -- still in one piece after the accident -- and searches for the song by 1980s hair band Journey. He finds it and listens to its recognizable opening chords through the mp3 player's tiny earphones.
The millions who watched The Sopranos series finale in June heard the uplifting rock anthem during the now-infamous diner scene. In those last minutes of the show, viewers wondered if fictional mob boss Tony Soprano would be whacked. Before they could find out, the screen went black while the Journey song played.
DeNatale, 34, now nursing a broken back since his crash, sees some eerie parallels with his own life.
The Boeing employee -- known in the Thai boxing world as "The Godfather" -- pulled his SUV into the lot of the Murray Park Road aerospace manufacturing plant just before 6:30 a.m. when the accident happened.
"I'm listening to this song; I got it cranked. I'm whipping to work. It's twenty after six and this woman pulls out in front of me," he says.
He says he had two choices: To slam on his brakes and "cut through (the other driver's) car like a hot knife through butter," or to swerve around the car. DeNatale chose the latter, clipping the front end of the car.
His truck ended up rolling about 50 metres. When it landed on its wheels, DeNatale climbed through the sunroof and wandered over to the side of the road in a daze, "swearing like a drunken sailor."
DeNatale says the other driver walked away with only minor injuries.
DeNatale, the owner of the Canadian Kickboxing and Muay Thai Centre, doesn't remember what happened after the roll, but has heard stories from paramedics and other witnesses at the scene.
"As soon as the accident hit, everything went quiet and everything went slow motion for me -- ultra slow motion," DeNatale says during an interview in his cosy St. James home, which smells of incense.
The Muay Thai kickboxer looks different from the snarling tough guy he is in the ring, a place where his muscular arms and legs operate as powerful, accurate pistons when deployed against his opponent.
Muay Thai is a type of kickboxing indigenous to Thailand and used by that country's military. The more moderate brand of Muay Thai seen in North America permits strikes with fists, shins, feet and knees.
DeNatale's love for the sport started when he was kid growing up in the west end, watching Bruce Lee and Chuck Norris films. His father, an Italian immigrant and construction worker, enrolled him in karate classes at age eight. Just over a decade ago, DeNatale turned to kickboxing -- a sport where just about anything goes.
Before his accident, DeNatale spent several hours a week training and teaching at his kickboxing school. The sport was his priority.
Now, after the accident and a nine-day hospital stay, he realizes what really matters.
"A lot of people say that your life flashes before your eyes when you're about to die. I think that's complete bull----," he says. "What flashed before my eyes were the important things in life. I didn't think about my work. I didn't think about my gym. I didn't think about kickboxing. At the end of the day, all I thought about were my kids."
He has two, Anthony, 14, and Ariel, 5.
Today, DeNatale walks with a cane and wears a body brace. The accessories seem out of place on the six-foot, 220-pound man. But doctors say they are necessary to heal the three crushed vertebrae in his back. He takes morphine to tame his pain.
He constantly replays in his mind the crash and some of his moments in the ring.
"After the accident started, I heard nothing. Just complete silence. It happens when I'm in the ring sometimes too... when you're at the start of a fight you can hear the fans," says DeNatale, his voice lowered.
"But when you're in the midst of a heated exchange... and you hit him as hard as you can and he's hitting you as hard as he can, you don't hear anything else."
It's understandable why DeNatale would reminisce about his fighting days. Doctors doubt he will be able to step into the ring again. But a defiant DeNatale is hopeful he can recover.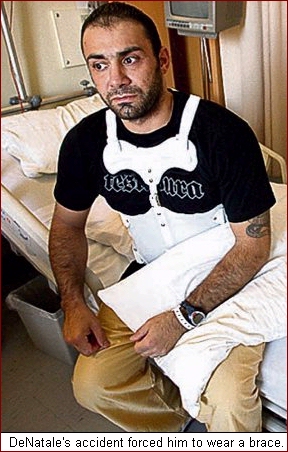 So is his younger brother, Augustino, also a Thai fighter.
"He's like a cat with nine lives. He's on number three, I think now. He's been through a lot of stuff. He's really been lucky, I guess," says Augustino.
He explains that DeNatale beat the odds before.
Three years ago, the boxer was stricken with a sudden case of Guillaume Barre Syndrome (GBS), a rare and mysterious neurological condition that left him paralyzed and unable to breathe.
DeNatale guesses that a bout of chicken pox, combined with a hepatitis vaccination shortly after, wrecked his immune system, making him ripe for GBS.
"He couldn't really control his hands or his legs or anything. He was losing a lot of weight in the hospital."
DeNatale can't forget the ordeal.
"I was in so much pain... I had no strength. I couldn't stand up. High fever. It felt like my brain was going to squeeze through my ears," he says.
Augustino says that his brother was a shell of his former self, down more than 40 pounds. "At that point, people thought he would never be able to fight again. Doctors were pretty happy if he could just be a normal person," recalls Augustino. "But he started walking and all of a sudden he started training and training and training."
Eventually DeNatale took home the North American title. In April 2006, he won the world title in his sport.
DeNatale says he's content knowing he achieved those goals. If he has to give up his fighting career, he'll be happy to use the free time to spend with his kids.
What he doesn't want to give up is teaching at his Clifton Street kickboxing school. He enjoys coaching the 80 or so members who include a few pros, but most are everyday people looking to get into shape.
On his living room coffee table are several "get well" cards. "These are all from my students. So are all the flowers you see," says DeNatale. "My students look up to me and I want to be there for them."
His brother and a buddy will run the school until he gets better, he hopes within the next year.
Jordan Cieciwa, one of DeNatale's trainers, is certain that the rough-and-tumble kickboxer will get back to his old self.
"Whatever he decides he's going to do, he'll do it," says Cieciwa, who trained DeNatale shortly after he recovered from GBS. "I know that Giuseppe has a love for his sport. That's why he teaches. That counts for a lot."
Meanwhile, DeNatale, who was raised Catholic, is forever changed. His faith is stronger that ever.
"I should be dead," says DeNatale, who dawns a tattoo on his left arm that reads, "Forgive me father for I have sinned." He says the words are truthful.
"I'm grateful to God that I'm still alive. Believe me. It wasn't my time to go yet. The end of the story is that God chose me to stay around a little longer."




Great article Shamona.
And Champ, we will keep you in our prayers!
No matter what happens in your future, all of us here at the IKF are just thankful you are still with us, in or out of the ring!
Sincerely,
Steve Fossum, IKF President
---



A Look Back At "Some" Of DeNatale's Accomplishments With The IKF...






NEWS POSTED ON MONDAY, February 14th, 2000, AT 2:45 PM

Canada
"ROCKS THE HOUSE!"
Honeymoon Armageddon Fighter DeNatale Claims IKF Title!
Winnipeg's Giuseppe DeNatale of Sik Tai Muay Thai (6 wins, 5 loses with 3 KO's) met up against Surrey, British Columbia Canada's Ryan Graham. (14 wins, 4 loses with 1 KO) The bout was for the vacant IKF Amateur Muay Thai Canadian Heavyweight Title. From the opening bell, DeNatale came on strong and was a much more improved technical fighter with more power than we've seen from his previous IKF bouts. DeNatale seemed to score at will with leg kicks, knees and strong hand combinations in the opening two rounds putting him ahead quick on all the judges cards.
When round 3 started, he opened the throttle wide up scoring on combination after combination until he dropped Graham to the canvas with a strong right hand at the 1 minute mark of the 3rd round. Shaken, Graham stood up as IKF Muay Thai Referee Fred Fitzgerald finished the 8 count. DeNatale wasted little time in moving in for the kill as he unloaded several more combinations on Graham which ended when DeNatale landed a head kick on Graham that dropped him at the 1:33 mark of the round. As Fitzgerald counted, he saw it was obvious that Graham was out on his feet and he stopped th bout at 1:44 of the 3rd round. DeNatale was awarded the IKF Amateur Muay Thai Canadian Heavyweight Title.
DeNatale Voluntarily vacated his title in 2000 to turn Pro and fight in the K-1 USA.
---
5-11-2000
MUAYTHAI MADNESS In Milwaukee!!! IKF Milwaukee, Wisconsin, USA
Mens Heavyweight
Guiseppe "The Godfather" Denatale (Canada) defeated "Bad" Brad Fowler (USA) by TKO at 1:11 of Round 5.
---
August, 2000
K-1 USA
Las Vegas, Nevada, USA
Undercard Bout: Giuseppe DeNatale (Former IKF Canadian Amateur MuayThai Champion.) of Canada defeated Dewey Cooper.
---
September 29th, 2001
HEAVYWEIGHT GLADIATORS
Milwaukee, Wisconsin, USA
Former IKF Amateur Canadian Champion Giuseppe Denatale added another pro win to his record with a 2nd round stop of Kent Hensley who was making his pro debut. A special thank you to Hensley who was a late fill-in of another fighter who pulled out just weeks before the event. Denatale stopped Hensley with a strong body kick at 51 seconds into round 2 making a strong bid for his spot in the K-1 USA Tournament as well.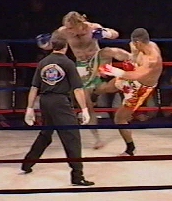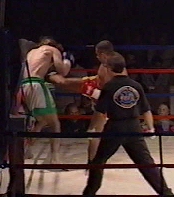 IKF Heavyweight
Giuseppe DeNatale'
of Winnipeg, Manitoba Canada lands a low kick on Kent Hensley of Atlanta, Georgia, USA
Then follows with a body kick for the TKO Win.
---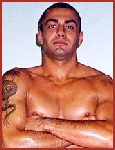 December 31st, 2001
The Best Of The Best In The IKF For 2001! The Announcement of the 2001 IKF Hall of Fame Inductees!
2001 IKF Pro Fighters Of The Year
Pro MuayThai Rules
Giuseppe DeNatale (Right) of Winnipeg, Manitoba, Canada. On July 20th, 2001, in a Prestige Bout DeNatale defeated Jermaine Bennett. On September 27th, 2001 in Milwaukee, Wisconsin, USA he defeated Kent Hensley of Atlanta, Georgia, USA by TKO in the second round.
DeNatale shared the award with Jason Johnson of Milwaukee, Wisconsin, USA and Matt Skelton of Bedford, England.
---
Posted on February 11th, 2002
IKF Event and K-1 North American Qualifier in Milwaukee Wisconsin, USA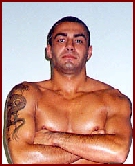 Giuseppe DeNatale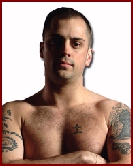 Mark Miller
In the final match of the opening round, former IKF Canadian National Amateur Champion Giuseppe "The Godfather" DeNatale (Left, 218) of Winnipeg, Manitoba, Canada was on a mission. For this being a North American Qualifier event, DeNatale was the lone wolf of them all. He was the only fighter not from the USA in the tournament. In the bout he faced 28 year old Mark "The Shark" Miller. (Right) of Pittsburgh, Pennsylvania, USA. Last time we saw Miller he was weighing about 209 lbs. He weighed in Friday night at 220 and looked to seek some redemption after losing to Lane Collyer at the same venue late last year. However, DeNatale had thoughts of redemption as well. After a brilliant Amateur career he's had a couple of rough bouts in his pro career. Many questioned his ability in the much larger Super Heavyweight divisions of K-1 claiming he was too small for the bigger guys. Like Miller, we last saw DeNatale fight at 209 lbs. in Milwaukee last year as well. However, unlike Miller, DeNatale defeated Kent Hensley (Not Hasley, who's in this event) of Atlanta, Georgia, USA by TKO with a body kick.
On Saturday night, it would be DeNatale's kicks that got to Miller as well. Weighing 218 now, DeNatale dropped Miller about a minute into the opening round with a head kick and later exploding with a left - right combination that put Miller down for good at 2:07 of the first. DeNatale looked focused and determined and had good strength. He would now go to round 2 of the Tournament well rested, but the road to Las Vegas was going to get a lot harder before it got easier, if at all... In the middle of that road to the title stood a 250 lb Giant who had appeared sharp, quick, powerful and outright unstoppable named Williams. At only 220 lbs, he had some work ahead...
DeNatale advances by 1st Round TKO Win.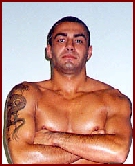 Giuseppe DeNatale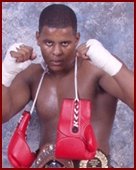 Carter Williams
DeNATALE Vs WILLIAMS
When DeNatale entered the ring against Williams, we wondered what he saw across the way. A 250 lb tree in the middle of his road that lead to a date with Hasley in the final. He would need to move that tree or cut it down to make that date and Williams had no plans to allow such a date to happen. Hasley was his as far as Williams was concerned and DeNatale was just another pebble in the road. It was David Vs Goliath and we've all seen this before. However, would DeNatale's David be able to defeat the giant in this story? It didn't appear likely.
Round 1: Williams seemed to be playin with a toy. The size difference was clear to everyone, 30 lbs of muscle more. Williams cut DeNatale over his left eye with a strong punch that forced a pause in the bout. The ringside physician choose to allow him to continue. It was at this moment that everyone stopped looking at DeNatale as a contender, but more so as a survivor. Would he survive Williams or would he go down? DeNatale stayed poised and focused and somehow he survived round 1.
Round 2: Williams came out the same, sharp, quick and strong. He looked stronger than ever and as fresh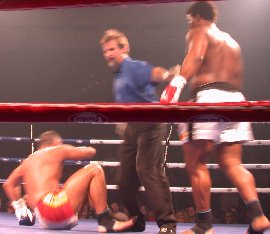 as could be. Then, all of a sudden while Denalate had been avoiding the big man, he struck back with a strong left leg kick to Williams right leg...The tree crumbled in the corner. WOW! What happened?! The crowd was both in shock but on their feet!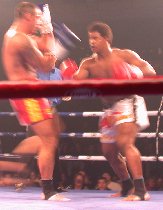 Could Goliath beat the Giant? As referee Al Wichers started the count, Williams stood at 6, and was back in the fight. He came after DeNatale and it appeared as if DeNatale was back to surviving again. Williams attacked with speed and quickness, punches landing flush on DeNatale but he wouldn't show pain, wouldn't go down.
Suddenly DeNatale hit Williams and knocked him back into the ropes. Williams slid down the ropes and appeared to fall again. Referee Wichers started another count but he was interrupted by the K-1 officials that told him that this was Williams 2nd knockdown. What did that mean? According to the K-1 rules, if a fighter suffers 2 knockdowns in 1 round, the bout is over and he loses. So be it, the Giant had fallen! David would survive and his date with Hasley was set!
WOW! What a finish! Where, how did DeNatale get the strength, the determination, the desire to survive the Giant?! One thing is sure, the final would feature 2 great fighters with not only experience, but the hearts of Lions! The final was more to these two that just another bout. As we say in the IKF..."Bring It ON!"
DeNatale Advances To The Final
By 2 knockdown Rule Win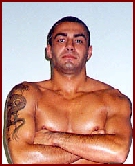 Giuseppe DeNatale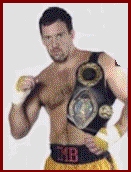 Kurt Hasley
Everyone in the promoting game knows that the fans will remember the last bout of your event the best. If it was a bad fight, fans may hesitate to come back next time. However, if it's a good fight, they are more likely to return. Better yet, if it's a GREAT Fight, you better start printing tickets.
Such was the case for Promoter Scott Joffe and his final bout of the night. This will go down as one of the greatest bouts ever.
Giuseppe DeNatale was once again up against another Giant. DeNatale stood about 5'11 and weighed 220 lbs. This time he faced Kurt Hasley at 6'3" tall and 240 lbs. Hasley was the second largest fighter in the Tournament. He had a much longer rest than DeNatale and worse yet, DeNatale had a bad cut over his eye to worry about. The fill-in bout didn't help DeNatale any either when Harminson stopped Zuninga as quick as he did. This left DeNatale with even less time then hoped for. The bottom line... Hasley was ready and DeNatale was shufflin to get ready. Forced to go, his cornerman (Robert Coquete) had to do what he could as quick as he could on the cut he suffered from Williams in the last bout. Forced into position, he was ready to go. Lets cut to the action.
Round 1: This was the Ultimate of Gladiator Rounds! These two acted as if this was there first fight of the night! Toe to Toe, leather to leather these two went at it like true Gladiators! Where did they get their energy? Where did they find it? It was clear that the heart and mind will always be stronger than than muscle. Just ask Hasley and DeNatale! WOW! What an opening round! These two weren't holding back at all.
Round 2: Hasley appeared to press the fight more now. DeNatale appeared to feel the strain. He took several straight shots while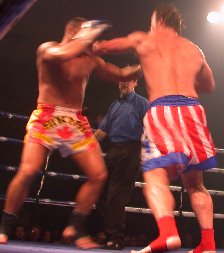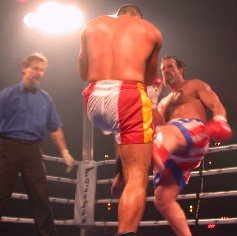 against the ropes that opened his cut above his eye that Williams had given him and blood was running down his face. As a fighting Gladiator though he hung tough. Then, out of nowhere, ANOTHER Surge appeared from deep inside DeNatale! He fired back against Hasley with several strong shots of his own! WOW! A Right, a Left and Hasley was Stunned! Then it happened, Hasley, the other Great Giant of the Tournament fell.
Angered he pouded the canvas and got back up. Referee Al Wichers let it continue. The fans were on their feet and going wild! The two met toe to toe again, exchanging all they had left, but in the end, it was DeNatale's combinations that proved to be too much for Hasley as he couldn't keep his feet. David had beaten Goliath not once, but twice in one night.
Referee Al Wichers stopped it at 2:15 of the second round! WOW! What a finish! Hasley and DeNatale made it a TRUE Championship ending! They both re-defined the word Gladiator and gave their all! What Heart! What Desire! This was more than just a fight to both of them, this was a ticket to "THE SHOW!"
After the fight DeNatale had only 1 thing to say, "You don't know how bad I wanted to go to Vegas." the new Champ said. It could have been anyone's night tonight, but this night belonged to DeNatale. It was his night and his trophy to win. He now has time to relax a bit and await his next moment of glory. The North American K-1 Championship Event will be waiting for him and 7 others in May. Is it possible he can top this performance? Hey, after the Gladiator we saw Saturday night, the heart, the desire, it's true in the fight game... Anything is possible! Good Luck Giuseppe! We'll be watching ya!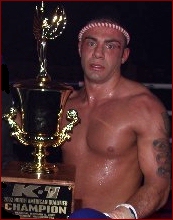 ---
Giuseppe "The Godfather" DeNatale
The Winning Of His IKF World Title


NEWS POSTED ON SUNDAY, April 16th, 2006, AT 2:00 AM, PT



The Godfather Returns!
DeNatale Stops James To Capture IKF World Title!
Winnipeg, Manitoba, Canada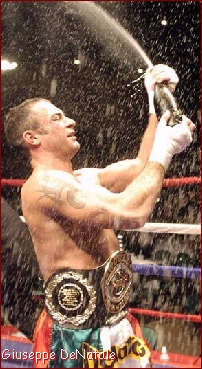 It's one thing to win a World Title, but to do in in your home town in front of over 3,500 screaming fight fans makes it all that much more special. Last night in Winnipeg, Manitoba, Canada, Giuseppe "The Godfather" DeNatale made his return to the ring a memorable one. DeNatale (15-3/12) took the Lion out of "The Lion Rampant" Duncan Airlie James. of Glasgow, Scotland (30-15-2/5) to win the vacant Pro IKF Muay Thai Heavyweight World Title.
In round 1, both started slow, looking for the weaknesses of the other, yet neither showed their game plan. In round two, we saw much of the same yet DeNatale started to press the action a little more. Them. after winning 10-9 on all 3 judges scorecards in rounds one and two, DeNatale brought the "Godfather" back to the ring in round three as he shot James down twice in the third round with his fire power. Then, at 1:53 of that third round, DeNatale dropped James for the good in the third and final time forcing referee Al Wichgers to stop the bout, giving DeNatale his long awaited World Title!
DeNatale was lifted off his feet by trainer Duke Roufus and later in a show of respect, by James too. When the World Title belt was placed around his waist DeNatale was given a bottle of champagne in which he shook up and sprayed the crowd in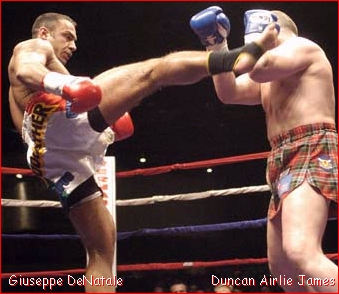 jubilation. Both DeNatale and James' paid a small price though. In round three the two clashed shins so hard they cut each other open drawing blood. The damage of the impact could have easily made a difference for both in round four if DeNatale didn't finish the bout in round 3.
"It just isn't meant to be" said a disappointed Duncan James about his second try at the IKF World Title. James has won 6 World Titles in the top sanctioning bodies, but it has been the IKF title he has not added to his trophy case. James looked much stronger then when we had seen him before. "It just hasn't sunk in yet" said the excited DeNatale.
DeNatale made the most of his time away from the ring. He was more composed and seemed to pick and land the cleaner, more powerful shots. James had plenty of power though, as noted in the shin clash explained above and in catching DeNatale with a hook or two.
This was the second IKF Title DeNatale has won and the second James has lost. James had another shot at the IKF World Title back on August 16th, 1998 in St. Helens, England where he lost to former IKF World Champion Chris Wright. DeNatale's won his other IKF Title on February 10th, 2000, in Winnipeg, Manitoba, Canada by TKO at 1:33 of the 3rd round over Ryan Graham when he landed a head kick on Graham that dropped him. The win gave the "Godfather" the vacant IKF Amateur Canadian Heavyweight Title.
Congratulations to our new IKF World Champion, Giuseppe "The Godfather" DeNatale.
For additional information, please visit www.gladiatorsfights.com or call (204) 772-2599.




---
Titles & Accomplishments

Gladiators Kickboxing Heavyweight Champion
1998 WKA Canadian Golden Gloves Champion
1998 IFMA Canadian Heavyweight Champion
2000 IKF Canadian Amateur Heavyweight Champion
2002 Heavyweight Gladiators "King of the Gladiators I" Champion/Gold Medalist
2002 K-1 Milwaukee Grand Prix Champion
2003 ISKA North American Heavyweight Kickboxing Champion
2004 ISKA North American Heavyweight Muaythai Champion
2006 IKF World Heavyweight Muaythai Champion
---
Kickboxing Gladiators Colosseum Record

9.29.01 vs. Kent Hensly Won 2 rd KO
2.9.02 vs. Mark Miller Won 1 rd TKO
2.9.02 vs. Carter Williams Won 2 rd TKO
2.9.02 vs. Kurt Hasley Won 2 rd TKO
10.19.02 vs. Kurt Hasley Won 4 rd KO
2.8.03 vs. Horace Craft Won 3 rd TKO
8.29.03 vs. Dan Lucas Won 1 rd KO
2.13.04 vs. John James Won 3 rd KO
11.12.05 vs. Kelly Leo Won 2 rd KO
4.15.06 vs. Duncan Airlie James Won 3 rd TKO
9.23.06 vs. Raul Romero Won by 3 rd TKO
DeNatale's Website: www.WinnipegKickboxing.com
---