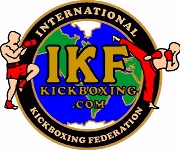 IKF PROUDLY ENDORSES


Namman Muay Liniment - Competitive Ace
Competitive Ace is the exclusive dealer for the Muay Thai liniment, Namman Muay.

Namman Muay Liniment was first introduced to the International Kickboxing Federation at the 2010 IKF World Classic Tournament. 270 competitors from around the world competed for the prize of becoming an IKF World Classic Champion on this, the 12th year of the event.
As part of the event, Namman Muay Liniment was set up as a booth for competitors, trainers and fans to visit. The response was overwhelming and the success of the product speaks for itself. Upon our review, the IKF has officially endorsed Namman Muay Liniment for use on *All IKF Sanctioned events. Namman Muay liniment is also great for training as well, which is actually where it actually gets used the most in all fight sports of Boxing, Kickboxing, Muay Thai and MMA. The product is also widely used in all other sports as well from soccer to long distance running. Here's a little more about the product below.
(*) Providing the State Boxing & Athletic Commission allows the use of oils or liniment during competition.
Namman Muay Liniment is used as a warming agent to help prepare ones body for the challenge about to come, be it in competition or in training & preparation. A main ingredient is known to stimulate blood circulation and reduce inflammation. This coupled with a slight warming sensation and its invigorating natural mint scent, serves to put anyone in the zone to perform better and to aid in injury prevention and recovery. The scent is believed to open nasal passages; increasing oxygen intake while improving alertness.
Namman Muay liniment has a light, smooth glide which penetrates quickly into the skin. Great for covering the entire body and for massaging in. Generally used before and during strenuous activity, but great for therapy also.

---



PRESS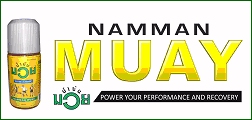 Muay Thai Staple
Finally Makes It To
North America...
And The IKF World Classic!
From Thailand... home of Muay Thai and some of the most extreme warriors in the world comes Namman Muay, aka Muay Thai Boxing Liniment, Thai Liniment, etc...
Generations of fighters have relied on this one product to prevent injuries and eliminate the pain that they endure from a sport who's main purpose is to use one's body to inflict punishment onto your opponent. With all natural active ingredients derived from plants of the region, Namman Muay continues to serve extreme athletes and pain suffers well from all walks of life. Now you will have what has helped the Thai people become some of the most feared fighters in the world. Thanks to

Competitive Ace - www.competitiveace.com - Namman Muay's complete product line from liniment, cream, and a brand new spray formula will be readily available in North America in August 2010. Exclusively from the manufacturer in Thailand, Competitive Ace will bring the authentic Muay Thai Liniment and product line to North America in varying sizes.
What is Namman Muay
Namman Muay is an herbal liniment made from quality regional botanicals. Its main active ingredients are derived from plants of the region and are known to reduce inflammation and aid in blood circulation. The special formulation produces a product, which has a light, smooth glide upon application; it is formulated to be fast absorbing. Unlike other products, Namman Muay penetrates the body quickly and does not leave a greasy nor sticky feeling. Some products can leave you pasty for hours. In addition, the wintergreen scent also has its followers. A side benefit is that the scent is believed to open nasal passages helping to improve oxygen intake while increasing alertness.
Namman Muay serves as a warming agent to loosen and prepare the body for what's the punishment ahead and as a recovery aid. With any repetitive action coupled with force, injuries are common from contracted muscles, joints, and ligaments which block proper blood flow and oxygenation. Namman Muay helps power your performance and recovery.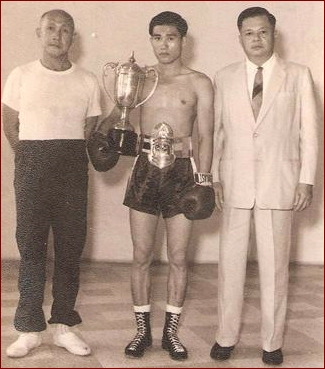 Background
Still only made in Thailand, a country famous for its Muay Thai and their body oils. The current CEO is Thai and a direct descended of the founders who officially formulated it,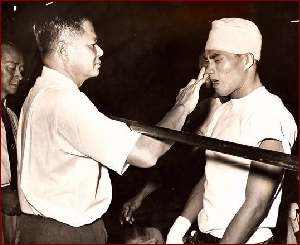 he does have a PhD in Pharmaceuticals from USC. His father who lead the company before him was also a boxing coach and trained Thailand's first world boxing champion; 3-time flyweight Champion Pone Kingpetc. (Shown in left photo, 3-time Flyweight Champion Pone Kingpetch and his trainer Mr. Thongtos Intratat (pevious Namman Muay owner)
Throughout Thailand, Namman Muay is clearly visible in every Muay Thai gym / camp and at every fight promotion; its an integral part of their daily lives. Fighter's entire bodies are rubbed with Namman Muay after pores are open from a slight warm-up such as jumping rope. This is done at workouts and as a pre-fight procedure and regularly done afterwards as well. Stadiums in Thailand house massaging areas where fighters will have Namman Muay applied.
*A recent study indicates that regular use of herbal liniment use is an effective tool to significantly reduce pain, joint tenderness, joint swelling, mobility restriction and early morning joint stiffness. Not surprisingly, Racehorses are also known to have liniment applied to on a regular basis. As we all know, injuries can be more than the difference between comfort and discomfort, it can be the difference between successful and consistent training and winning!
What Now?
Previously only available sporadically through smuggled product from Thailand, the product will now officially enter North America with FDA registration and a translated label. The Official Brand Rep, Competitive Ace is promising consistent inventory levels, delivery in days versus weeks without the ridicules shipping fees customers have had to endure from Thailand, and fresh product with a long shelf-life maintained in adequate temperature conditions. Competitive Ace sites that many unofficial resellers selling expired product with several year old discontinued packaging. Besides having a shelf life, Namman Muay should be maintained in the appropriate temperature range.
Competitive Ace will be looking to distribute Namman Muay through a network of top martial art gyms and camps. Students will soon have the comfort of purchasing their Namman Muay supplies through their local gym / school. In cases where Namman Muay is not available in your gym, purchases will also be available online at www.CompetitiveAce.com
Customers familiar with Namman Muay will now enjoy a translated label with a product facts panel on the rear. Competitive Ace is promising delivery within days versus weeks and with product maintained within acceptable temperature ranges and with a long shelf life. In the past, customers were exposed to ordering from Asia where Ocean Freight could take 30 days, not knowing the conditions the product was warehoused nor shipped in, or if the product had expired.
Competitive Ace will have a booth at this years IKF World Classic in Orlando, Florida. Make sure to stop by their booth and visit them as we are sure they will have a long relationship with the IKF!
Check out their website at




Competitive Ace - www.competitiveace.com
---
---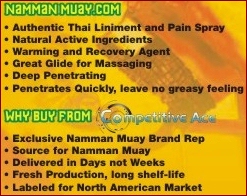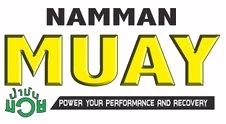 ---