Dr. James Corbett
Valdosta, Georgia, USA






ISCF& IKF
North American Representative And
Certified Professional & Amateur Judge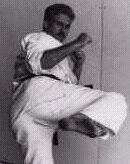 Dr. Corbetts, Web Page
www.valdostamac.com

To E-Mail Dr. Corbett, Click
sensei@valdostamac.com






4th Degree Black Belt - Shin Nagare Karate


Brown Belt - Shin Shin Jujitsu


1st Degree Black Belt - (Ed Parker's) Kenpo Karate


Doctor of Education


Trainer of amateur and professional competitors who have succeeded in kickboxing, no hold barred events, and toughman contests.






Corbett is the Trainer of two time ISCF Champion & Reality Super Fighting Super Heavyweight World Champion, Jonathan Weizorek.

On June 24th, 2000 in Valdosta, Georgia, USA when Weizorek defeated previous ISCF Champion, J. J. Wilson when he applied a rear naked choke, forcing the referee to stop the match when Wilson was unable to tap out. This win earned Weizorek the ISCF Pro Super Heavyweight East Coast US Regional Title.
On April 12th, 2002 in Atlanta, Georgia, USA, Weizorek defeated John Dixon at 2:36 of the second round by tapout to win the ISCF Pro USA *Super Heavyweight Title.

*This was previously the SUPER Heavyweight title under the original ISCF Weightclasses. However, now it is the "Heavyweight" division which Weizorek now holds since the cut off was moved to 265 lbs.

Weizorek defeated Dan "The Beast" Severn for the Reality Super Fighting title.
BACK TO IKF PROFILE PAGE CLICK HERE

IKF HOME - NEWS - EVENTS - RANKINGS - SANCTIONING - JOIN IKF - RULES & REGULATIONS - MERCHANDISE - ISCF