Owner and Chief Instructor of
Finney's Championship
Kickboxing and Martial Arts
626 Crestwood Plaza
Crestwood, MO, 63126
(314) 351-5226
INSTRUCTING
Kickboxing, MMA, Submission Fighting and Boxing.
www.FinneysKickboxing.com
www.ShamrockPromotionsLLC.com
finneys@finneyskickboxing.com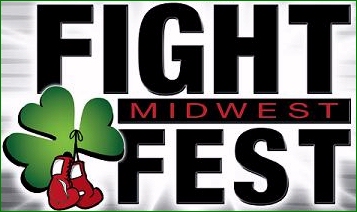 Jesse Finney is a single successful entrepreneur, businessman, athlete, fight promoter, trainer and real estate investor, just to name a few of his current endeavors. Some of his professional accomplishments are being the CEO of Finney's Mixed Martial Arts, Kickboxing and Boxing, CEO of Shamrock Promotions, and President of JKR Real Estate Investments Group.
His real estate group is involved in buying and selling both commercial and residential properties along with having an interest in (2) successful St. Louis restaurants. He partners this business with his long time friend Kim Golemb. He has strong family ties and stays very connected with his family by keeping everyone involved in his growing adventures. His mother, Tracey Biggs is a Real Estate Broker that he works closely with on his real estate transactions. In addition, he has hired his step mother as his personal assistant who supports all the activities associated with his companies.
Historically, Jesse began his athletic career as a fighter when he was 9 years old. His step dad, Robert Biggs, who as a three time World Champion Kickboxer, worked with him as his mentor. His dad, Hoby Finney, coached him in baseball most of his adolescent years. By the time he reached high school he established a name for himself by excelling at basketball, football and baseball. He continued on to college with a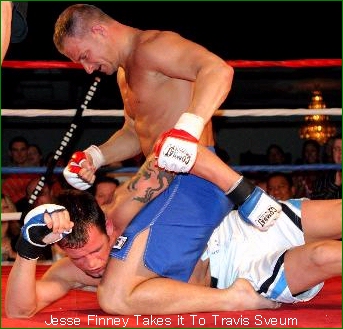 baseball scholarship. He recognizes that most of his success is credited to the support of his parents and siblings of 3 brothers and a sister who genuinely idolize him in his success and as a great brother. They all love to come to the fighting events and watch all the action.
In 1997, Jesse opened his first professional boxing and kickboxing gym under the name of Finney's Kickboxing and Boxing with his best friend Rob Donaker. Rob is the Vice President of Shamrock Promotions and Finney's MMA, Boxing and Kickboxing. Shortly thereafter, their company needed to relocate to a larger facility which is presently established at the luxurious facility of the St. Louis Workout located in Crestwood Plaza in St. Louis. Jesse works with over 40 active fighters on a daily basis. The gym offers group classes along with personal training.
The gym has also been recognized as one of the top training facility in the USA for professional Mixed Martial Arts, Kickboxing and Boxing professionals. Many of his fighters have gone on and established themselves as professional athletes with winning records as professional fighters. Under his tutelage, are Timmy Connors, Kevin Engel, Adam Cella, Mark Mayfield, Mike Cory (IFL), Steve Berger (UFC & Bodog Veteran), and Pat Healy (IFL & UFC) just to name a few.
While operating his gym and pursuing other entrepreneur endeavors, Jesse has also continued his career as a fighter with a kickboxing record of 23-0, and a boxing record of 8-2, along with his impressive MMA record of 4-0. His last fight at the Scottrade Center in July of 2007 was a knock out in the third round while fighting a nationally rated fighter. His future plans include a professional fight at the Ameristar Casino later in 2007 and 3 fights at the Scottrade Center in St. Louis in 2008.
In December of 2005, Jesse was contacted by the Chuck Norris Corporation to manage the Houston Enforcers as the head coach for the 2006 - 2007 season of the World Combat League competitions. They completed the season as the Champions of the WCL. As the winner of the WCL 2007 competition, Jesse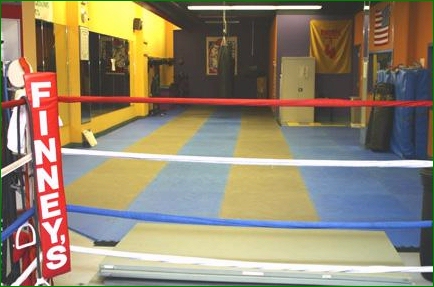 is looking forward to coaching another team or possibly competing in the 2007 - 2008 season. He has built his own team called the St. Louis Enforcers. His plans are to repeat the victory for the upcoming season with an even stronger, more powerful team.
In August of 2006, Shamrock Promotions was contacted by the WCL to help run their live events for the 2006 - 2007 season. Based on their expertise and abilities, the partnership has evolved into a position whereas Shamrock Promotions is running both the front and back stage live events for all the 2007 - 2008 season. The events are held across the country.
Jesse has grown up in the fight industry. He has not only succeeded as a fighter, but has excelled as an entrepreneur in both business and the fight game. He has proven success as he continues to accomplish remarkable things in his endeavors to not only promote the professional sport of Boxing, Kickboxing and Mixed Martial Arts but for the love of the sport, and his efforts to give back to the sport as he helps to train and promote upcoming fighters. He is a true testimony to what all professional athletes should ascribe to become, which is being a mentor and example to all of the young men and women seeking to become a professional.





FINNEY FACTS

Mr. Finney started kickboxing at the age of 9.
Started Boxing at the age of 11.
Opened his first gym at the age of 22.
Won his first IKF Title when he defeated Darrell Baker of Memphis, Tennessee, USA on February 19th, 2000 to win the vacant IKF and KICK U.S. Light Heavyweight Amateur Titles.
Won the 2000 IKF USA National Amateur Super Middleweight Title with a split decision (30-27, 29-28, 28-29) victory over; Mark Brennan, 30, 5'11", 171, Simpsonville, SC, 9-3-2/1. At that same tournament Jesse cornered for 9 of his own fighters with 2 of them (John Ingram and Troy Mason) taking home the National Title as he did.
2001 won the vacant PKL North American Title.
His step father and former 2 time World Champion, Robert Briggs.
IKF Missouri Associate Representative
IKF Licensed Promoter.
ISCF Licensed Promoter
IKF Certified Professional & Amateur Judge
IKF Certified Licensed Trainer.
Trainer of over a dozen IKF Amateur US and North American Champions.
---
BACK TO IKF PROFILE PAGE CLICK HERE