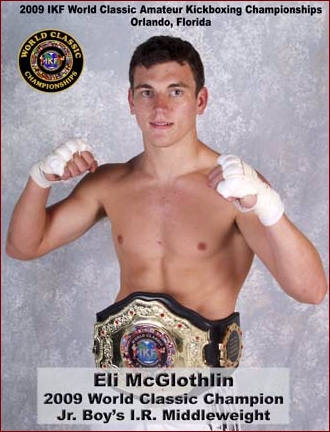 This year like always we will have Official IKF Photographer
Mr. Glenn Berg
at the tournament to take Professional Portraits of the Champions and Anyone else!
Glenn Berg Photography - (www.GlennBerg.com) will provide professional portraits of you at the Tournament. Once again, Glenn has designed a special edition border that will be customized with your name and weight division and fighting style. You can purchase a package listed below and the photos will be mailed directly to you following the tournament. Team and group photos can be taken and placed on a special edition border for the same prices.
Even if you do not win, "WE" as the IKF would like to have your photo. You do not have to be a Champion to get your photo taken. We urge EVERY fighter and Trainer, even officials to go see Glenn to get your photo taken for our records. Glenn will stick around well after the event is over to make sure he has captured everyone there.
Here are the packages available:

Package #1: (1) 8 x 10, (1) 5 x 7, (1) 3.5 x 5, (2) wallets
Package #2: (2) 8 x 10's, (2) 5 x 7's, (9) wallets
Package #3: (1) 11 x 14, (2) 8 x 10's, (2) 5 x 7's, (9) wallets
INDIVIDUAL SHEET PRICING

(1) 8 x 10
(1) 11 x 14
(1) Poster, 24"x 30"
Shipping is included in your package prices. Please allow 3 weeks for delivery via USPS.
www.GlennBerg.com

Glenn will hold your pictures on file IF you purchase pictures at the event. If desired, he can offer fees for larger poster size prints as well. All photos are the property of "Glenn Berg Photography" and the "IKF".
SPECIAL NOTICE: There will be no taking photos of individuals who are posed in the Photo booth. This is because Mr. Berg's equipment is all computer related and when any camera flashes, it risks damaging his professional camera and the lights that are tied to it. This happened last year and the break cost a TON to fix. So again, for this reason, NO Camera's please used in the Photo booth of posed individuals. Thank You.
No reproductions are permitted without express written permission from Glenn Berg or the IKF.