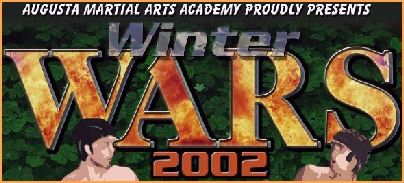 DAY TOURNAMENT INFORMATION


To Go Back To "Winter Wars 2002" Home Page Click HERE!
"Winter Wars 2002 Welcomes Competitors Of All Levels Before the "heavy artillery" steps out for the nighttime mixed martial arts and kickboxing bouts at Winter Wars 2002, on March 16, 2002, in Augusta, Georgia, a daytime martial arts tournament for competitors of all ages and belt ranks will take place at the venue. Divisions will include continuous sparring, kata, grappling and shootsparrinig/submission kumite. "Some of the Southeast's top fighters in both MMA and kickboxing got their start in our day tournaments," says event organizer and IKF and ISCF World Team Member, Mike Carlson, (Right) who adds, "and many more take advantage of the competitive opportunity when they do not have night fights. It's great to see that, but also the kids competing in a wholesome and realistic environment, which is marked departure from the standard tournament scene." For more information, contact Augusta Martial Arts Academy (Mike or Elizabeth Carlson) at amaa@prodigy.net by telephone at 706/855-5269 or via fax at 706/855-7119.
---
Augusta Martial Arts Academy Proudly Presents
"WINTER WARS 2002"
Nationally Rated Invitational PKC Daytime Karate Tournament & IKF & PKC Sanctioned Kickboxing Bouts, ISCF Sanctioned "No Holds Barred"/Mixed Martial Arts Bouts
Saturday, March 16, 2002 Augusta State University Athletic Complex
For Further Information Please Contact
Augusta Martial Arts Academy
3905-B Roberts Road Martinez, Georgia 30907
(706) 855-5269 or amaa@prodigy.net
SCHEDULE OF EVENTS FOR WINTER WARS 2002
Thursday, March 14, 2002; 7-9 PM; Augusta Martial Arts Academy

Johnny "Superfoot" Davis Kickboxing Seminar

Friday, March 15, 2002; 4-7 PM; Magnolia Room at the Partridge Inn

Press Conference, Weigh-ins, and Physicals for Winter Wars 2002 Evening Competitors

Fighters are expected to arrive Friday night. NO EXCEPTIONS! You will be weighed in, have your physical, fill out fight paperwork, and be a part of the press conference. Make sure to make your hotel reservations soon. Mrs. Carlson will be sending fighter/official packets out soon.

Saturday, March 16, 2002; Augusta State University Athletic Complex

Winter Wars 2002 PKC Invitational Karate Tournament

8:00 AM - 9:30 AM-Registration
9:00 AM-Black Belt Meeting (Those who judge will receive 2 tickets to the evening event)
9:30 AM-Tournament Begins with Kata Divisions-DO NOT BE LATE

Entry Fee:

$35.00 - One or two divisions
$40.00 - Two or four divisions

Spectator Fee:

$5.00 General Admission
Children 4 and under are FREE

Pre-Registered Competitors: $5.00 discount

Pre-registration fee and forms must be received by Friday, March 8, 2002 and sent to Augusta Martial Arts Academy, 3905-B Roberts Road, Martinez, GA 30907.

PKC Members: $5.00 discount

Saturday, March 16, 2002; 2-4 PM, ASU Athletic Complex

Dan Severn's Ultimate Grappling Seminar

Learn how to improve your ground game from one of the best grapplers ever! Dan Severn! (Right)
Cost: $45.00

Saturday, March 16, 2002

Evening Schedule of Events

5:00 PM-Pre-Fight Party (open to corporate sponsors only) at ASU
6:00 PM-Doors Open (Dan Severn will be available to sign autographs!)
Ticket Prices: General Admission: $14, Children 12 & under: $8 (Military Discount: $12)
7:00 PM-Action Begins

After last bout: Post Fight Party at Tournament Hotel, The Partridge Inn

TOURNAMENT HOTEL INFO

The tournament hotel for Winter Wars 2002 will be The Partridge Inn. Located on historic Walton Way near the venue, The Partridge Inn is the epitome of southern hospitality. A block of rooms is being reserved for Winter Wars participants at a reduced rate. Rooms will be held up until two weeks before the event, so don't wait to make your reservations. Upon making your reservation, please request the "Winter Wars 2002" rate of $69 per night (single room occupancy).

The Partridge Inn, 2110 Walton Way, Augusta, GA, 30904
706-737-2428 & 800-476-6888
Winter Wars 2002 Rate: $69.00
Augusta Martial Arts Academy
3905-B Roberts Road, Martinez, GA, 30907
706-855-5269 or fax at 706-855-7119.
E-mail at amaa@prodigy.net
All evening competitors are encouraged to reserve their rooms for both Friday and Saturday nights because the weigh-ins and physicals will be on Friday, March 15 at The Partridge Inn.
CHECK OUT THESE DIVISIONS!
THIS TOURNAMENT WILL HAVE IT ALL FOR THE SERIOUS MARTIAL ARTIST!
KATA- Competitors perform the kata/form of his/her choice. (Empty Hand Forms Only-Full Karate, Jujitsu, Kung Fu, or other traditional martial arts uniform required.)
SPARRING- Competitors participate in 2-minute single elimination rounds with continuous action point sparring with light contact, wearing the required protected gear. (Headgear, gloves/handgear, mouthpiece, shin guards, groin cup (for males), and footgear). Competitors must wear either a traditional martial arts uniform or traditional pants, belt/sash and martial arts school/PKC T-shirt.)
GRAPPLING- Competitors participate in 2-minute single elimination rounds, scoring points by takedowns, escapes, and reversals. No joint locks, chokes, or submission holds are allowed in this division and competitors are only allowed "down" on the mat for 10 seconds. (Full gi and mouthpiece required and cup for male competitors.)
SHOOT SPARRING/SUBMISSION KUMITE- Competitors compete for 30 seconds of each 3- minute single elimination round, essentially under the "continuous sparring rules"; for the remaining 150 seconds, strikes will still score for points, but so will grappling points and submissions. (Full gi, shin and instep guards, mouthpiece, cup (males only), and UFC style or other acceptable "open finger" type gloves will be required.) ADULTS ONLY FOR THIS EVENT.
**The foregoing and following represents a summary of the basic rules for these divisions. All competitors should review the complete rules for each division in which they compete in their entirety. For a complete PKC of Georgia rulebook, please contact the Augusta Martial Arts Academy at 706-855-5269 or fax at 706-855-7119. E-mail at amaa@prodigy.net
Divisions: Kata, Weapons, Continuous Sparring, Grappling, Shoot Sparring
Ages: 5-7, 8-11, 12-15, Adult Women, Adult Men
Belt Divisions: White-Orange, Green-Purple, Brown-Black, Black (Adult Divisions-Men/Women), Underbelt & Blackbelt Divisions (Shoot Sparring)
Weight Divisions: Lightweight, Middleweight, Heavyweight (as needed for sparring/grappling)
---
To Go Back To "Winter Wars 2002" Home Page Click HERE!
---