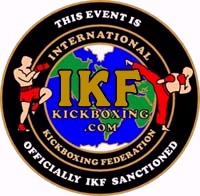 RULES & REGULATIONS OF AN
"EXHIBITION"
BOUT
Below are the MANDATORY RULES for all
"EXHIBITION BOUTS"
Performed on an IKF Sanctioned Event.
MANDATORY!
RING ANNOUNCER Must Read to the Audience the following -5- statements before ANY and EVERY Exhibition Bout on an IKF Sanctioned Event:

This is a SEMI CONTACT EXHIBITION Bout!
There will be NO Knockouts and NO Strong Head blows!
Whether Amateur or Pro, BOTH FIGHTERS are required to WEAR HEADGEAR.
Referee may stop the bout at ANY time if he/she feels the contact is more than SEMI CONTACT.
There is no Winner or Loser in an Exhibition Bout so there will be no winner announced.
ADDITIONAL: Not required to be read to the audience prior to the Exhibition:

ALL EXHIBITION bouts may ONLY be approved by the IKF Head Office or the IKF event representative with the following in mind:

Although many exhibitions happen due to a fighter not making weight,
Both Fighters may not be more than 7 lbs out of their LEGAL weight limits.
The fighter with the least bout experience will set the pace of the bout.
Pro Fighters MAY NOT do an Exhibition bout with an Amateur Fighter.
No JUNIOR may fight an ADULT Fighter.
Round lengths may only be a maximum of 1 minute long.
Round breaks may only be a maximum of 30 seconds long.
TWO ROUNDS is the maximum amount of rounds allowed.