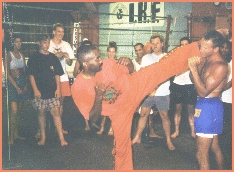 We would like to invite you to take advantage of this rare opportunity to have former two time world champion Johnny Davis conduct a seminar at your school or gym. Mr. Davis has given several seminars at the IKF World Headquarters (Below Right) and we must say "they are some of the most complete, concise and informative seminars we have ever attended."
We feel that Mr. Davis has a lot to offer those seeking to better their boxing and kicking skills. Even more so, he was noted as one of the best technicians in the sport and will show your students how they too can learn to put techniques together with impressive fluency and timing.
Davis has long recognized that the better fighters we have the more impressive the sport will be to the general public and potential sponsors. Additionally, as part of the seminar all participants will receive a FREE copy of his manual, The Art of Kickboxing - The Official IKF Training Manual. This manual covers all aspects of becoming a successful kickboxer. It's sure to be one of the most creative training manuals to date. This manual will provide your students with a great point of reference in the future.
All IKF associates will receive a special discount. To learn more on fees and arrangements contact Mr. Davis directly at johnnyd@akpromotions.org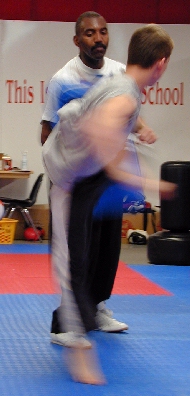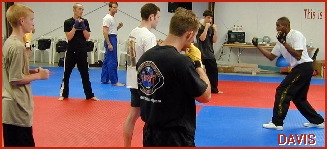 IKF HOME - NEWS - EVENTS - RANKINGS - SANCTIONING - JOINING - RULES & REGULATIONS - MERCHANDISE - ISCF MMA