Myanmar
JUNE 7th - 12th, 2001
---


Myanmar Traditional Boxing...
An Experience To Remember.
For the first time Ever, Fighters from the USA Fight in MYANMAR (Formally Burma) Under Full Traditional Myanmar Boxing Rules
...and the IKF travelled with them.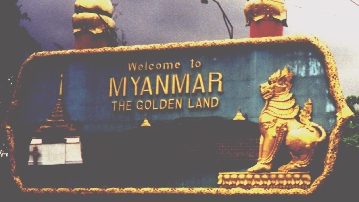 Put your hands together, raise them to your head and bow... This is the traditional greeting of respect in many Asia countries such as Thailand and as well, it is also the greeting one receives in the country of Myanmar. With a hospitality rating of 10+, the Myanmar people experienced for the first time ever, fighters in their country fighting fighters from outside their country under their own Traditional Myanmar Boxing Rules.
However, how this news made it to this news page is a story in itself. A couple of months back, Myanmar Promoter Maung Tin Oo had contracted with an Australian Promoter to assist him with matchmaking an event in Myanmar. The event was originally planned to feature a Pro Super Heavyweight International Rules bout. This is where the IKF first became involved because they were asked to sanction the event. However, after sever weeks of discussion, the Myanmar Boxing Authorities denied the bout because they feared that since the IKF is based out of the USA, they may have an unknown political agenda at hand. You see readers, current relations between USA and Myanmar are very strained to say the least and the Myanmar Officials feared the IKF might have some political involvement in the bout. To add to the strength of this decision even more, directly before the USA Team left USA, they were warned "NOT" to attend by the American Embassy because the Embassy feared the fighters may not be given a fair fight. The fighters personal safety wasn't an issue, but the fights themselves were as to what lengths the Myanmar Boxing Officials may go to assure their fighters would win. More on this later though...
Since this could no longer be an IKF sanctioned event with an IKF World Title Bout, Promoter Maung Tin Oo decided to feature fighters fighting under Traditional Myanmar Boxing Rules instead. Good promoters always try to match a well known headline bout or better yet, something out of the ordinary that makes their event stand out from others. This was where the Myanmar Promoter succeeded. He not only matched a well known local Myanmar fighters, but 3 Myanmar National Champions to fight on the event.
Making his event different than other Myanmar events was the fact that Maung Tin Oo had the Myanmar Boxing Champions fighting fighters from outside of Myanmar. His desire was to have fighters from Australia and the United States attend. He also wanted to include Amateur Olympic Boxing as well with International Competition. His desire was to bring in 3 Amateur Boxers and 3 Pro kickboxers willing to do Traditional Myanmar Boxing Rules. Maung Tin Oo wanted IKF President Steve Fossum to attend as well so he could meet with the Myanmar Government to assure the IKF had no political agenda in Myanmar. So at this point, Fossum's role was only to assist the promoter in eventually bringing IKF Kickboxing to Myanmar.
However, within a few weeks, relations with the Australian matchmaker and the Myanmar promoter fell apart and the Myanmar promoter contacted Fossum in a plea for help on matchmaking for the event. He had past his deadline to announce to the Myanmar Boxing Council who the International Fighters would be and he had no International fighters matched and no confirmed amateur boxers matched. Worse yet, he had no International contact to assist him in matchmaking the fights he desired. Fossum agreed to volunteer his time to step in and help for free.
Fossum was asked to help matchmake 3 Pro American kickboxers who were willing to do FULL Traditional Myanmar Boxing Rules. It would be an event that would make history, the first time ever ANY American fighter would ever fight in the country of Myanmar and also, the first time such a fighter would ever fight under full traditional Myanmar Boxing Rules in the world. Although the event would not be sanctioned by the IKF, the Myanmar officials and government looked upon the IKF as a credible sanctioning organization that could possibly bring worldwide exposure to their fighting style that up until now, had only been done in their country.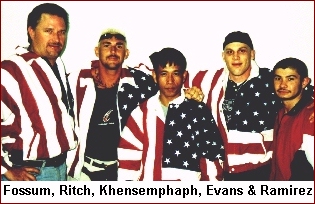 The job was not easy finding American opponents for promoter Mun Tin Oo for several reasons. First, in Traditional Mayamar Boxing Rules, the fighters wear NO GLOVES only handwraps. A visual right out of the movie "Kickboxer" comes to mind here, and that was exactly how it was. Simple white hand bandages are what the Traditional Mayamar Boxers wear. Not 8 or 10 ounce boxing gloves... Second, these rules include "Headbutts". Yes, "Headbutts". Third, like San Shou, all throws are legal... Even Body Slams and finally, the USA Fighters had to hold a minimum of a USA Title belt from a known and reputable organization. So the IKF and the ISCF put out a request for fighters notice...
For the first few days their were several calls and e-mails to the IKF from interested fighters claiming to be current champions and that they would accept the bout. However after background checks proved their titles didn't exist or were won from unknown organizations, Fossum had to look at other applicants. After waiting long enough for fighters who met the requirements, Fossum thought he would attempt the same request on the ISCF (Sister organization to the IKF for Mixed Martial Arts, ISCF MMA) website and also contact some of the ISCF mixed martial arts fighters. This proved to be a successful idea.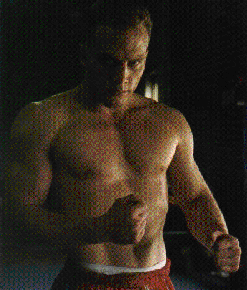 A few years back, Fossum accompanied a USA Team of fighters to the country of Armenia. The fighters fought in the Armenia style which was very similar to traditional San Shou rules with all kinds of throws being allowed as well as stand-up fighting, but with small NHB style gloves. In addition, like "Traditional" San Shou, the fights were done on a platform instead of in a ring. On this trip, one of the fighters was Doug Evans (Pictured Second from right) of Redwood City, CA, USA. In Armenia, Evans made quick work of his opponent slamming him to the floor and knocking him out upon impact to win his bout. The win gave Evans the World Title from the Armenia organization, IFCKF.
A year later, Evans (Left) won the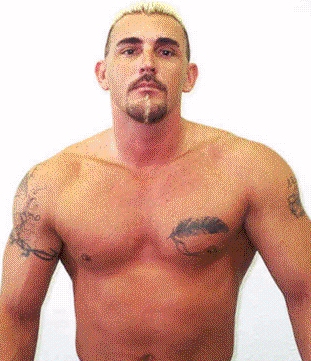 DRAKA World title and a few months later, he knocked out Kenichi Ogata of Japan in Tokyo. Ogata was the current Shootboxing World Champion but no title was on the line for the bout. Evans had the perfect background for the Mayamar Traditional Boxing style. He . He fights in San Shou and shootfighting rules so he knows the throws. He's an accomplished Mixed Martial Arts fighter who's fought in NHB style events around the world such as Neutral Grounds, SuperBrawl, The Bas Rutten Invitational, and various underground venues in California. He's also fought with headbutts in Brazil under the IVC. The invitation was perfect for Evans and after one phone conversation, he became the first American to accept a Traditional Mayamar Boxing style fight in Mayamar.
However, the event still needed 2 more fighters to fight in Mayamar and after making offers to several other San Shou fighters, still no one accepted the bouts mainly due to the headbutts. So Fossum again went to Evans and together they looked into other ISCF ranked mixed martial arts fighters. Evans and Fossum started making calls and after just 1 call, position number 2 was filled when ISCF US Champion Shannon "The Cannon" Ritch (Pictured second from left in group shot above and at the right) of Dallas Texas, USA (Formally and soon to be again from Arizona, USA) became Team USA member number 2. Ritch had fought all over the world in high profile events such as of course, the ISCF along with Pride, WEF, Superbrawl and IMCF just to name a few.
The final slot took a while to fill. It was at 132 lbs and Fossum and Evans had no luck at all matching this opponent. The requests for such a opponent stayed on the IKF News page for quite some time until Alberto Ramirez of Seattle Washington USA asked to take the bout. Ramirez had fought in 3 previous IKF events for 3 different weight classes losing all 3 by first round KO so Fossum was reluctant to match him up under such an unknown rule style. Ramirez had previously won 2 WKC MuayThai World Titles, and 2 CMTA World Titles and had beaten such notable opponents as Yataka Touyoshima of Tokyo, Brian Delisser and Cisil Thong Kongdara of Canada. Although he had 3 previous loses to Enn Fairtex of San Francisco, CA, USA via Thailand, Ali Hallack of Australia and Alexei Pekarchik of Belarus, it was clear he had the titles to back up his qualifications for the bout and was the only 130 lb fighter asking for the spot. Fossum and Evans had no other fighters to choose from to do a fight with such rules so they felt if Ramirez was willing to face such a challenge, they would accept him as the 3rd member of the USA Team.
Since Fossum's role was only that of assisting in the matchmaking, the team still needed a coach to attend with them so Evan's trainer Andy Khensemphaph of San Francisco was selected to accompany the team. Ringside Products came forward and sponsored the entire USA group with Team USA Jackets, Shorts for the fighters, T-Shirts and other items. Special Thanks to Ringside Products for making this happen!!! Now with their bags packed and everything in place, the team was all set to make history as the first USA Fighters to ever fight in Mayamar.
Just getting out of the USA proved to be the first problem for Team USA. Their connecting flights from Seattle, Dallas, San Francisco and Sacramento were due to arrive in Los Angeles so close to departure that they almost missed their flight out. Fossum's United Airlines flight sat on the runway in Sacramento waiting for clearance for over an hour with everyone aboard. Flight control at Los Angeles wouldn't allow them to leave Sacramento because they had no where for them to land. When Fossum finally arrived in Los Angeles he had less than 30 minutes to make it a half mile to the International Terminal, get checked in and still get to the departure gate. Evans contacted him by cell phone to find out he had finally landed and was in route to the ticket counter.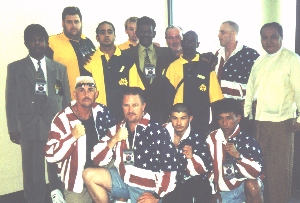 Upon arriving at the Thai Airways ticket counter, the counter people told him he just officially missed his flight. At departure time up at the gate though when the team saw that Fossum wasn't there they all refused to board the plane until he got there. The gate crew was rather shocked at their resistance to board without him and after waiting long enough, the gate crew sent a message back to allow Fossum to come to the gate and board. So a special thanks goes out to the rest of the Team for sticking together... As a TEAM!!
About 14 hours later, the team made a quick stop in Osaka. After refueling it was off to Bangkok where they spent their first night at the Ebina House.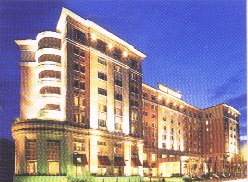 (Special thanks to them for their hospitality) Early the next morning it was back on the plane and a 5 hour flight to Myanmar. Upon arrival at the Myanmar airport on Thursday, June 7th, the team was greeted with dozens of TV cameras and a crowd of over 200 people that included press staff, government officials, Mr. Maung Tin Oo, his father and his promotional staff, military security for the team and curious fans of kickboxing from Myanmar. Several press interviews were conducted before the team was boarded onto a private bus designated for the teams transportation throughout their entire stay in Myanmar. It was clear that the Myanmar people also realized this was a history making event for their country and were eager to see it all happen.
Having travelled to countries such as Mayamar before, the team kept reserved hopes for a hotel of their approval. However upon arrival they found themselves at the beautiful Hotel Equatorial (Left) in Yangon. A 5 star resort hotel with everything one would think on a vacation in Hawaii. (A special note that their service and hospitality to all of us while there was a 10+!!) Before the Team went to their rooms they did several more press interviews to the local media and posed for pictures before settling in. For lunch the team was treated to a traditional Myanmar style meal at Golden Dishes. After lunch it was back to the hotel to relax for the next day.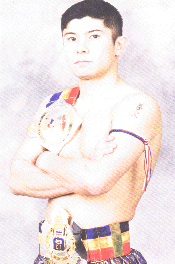 As Friday came, so did the weigh-ins. American Alberto Ramirez (Right) came in under the 132 lb limit while his opponent, Saw Thei Myo also came in light at 130 lbs. American Shannon Ritch came in a bit over his 165 lb limit and had to spend a few moments sweating off the extra weight. He eventually weighed in at 164 and a half while his opponent, Ei Htee Kaw came in at 163 and a half. American Doug Evans made weight with ease at 160 and a half lbs while his opponent, Wan Chai came in at 160 and a quarter. With everyone making weight on the first day all that was left now was a rules meeting and the event press conference later that night.
After lunch, team trainer Andy Khensemphaph and Fossum were taken to the Sports Federation office for the official rules meeting. In the meeting, Fossum and Khensemphaph confirmed everything they could think of to avoid any conflicts at ringside. To assure their worries, one of the officials assured both Fossum and Khensemphaph that if there were any questionable calls in a bout there would be an officials forum (meeting) to discuss the issue before any final decision was made. This put both Fossum and Khensemphaph minds at great ease knowing this to be the best way to settle any questionable calls. Over 4 hours of talks later about all the rules they could think of, they departed back to the hotel.
Upon arrival they prepared for the Event Press Conference in the hotel ballroom. The conference was equal in size to large style events such as continental K-1 tournaments and Pride. All the fighters in attendance from Myanmar, USA and Australia. Australia had sent 3 Amateur Boxers representing the AALB (Australian Amateur Boxing League) to compete in 3 regular, Olympic style boxing bouts against Myanmar Olympic Boxers. The press conference lasted for over 2 hours with questions coming to all involved. When it was over, Team USA was treated to a great American style meal and settled in for the night, before the first day of International Competition.
None of the USA Fighters ever got that promised training session with a Myanmar Boxing Master but it didn't seem to bother any of them. They didn't come to Myanmar to train, they came to fight. As Saturday came, Shannon Ritch was more than ready to fight along with Ramirez and when they arrived at the massive fight stadium at about 1:00 PM, the USA Team was greeted with loud cheers as they made their way into the arena to find their seats before the opening ceremonies. A few short moments later all the fighters were introduced which included the Myanmar Champions, Team USA and the 3 Amateur Boxers from Australia.
After the opening ceremonies, we were all able to watch some of the prelim bouts with many top Traditional Myanmar Boxers. One thing we can say for sure is THESE GUYS ARE TOUGH! Talk about fighting some WARS! These prelim bouts were GREAT FIGHTS! As time went by we sat and also watched 2 of the 3 Australian boxers lose their bouts. There was no question they lost, we just hoped the same fate would not meet the USA Team.

Out of the gate first for Team USA was Alberto Ramirez of Seattle Washington. Ramirez has been taking some indirect heat from some fight fans for losing his last 3 bouts by first round KO. Many question his heart and if he was a good enough choice for the USA Team. Our questions would soon be answered. The first couple of minutes of his bout with Saw Thei Myo were uneventful. There were no hard punches or kicks thrown and it appeared that both were looking towards round two. However, as the two clinched, Saw Thei Myo executed a throw on Ramirez that looked harmless. However when Ramirez went to stand up, for some reason he was dazed. (Even a look back at the video tape and we still couldn't see what might of happened.) Staggering back and forth in the center of the ring without a scratch on him or a drop of sweat from either fighter, the referee waived Ramirez off. At 2:24 of the first round, Ramirez was done. Unable again to make it through 1 round of fighting. It was the right call by the referee because Ramirez kept stumbling. So the question here was not the call of the referee by any means, the question asked instead by everyone at ringside was "What happened...?"
As news of Ramirez's fall got back to the Team USA locker room, it inspired Shannon Ritch even more. Ritch didn't travel all this way to be showed up by any fighter and he was ready to prove so. As the bell sounded, Ritch executed a great leg kick fake and charged straight into his opponent Ei Htee Kaw landing 6 to 8 unanswered punches to his head. As the last one landed Ei Htee Kaw fell to the ground as Ritch waited for the referee to do his expected work of giving Ei Htee Kaw a mandatory 8 count for the knockdown since he stayed down. This was no flash knockdown, Ei Htee Kaw was down in pain so an 8 count was mandatory according to the Traditional Myanmar Boxing rules we had listened to on Friday afternoon at the official rules meeting. However to everyone's surprise, even many in the crowd, there was no 8 count given by the referee.
To win in Myanmar Traditional Boxing you have to knock your opponent out. If your both standing after 5 rounds, it's ruled a draw. This we found kept ALL the fights REALLY Exciting all the way to the end. However, when it comes to true knockdowns, these have there place as well. In any bout, 3 knockdowns in one round means the fighter automatically loses. With 4 knockdowns in the entire bout, the fighter automatically loses. So you can see where such a move could have mattered greatly if the fight went into the later rounds. Shocked at the referee's decision, Ritch appeared obviously confused but managed to get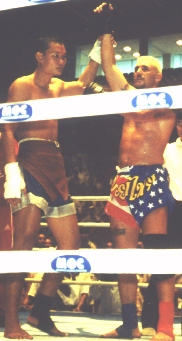 back to work when the referee brought Ei Htee Kaw to the center of the ring to fight again. Ei Htee Kaw managed to land 1 good leg kick to the inside of Ritch's knee but Ritch came back with more punches. As Ei Htee Kaw lay against the ropes, Ritch turned into him square to land what appeared to be the finishing blow. Scared of the attack, Ei Htee Kaw turned away and raised his knee in defense and the famous "Shot out of no where happened...!" Yes, a one in a million chance, but it did. As Ei Htee Kaw pointed his knee forward, Ritch basically impelled himself on it and Ei Htee Kaw's knee drove directly into Ritch's solar plexus. Ritch went down immediately without Ei Htee Kaw throwing a shot. He couldn't breath and the fight was over. The picture at right clearly shows that even Ei Htee Kaw's wasn't proud, let alone happy about how he won the bout. It was now Myanmar 2, USA 0...
After the fight, the team spent all their time in the hotel. Ramirez was quiet and no one seemed to ask him anything about his bout. Ritch was more disappointed than angry and several managed to comment to him about his fight. It was obvious he was going to defeat Ei Htee Kaw but he had to be the victim of an unfortunate circumstance. These things happen in the fight game, we just didn't expect it to happen on this day, this event, this trip. And neither did Shannon Ritch.
As Sunday came, Doug Evans had one thing on his mind... Redemption for Team USA. Evans turned the tide in Armenia that eventually brought the Team USA win there so he was use to being the underdog. He was in a strong zone that appeared as evil as a demon, thus his ringname, "The Demon!" He didn't just want to win anymore, he wanted to win with dynamic style. All Evans had on his mind was a knockout. He wasn't sure yet what technique he was going to use, but he knew he was going to knock his opponent out.
As the bell sounded to start round 1, Evans and Wan Chai both came out cautious like experienced MuayThai fighters. The two fighters had some light exchanges but when Wan Chai tried to clinch with him, Evans took the Traditional Myanmar Boxing rules right to the Myanmar Champion and "SLAMMED" him to the ring floor with a legal Myanmar Boxing Technique (Remember, all throwing is legal in Traditional Myanmar Boxing Rules) As the two fighters got up, the referee warned Evans about something. What it was we were never told but for all we know, he was just surprised that an American could throw a Myanmar Champion so hard.
A few more exchanges took place and Evan's drove the Champion Wan Chai into the corner landing some good hand and leg combinations. As they were clinched in the corner, the referee wanted to break the two fighters. What happens next is the direct play by play from watching the fight video over and over again.
First the referee yells "BREAK" loud and clear and puts both hands on Evans as if to pull him away from Wan Chai.
Evans responds to the referee, dropping his hands and starts to move back.
However Wan Chai IGNORES the referees "BREAK" call and not only hits Evans "AFTER THE BREAK CALL" (Watching it, it's a FULL 2 seconds AFTER the Break Call) he hits Evans with a strong knee strike into Evans groin.
Immediately Evans drops to the ring floor holding his groin which would be a signal to ANY referee around the World that there could be a foul here. Time to check with his ringside officials who could see what happened. Remember, the referee was "BEHIND" Evans when the strike occurred so he never had a view of it at all.
However the referee ignores Evans plea of a groin shot.
He starts an 8 count in Evans face, clearly seeing he's in pain.
Fossum tries to motion to the referee to stop counting and get the doctor in the ring, that it was clear it was a groin shot. Fossum DID have a great view of the shot, as did several other ringside officials.
As Fossum tries to enter the ring, he's physically grabbed and pulled back by an official identified only as Benny.
As Team Trainer Andy tries to go to the ring, the same thing occurs on the other side of the ring with another ringside official holding him back from the ring.
The referee continues counting on Evans until finally, Andy throws the towel in the ring so he can enter the ring and help him.
Still the referee continues his count even AFTER the towel comes in the ring.
As Evans trainer administers to him, the referee walks over and raises Wan Chai's hand, pronouncing him Champion.
The referee doesn't call for any officials forum to see what the other officials saw, he just makes his decision.
How could he do such a thing. A CHILD could see that the hit itself was AFTER the call of "BREAK", AFTER the referee put "BOTH" his hands on Evans to pull him away. This alone was a foul, regardless if Evans was hit in the groin or not.
The same CHILD would also see that Evans was hit with a groin strike.
The referee kept indicating it was a stomach shot.
NO ONE had a better view than Team USA did. It happened directly in front of all of them in their own corner. Evans was facing them when it happened.
Although to their side, Fossum had a clear shot of the action and the knee strike as well.
There was no question it was a groin strike, ESPECIALLY after watching it back on video "Over and over again!"
As Evans lay in pain, some of the crowd start throwing things at Team USA while others attacked verbally at their obvious protest of the foul.
After about 10 minutes Evans was finally able to stand and we helped him back to the locker-room.
What made this even worse was how the Myanmar Boxing Officials responded to the incident.
Not one Myanmar Boxing official EVER came to the corner to see if Evans was OK after the foul... Not even the referee....
Not one official came to the locker-room to see if he was OK, we had to "REQUEST" they bring a doctor in to check him.
Simply put, they acted like they didn't care.
They got their 3rd and final win and had no plan of changing the call. To them, the decision was made. Myanmar 3, USA "0"!
If we knew the crowd could understand a word of English, we might have grabbed the microphones and made our own announcement. But it just wasn't worth it. They already crowned their Champion as planned. Do we think Wan Chai kneed Evans in the groin on purpose? Of course not, or at least we'd like to think not, but who knows. The fact is, is that it happened. Intentional or not, it still happened. The true shame was how the ringside officials handled it. This shame they will have to live with themselves... For their country...
| | | |
| --- | --- | --- |
| | _____ | |
In Ramirez's bout, we never questioned a thing. We all saw that there was nothing to question other than Ramirez himself. In Ritch's bout, there was nothing to question either. Knowing in our own eyes that he was clearly dominating his opponent was enough for us. The luck was on his opponents side as he took the win. It was a legal blow that landed in a very vulnerable area. It's just too bad we couldn't see more of that fight. A few seconds more and Ei Htee Kaw would have been the one laying on the ring canvas in pain, but on this day it wasn't to be...
However, on the Evans fight, the Traditional Myanmar Boxing officials should be ASHAMED! Yes, ASHAMED! Such a mistake by ANY referee around the world would be over-ruled by ANY ringside official. However, as we looked around, they all turned away except for one named "BENNY". The one who grabbed Fossum at ringside and kept him from entering the ring. Later Benny had the shame to actually "LAUGH" at us when we tried to explain our protest... Yes, LAUGH! They knew what just happened, but they were not going to admit it or do anything about it. Hey everyone... USA News Flash...
Doug Evans DEFEATED Wan Chai! There's no question in ANY of our minds about that!
The next day, the local paper announced in headlines "Wan Chai Knocks Out Doug Evans" That's funny, no one told us that groin shots were a legal Knock Out Blow! This headline was even more insulting on the day after. How proud of a champion can Wan Chai be after such a thing? How proud of a country can Myanmar be after "ALLOWING" such a thing and then, not even TRY to do the right thing after the fact? The fighters were so angered at what had just happened, they made immediate plans to leave Myanmar the very next day instead of wait until the scheduled Tuesday night departure.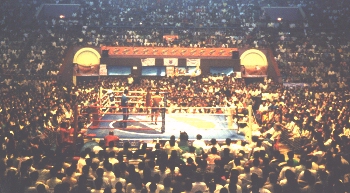 As a representative of the Team, IKF/ISCF President Steve Fossum stayed behind with Shannon Ritch (Right) to catch a flight later in the day. Fossum stayed behind in hopes to meet with the Myanmar Boxing Council to discuss the Evans decision. However, he and Ritch waited all morning at the hotel and none of them showed up. So Fossum and the Australian Boxing Team went to the Sports Council office to meet with some of them. Before the meeting, Fossum had decided to just let it all go and forget it. Better not to cause any waives with so much on the line. The promoter Maung Tin Oo's had done an EXCELLENT job of promoting the weekend event. It wasn't his fault what happened. He had no control at all over any of the fight officials. Saturday's crowd was well over 8,000 and on Sunday, the crowd swelled to well over 12,000. It was obvious Myanmar loves their fighting sport.
So Fossum sat quiet in the meeting holding his tongue, until the official that grabbed him at ringside (Benny) spoke up and said "It would have been a better fight if the Americans would have lasted longer..." Opps... WRONG Thing to say Benny! Fossum had taken enough of him at ringside and was not going to take any more from him now. Especially after insulting the USA Team like that under the circumstances. So Fossum responded back telling everyone that only one fight was a true win, and that one came at little effort of a Myanmar Champion. He explained in Shannon Ritch's bout, it could have easily been the other way around and the Myanmar Champion could have been knocked out early.
Benny, for some reason choose to push the issue of the American Teams performance more, so Fossum spoke up to defend them again and again. Finally Benny brought up the Evans fight. Another official patted his chest as if to say the knee Evans took was high and not in his groin. This not only angered Fossum in the Teams defense, but it was an insult to their judgement as well. "Don't try to tell me the shot was high!" said Fossum. "It was clear your fighter fouled. Not just with the knee to the groin, but the fact he threw the knee after the break while the referee was still holding on to Evans."
Benny tried to justify his ringside decision but it was a worthless defense. Fossum finally got tired of hearing "Their Version" of the situation and challenged them to the visual truth."Don't take my word for it." said Fossum. "Put the video in the player here and watch it for yourself. Let the truth be the final judge. If you don't see what I've already seen, I'll let it go. But if your eyes see what I've seen, it's your obligation as fight officials to overturn the decision. It was a foul by your fighter! The question now is, are you going to do the right thing and over-rule the decision in favor of Evans?" It was clear Benny was now backed into a corner. He had no defense and he knew it. The TRUTH Vs ones memory or better yet, ones opinion... How hard could it be. His defense? Deny the video. Yes, that was their defense.
They told Fossum that the decision is only made by the referee and they see no need to overturn it. This was their decision. They should be ashamed to let this go like that. An International event and we had to leave there knowing we were done wrong. We weren't crying, we were stating FACTS! The fact is,
Doug Evans DEFEATED Wan Chai! End of Story!
Keep in mind that Fossum wasn't upset at everyone in this meeting. Only those ringside officials that did what they did. Let us get one thing straight here. The majority of the Myanmar people treated the USA Team like GOLD! The few people we felt did us wrong we could count on 1 hand so don't think we were angry at the entire country. We were just very disappointed that Justice and the Truth didn't win out over the majority opinion of a few ringside officials. There were actually "A LOT" of people at ringside that took our side. Many of them were also upset at the call. Many of them saw exactly what we did and booed the referee when he raised Wan Chai's hand. So we weren't alone on this one.
On Sunday when one of the Amateur Australian boxers got a bad decision, EVERYONE booed the Myanmar judges. All of them thought the Australian won. These people are true fans. They know what their watching and they know the rules of the game. For those at ringside who made it clear they saw what we did, we appreciate your comments. Too bad the ringside officials weren't open to making the right decision for their sport.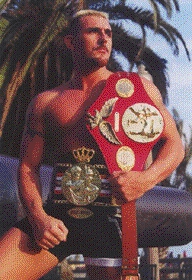 So, will there be any re-matches? Ramirez? Not likely. But Ritch of course wants one and wants one bad. Evans wants one, but for obvious reasons, no longer trusts the Myanmar Officials. Evans has requested Wan Chai fight him somewhere else like Thailand or maybe even on our upcoming IKF Event on July 28th in Malaysia. Who knows if Wan Chai will take the bout though. Right now, he THINKS he's a "TRUE" Champion and with it, he may want too much of a purse. We'll see though. If they meet again, our money will be on both Ritch and Evans...
As Ritch and Fossum were saying their good-bye's to everyone at the hotel, the messenger who was asked to deliver Fossum's first official protest at about 8 AM that morning made his way to Fossum with the Boxing Council's response. Since Fossum met with the officials already, he was shocked to be getting this response AFTER the meeting. However, this response was prepared before Fossum say the Officials in the afternoon. Standing in the hotel lobby Fossum opened the letter, to be insulted again... Earlier at the meeting, Benny and his group of officials told him the bout was stopped and Wan Chai was awarded the Champions Belt because he knocked Evans out... However, in the letter, the Myanmar Traditional Sports Federation (MTSF) wrote "We cannot disqualify Wan Chai because the second threw in the towel."
What an INSULT!!! To imply that Team USA gave up?!! Evans trainer ONLY threw in the towel because the officials would not let him enter the ring without doing so "AFTER" Evans was in tremendous pain in the corner. "AFTER" the knee to the groin! Fossum was outraged! "How dare they say this after we just spoke about it!" said Fossum, not knowing yet the response he was reading was written before his meeting with them today However, soon, the messengers told him that he had this response BEFORE the meeting.
So what Fossum was reading was their morning decision, but that had all changed by afternoon at the meeting... Fossum read on... He asked for the name of the referee and Benny's full name for the use of this article. However the MTSF answered, "The names which you asked neither can be mentioned." Fossum of course wondered why? They were names of event officials. Everywhere else in the World this would not be an odd request. What were they trying to hide? Fossum read on...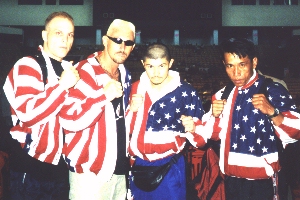 He came to their response where Fossum apologized for entering the ring with his shoes on. During the boxing matches, everyone had shoes on. No one told Team USA they had to enter the ring barefoot. No one said a thing about it in the official rules meeting and none of the fighters knew their ring tradition either. So when Fossum and others went into the ring with their shoes on, the crowed booed... This might not seem like a big deal but 12,000 booing fans makes quite a noise... So after Fossum found out why, he obviously apologized. Instead of accepting his apology and moving on, the response by the MTSF was, "In the first place you have no rights to enter the ring.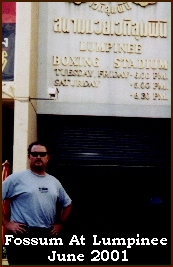 It is your responsibility to study the culture of respective countries."
Well, for their information, the MTSF appointed Fossum as a ringside official for Team USA. This makes him more than eligibly to enter the ring when the fight is not going on, which is when he did. In fact, he entered BEFORE the fight ever started. And for their additional information, as officials of the IKF, we all know it is OUR DUTY to explain any TRADITIONAL ways to those not from our country. We don't expect them to take the time to STUDY every culture or respective tradition we may have. So the same should be expected of the MTSF with visitors to their country. They had EVERY opportunity to explain their tradition during a 4+ hour rules meeting on Friday before the events, but NOTHING was ever said about ANY Culture or Tradition.
As Fossum discussed the letter with promoter Maung Tin Oo, they both decided to just let it go. It was too late to try to meet with any of the officials again and it was clear they had no plans of changing any decision. Fossum and Ritch knew the truth after watching the video tapes and to them, that was all that mattered.
As they prepared to leave they were requested to give an interview with the local paper. The paper had been at the fights and also felt there was a bad decision made with the Doug Evans fight with Wan Chai. They were also there to interview the Australian Boxer who was given the obviously wrong decision. Fossum and Ritch took a few minutes to give their thoughts and take some more pictures. When done, Promoter Maung Tin Oo presented Fossum and Ritch with some outstanding gifts for the entire team along with a beautiful trophy with all the fighters names on it. After Maung Tin Oo was done presenting gifts, Ritch and Fossum accepted more gifts from the Myanmar Traditional Sports Federation. Team USA was presented with so many gifts that we had trouble carrying them all.
After receiving all their gifts, Fossum and Ritch flew to Bangkok, Thailand where they met up with the rest of Team USA that had left earlier that morning. The Team spent the rest of the trip seeing sites around Bangkok which included the famous Lumpinee Boxing Stadium. A visit to the Twins Special store (Kickboxing & Boxing Equipment) proved to be not only interesting but educational as well. We found out a lot about where American MuayThai equipment "REALLY" comes from. Several companies we know here in the USA had claimed their equipment was made in Thailand at their own factories. However after talking with some of the Twins and Wendy products people, we discovered these companies don't even have their own factories and there equipment is really made in places like Pakistan, India and China.
Later that night we all were treated to Ringside seats at Lumpinee to watch some traditional MuayThai bouts. As in Myanmar we witnessed some VERY Tough fighters. Some as young as 14 and 15 years old with already 20 to 30 fights on their record. Back in the Taxi to our hotel and early the next morning we were all on our way home. After about 20 hours on the road we landed in Los Angeles, USA! Home, at least almost. We all said our good-bys and see you soon. Another fight awaits us all in another city, because this is what we do... We're all fighters...
---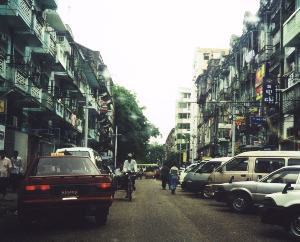 So the question now is will the IKF or the ISCF help make Myanmar Traditional Boxing known around the world? Well, we believe this article has already done that. Aside from some officials errors, there's no doubt that this is an EXCITING style! Our suggestions to them were;
Eliminate the headbutts.
Add at the very least, Mixed Martial Arts Gloves to all fighters.
with these suggestions, we feel we can assist them in making this style popular throughout the World. However, it would most likely be a division of the ISCF, not the IKF due to the glove size. However, we'll need to see if they are willing to make our requested changes. If so, that still leaves a very exciting style where;
All throws are legal.
Knees and elbows are legal.
A Fighter can only win by KO.
5, 3 minute rounds.
It's like San Shou, with the addition of knees and elbows. It's like MuayThai with the addition of throws. It's like them both but you must knockout your opponent to win. That last one is what makes this style exciting. Hard fought action all the way to the last second of the bout.


We don't know what the future holds for Traditional Myanmar style Boxing, but what we can assure you is that if anything does happen, you'll read it here first.



Special Thanks to,
RINGSIDE
Maung Tin Oo, Event Promoter
Austmar International
U BA AYE
R.A.F. Company Limited
Junction Travel
Hotel Equatorial and their GREAT Staff, Yangon
H.E. Brigadier General Thura Aye Myint
Major Maung Win
Myanmar Olympic Committee
Golden Dishes Restaurant, Yangon
Ebina House, Bangkok Thailand
Daw Mi Mi Khin
The Myanmar Times Paper
Win Zin Oo
U Htin Aung
Dr. Ivan
Traders Hotel, Yangon


And of course...

The People Of The Country of Myanmar for their Gracious Hospitality.
---
The IKF & ISCF MMA would like to thank
RINGSIDE
for Providing some of the American Teams Equipment for this event.