MONDAY, September 9th, 2013, AT 3:20 PM/ PST
Special Notice

IKF East Coast Classic OPEN Division Extension Notice
Sunday, September 15th!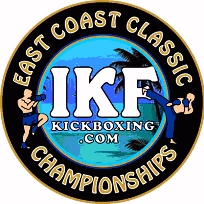 We have been asked by many trainers and fighters across the country to extend the deadline for divisions to remain open due to the summer vacation etc. Many are only now getting into the swing of things. Trainers across the U.S. and abroad have been contacting us to commit their fighters but have expressed the first deadline and the possible closing of divisions they had intended to put their fighters. We have to keep in mind the order timelines for Belts and awards in order to get them in time for the event. However as it stands now, we will be able to add another week to the deadline before any division will be eliminated. Therefore, we are hoping those of you wanting to get in your preferred division will enter right away!
All divisions will remain open until Sunday, September 15th.
After this date, you will have to register in a division that has competitors in it.
Please take note and keep your division open by getting your registration in ASAP.
Remember too, you can register now by paying your fee and sending in your registration form.
You can get your exams and pay other fees at a later date, before or at the event.
But you must register before the noted deadlines.
First deadline before fee increase is Sunday, September 8 to September 25th. Fee goes UP to $50.
From September 26th to October 10th, Fee goes UP to $55.
After October 10th the registration is CLOSED! No one can enter the Full Contact portion of the tournament. No Exceptions - Please do not ask.

However, The IKF Point Kickboxing Tournament portion of the Tournament on October 19th is open until the day of the event til 3:PM.
We are pleased to say that we have been getting registrations and inquiries daily and although we are expecting a mad rush in the final 30 days, we are pleased with the flow and the commitments that signals we should have a fantastic event. Several people have also inquired about viewing the brackets online. We will be posting brackets online shortly after the middle of September. At the time, you will be able to see who's currently in your division. Our suggestion is, as always for Any IKF Tournament is...
DON'T WAIT!
GET YOURS IN AND BE THE ONE EVERYONE IS GUNNING FOR AND GET THE TOP SEED IN YOUR DIVISION!
However, let it be noted that this is the first IKF East Coast Classic and what we are finding is that many are not familiar with the registration process. For this reason, a lot of time is going into educating clubs on the process and the importance of complying with the deadlines. Also, we did not put large penalties after each deadline "THIS YEAR" in order to try and entice more participation as well as make it as easy as possible for those who want to enter. So, we are hoping that you will take advantage of this low penalty and get your registration(s) in as quickly as possible. This will allow us to properly get the awards needed for the event in a timely fashion as well as better organize the event.
Remember, the FINAL DEADLINE IS October 10th, the week before the actual event…This is only for divisions that are still open. So the number of fighters in your bracket may change the final week prior to the event so just prepare for a full bracket of 8 and you can't go wrong!
We WILL NOT change a bracket that will leave a fighter without a match.
We recognize that we will have to make some adjustments next year to assure we get as many registrations as early as possible. For now, it is what it is…some get ready for a great event!
What Trainers and Fighters need to know is that by supporting this exciting Kickboxing event, you are giving you and your team great opportunities to participate in larger events in the near future on the East Coast. Your support or lack of support signals to the Kickboxing community that you and your gym may not be interested in Muay Thai & Kickboxing Competition. A decision to support this "OPEN INVITATION" Tournament tells the rest of the world that we are all serious about making our sport a major contact sport in this country as it is in many other countries.
We hope that you take advantage of this extended Open Division deadline and get those registrations in ASAP!
More information at www.AKPromtions.org
For questions, contact us at (843) 773-1005 or by email at ikfeastcostclassic@netwiz.net
---


TUESDAY, August 27th, 2013, AT 9:45 AM/ PST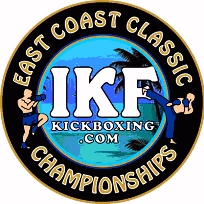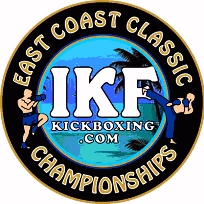 IKF EAST COAST
MUAY THAI KICKBOXING CLASSIC

BE AWARE OF THE 3 REGISTRATION
DEADLINES!
FIRST DEADLINE NOTICE…
Sunday, September 8th - Enter Early and SAVE$!
Dear Trainers and Fighters,
The first deadline of the IKF East Coast Classic is Sunday September 8th. This is a very important deadline as it will determine the divisions that will be available at the tournament. If you want to fight in your desired weight or rule style division, you need to get registered right away so to keep that division open.
ONLY BRACKETS WITH FIGHTERS IN THEM WILL REMAIN
FOR THE TOURNAMENT AFTER SEPTEMBER 8th!
After September 8th, you will have to choose from one of the divisions still open. Divisions with no contender(s) registered in them WILL CLOSE at that time due to we have to assure that we have the proper amount of awards ordered etc.
Registration fee will also go up to $50 after September 8th and will go to $55 after September 25th
Final Deadline is Thursday, October 10th!
There will also be the IKF Point Muay Thai Kickboxing Tournament on Saturday night October 19th available and will also be an option for competitors...Men, Women and Children competing for nice awards in Semi Contact action!
You can Pay Fighter Fees, Purchase Spectator Tickets, Trainer Fees, Video and Camera Passes and IKF PKB Entry Fees by going to AKPromotions.tix.com



There is a nominal fee to use this service
Thanks for joining us for this exciting event for our great sport of Kickboxing!
Get your Registrations in TODAY!


FOR ALL TOURNAMENT INFO, SEE THE
EAST COAST CLASSIC HOME PAGE BY CLICKING
HERE!
Feel free to contact us with questions at (843) 773-1005 or by email at ikfeastcoastclassic@netwiz.net
For more info go to www.AKPromotions.org
We maintain the right to create new divisions, catch weights etc. for special circumstances.
We will do what we can to try and get everyone a match but please understand there are some cases that a fight cannot be made.
There will be some refund and transfer options available.
---


TUESDAY, August 13th, 2013, AT 2:40 PM/ PST
All Amateur Kickboxing Tournament To Be Held At Historic
South Of The Border
Convention Center In October 2013!
Dillon, South Carolina, USA
Fighters from across the United States and abroad are committing to come test the Kickboxing power of the Southeast!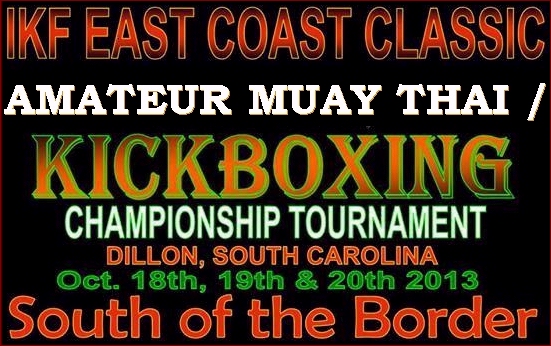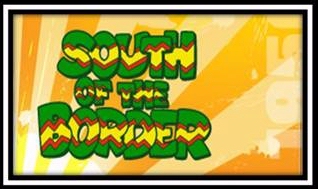 The First Annual *IKF East Coast Muay Thai Kickboxing Classic will be held at the historic South of the Border, a Mexican tourist site located on the border of North and South Carolina off Interstate I-95. The *IKF East Coast Muay Thai Kickboxing Classic will be a three day event starting with registration and exams on Friday, October 18th, elimination on Saturday, October 19th and Championship bouts on Sunday, October 20th 2013… nicknamed "Championship Sunday" as the winners will receive beautiful championship belts for topping their perspective divisions in Full Contact Kickboxing matches.
There will also be an IKF Point Muay Thai Semi Contact Kickboxing Tournament on that Saturday night around 5:30 PM at the Convention Center immediately following the first day of elimination. Men, women and children will be competing for awards in that event too. No Knockouts are allowed in the Point Kickboxing portion of the tournament which is different from the day time event, where the knockouts are allowed.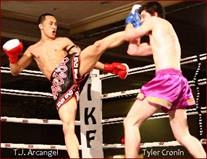 An estimated 150 to 200 fighters will travel from afar to combat all in one weekend featuring the best kickboxing action on the Southeastern Coast in many years with two rings going at once! This will be an excellent event for amateur men, women and junior fighters 8 years old and up to showcase their talents in a first class Golden Gloves type event. Gyms from across the United States and other countries like Canada, Puerto Rico and Costa Rico have already pledged their commitment to attend. They will bring their best talents to test their skills in full contact Modified Muay Thai Rule, high and low kick International styles. MMA Fighters wanting to do stand-up and Kickboxers regardless of affiliation are welcomed to participate…in fact, its highly recommended…the more… the better the competition!
President of AK Promotions, Johnny "Superfoot" Davis (Right) was delighted about the new relationship with South of the Border and knows that this event will be a success and a great form of entertainment for the entire family in the region! Davis is a former two-time world champion Kickboxer and promoter who recently relocated back to the Southeast to be closer to family. He also noted "The East Coast Kickboxing community has always been loaded with great fighters in areas like New York, Maryland, Virginia, North and South Carolina, Georgia, Florida and even Alabama and Mississippi and therefore the event is expected to be well attended! I'm ecstatic to have the opportunity to bring the Fight Sport industry to the area. Moreover, this event is a great precursor to bigger events we plan to do at South of the Border and surrounding cities in 2014." If Davis, who also promotes music, festivals and comedy events…has his way, South of the Border will feel a little like Las Vegas in

the not so distant future.
Over the past 23 years while in California, Davis built his AK Promotions company to one of the top promotions in California. He and the IKF also promoted the IKF West Coast Classic in 2011 that registered 180 fighters and was the largest kickboxing event ever held in California. More information click HERE.
The International Kickboxing Federation (IKF) will be sanctioning and assisting with coordinating the event. The IKF is known for administering strict safety regulations to protect participants. The event will have some of the top officials in North and South Carolina like: Chief Referee for South Carolina and Georgia, Mr. Blake Grice. Also top referee and champion fighter Mr. Dale Frye of North Carolina, both champion fighters. Other officials such as Shannon and Kevin Hudson of Limon, South Carolina will be on board. At press time, Mr. Scott McMillan of Morehead City, North Carolina, Former fighter Terry Rich, Former Fighter Anthony Thompson, Mr. Ray Thompson and Chief Referee for the IKF Dan Stell are just a few of the top officials who will be on board that weekend to assure all fights are judged fairly. More officials to be named soon.
South of the Border is an excellent destination for the entire family and The IKF East Coast Muay Thai / Kickboxing Classic. South of the Border has something for everyone! Fighters and fans from around the world will enjoy all of its excellent amenities including but not limited to a Hotel with approximately 200 rooms and great rates, several restaurants and diners, gift shops, a zoo, rides for the kids, mini golf course, fireworks, arcade, ice cream shops, antique and collection gift shops and so much more.


Registrations Opens August 17th. Registration process and forms will be ready soon and located on the IKF Events page under this event.
Reserve your rooms today at South of the Border before they sell out.
Mention Kickboxing Tournament for your special $59 rate. Call (800) 845-6011 or go to

www.TheSouthOfTheBorder.com
Registration Fee, Spectator Tickets, Trainer Fees, Spectator Fees, Camera Passes and IKF/PKB Entry fee can all be purchased safely with your credit card at

AKPromotions.tix.com





For more information on sponsorships, booths and general information contact AK Promotions at (843) 773-1005 , Fax- (843) 506-8010, E-mail johnnyd@akpromotions.org or go to

www.AKPromotions.org

FIGHTER REGISTRATION DEADLINE IS
5:00 PM/PST, THURSDAY, OCTOBER 10th, 2013


FOR ALL TOURNAMENT INFO, SEE THE
EAST COAST CLASSIC HOME PAGE BY CLICKING
HERE!



Transportation
Black Belt Limousine and Sedans
blackbeltlimousinesandsedans.com
(919) 606- 2401
(*) This is an AKPromotions Event Sanctioned by the IKF.
____________________________________________________________________________________________________








October 18th, 19th & 20th, 2013
IKF East Coast Classic Tournament
Dillon/Hamer, South Carolina, USA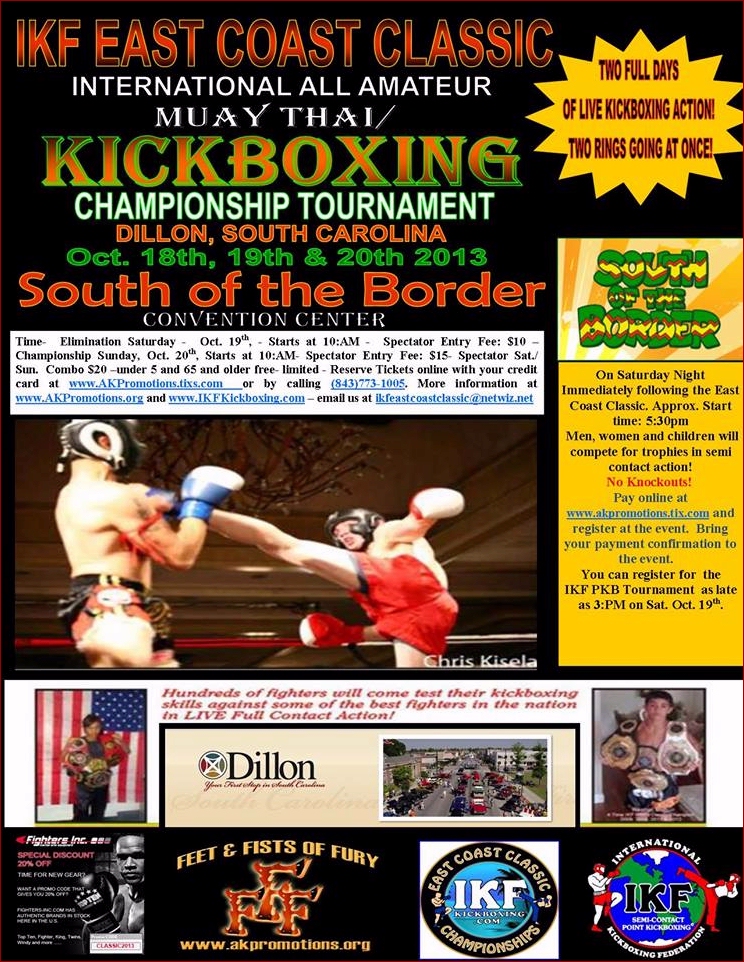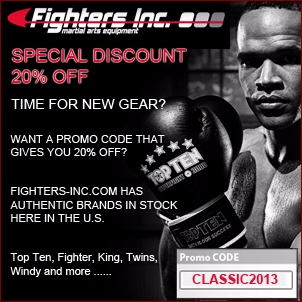 Please mail all event Registrations To
IKF East Coast Classic, P.O. Box 1804, Dillon, SC 29536
Fighter Fee $45, Trainer Fee $20…day of event $30
Spectator Tickets (Saturday: $10. Sunday: $15, Both days $20) For Tickets Call (843)773-1005
OR GO TO

AKPromotions.tix.com





FIGHTER REGISTRATION DEADLINE IS
5:00 PM/PST, THURSDAY, OCTOBER 10th, 2013


NOVICE AND OPEN DIVISIONS
NOVICE: Fighters cannot have more than 3 fights in ANY Contact fighting style.
(Large Trophy Cups Awarded To Novice Champions)

OPEN: Any Fighter with ANY fight record may register for the OPEN Division.
(Title Belts Awarded To Open Champions)


FOR ALL TOURNAMENT INFO, SEE THE
EAST COAST CLASSIC HOME PAGE BY CLICKING
HERE!
Registrations Opens August 17th. Registration process and forms will be ready soon and located on the IKF Events page under this event. Reserve your rooms today at South of the Border before they sell out. Mention Kickboxing Tournament for your special $59 rate. Call (800) 845-6011 or go to

www.TheSouthOfTheBorder.com

Registration Fee, Spectator Tickets, Trainer Fees, Spectator Fees, Camera Passes and IKF/PKB Entry fee can all be purchased safely with your credit card at akpromotions.tix.com
For more information on sponsorships, booths and general information contact AK Promotions at (843) 773-1005 , Fax- (843) 506-8010, E-mail johnnyd@akpromotions.org or go to

www.AKPromotions.org


Transportation
Black Belt Limousine and Sedans
blackbeltlimousinesandsedans.com
(919) 606- 2401


HOTEL INFO
South of the Border Motor Inn
3346 Highway 301 N, Hamer, SC 29547, Reservations: (800) 845-6011


For more info contact Johnny Davis at (843) 773-1005 or by e-mail at johnnyd@akpromotions.org
Fax Number - (843) 506-.8010