TUESDAY, November 9th, 2010, AT 7:45 PM/ PST


Barker Says
"YES"
Then Says
"NO"
IKF World Title Shot In Brisbane, Australia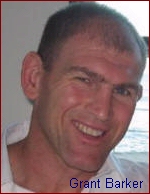 There seems to be a lot of talk on a Kickboxing message board down under in Aussieland about a false claim made here that former WKA World Cruiserweight Kickboxing Champion Grant "THE BOMBER" Barker (Right) never confirmed any plans for a comeback fight. Since this was in question, the IKF felt it important to set the record straight and report the facts to the story about Barker making his triumphant return to the ring, to fight for an IKF World Title. Let us set the record straight...
On Wednesday, September 22, 2010 the IKF was informed by Thunderlegs Promotions Australia Promoter Robert Wilesmith that Hiriwa Te Rangi had requested to fight Grant Barker for the vacant IKF International Rules Heavyweight World Title in Invercargil, New Zealand on Saturday 27th November 2010.


After more discussion, it was discovered that Te Rangi could not make the Heavyweight class and Barker was too light to make Super Heavyweight, so the fight was cancelled.


On Saturday, October 23, 2010, the IKF was informed by Wilesmith that he would like to promote a title fight for Barker since was still interested in making a comback fight. At this time the IKF started looking for possible opponents and to help with this quest, a press release was posted on the October news page. which included factual quotes from Barker saying:

"This is the most exciting time of my life to fight for the IKF World Title!" says Barker. "I have fought some of the best the world has seen, & now after been absent from the ring for a few years, I am more hungry than ever. I am doing this for my beautiful children. They are old enough now to see their Dad fight now, & right now I aim to make them proud."



To Clarify here, the ONLY reason the IKF was even considering this title was because;

The title was vacant and had been vacant for about 8 years.
The rule style it was under is the least active rule style in kickboxing.
The suggested contender for the title shot had a proven background and had also held other titles, including a World Title from a legit sanctioning body.
If "ANYONE" questioned the opponents/contenders for this title, all they had to do was contact the IKF and ask that "THEY" or someone else be considered for it, find themselves a promoter and host the title.
The reality here is, to have such an opportunity, a Promoter would be needed, and although there are fighters in the rankings, and have been there for "Years", the IKF, like every other sanctioning body, cannot force a fighter to all of a sudden, "Create" a promoter to host a Title Fight for them. Without a promoter, a lot of these titles simply remain vacant and fighter's never get their shot at a title they may deserve.



The IKF DOES Apologize for stating that "Grant Barker was the "Current" WKA World Champion. This should have read that he "WAS" the "FORMER" WKA World Champion. Grant won his WKA World Title when he defeated Kash Gill.


After the article was posted the IKF begin the work of determining a qualified challenger for Barker. Several opponents were discussed such as former IKF Heavyweight World Champion Rick Roufus. However purse fees made such a match not possible. Simply put, promoter's can only pay so much and when we are talking about a vacant title, there is no mandatory purse minimum.


On October 30, 2010 at 1:03 PM, Promoter Robert Wilesmith secured an opponent for Barker. Mike Angove of New Zealand. Angove informed Wilesmith that he was fighting Hiriwa Te Rangi for his New Zealand Super Heavyweight Title on November 20th. (This fight ended up being cancelled due to Angove received a cut to the head in training and the fight has been delayed to later next month..)

NOTE: The IKF found a poster for this fight which can be viewed HERE.
However it was not confirmed what actual title the bout was for. Some made claim that it was for Te Rangi's WMC Title. However since the WMC does not post rankings and very little, if any event info about their sanctioned events (Results, upcoming etc.) the IKF could not even confirm who held ANY WMC World title. Regardless, someone is willing to allow Angove to fight for their title after not fighting for 9 Years, so the decision they made (WMC or ??) and the IKF were pretty much the same. They too were simply "Looking" for an opponent for a fight.



On October 30, 2010, at 6:53:28 PM (About 7 hours after Promoter Wilesmith confirmed Barker's opponent would be Mike Angove) Grant Barker sent the following e-mail to Promoter Robert Wilesmith:

Date: Sat, 30 Oct 2010 18:53:28
I have decided I won't be taking the fight for the IKF World Heavy weight Kickboxing Title. I appreciate your efforts on what you have done up to this present time. My reason for this is that I cannot find the spark inside me to warrant the efforts of the dedication that I need to win, my heart is not in it. I need to dedicate to my business and my family life. I hope you understand my reasoning for my decision. Regards Grant Barker.



On October 31, 2010, Grant Barker sent the following e-mail to the IKF:

I have decided not to make a come back to kickboxing, I have given 4 months notice before the proposed date of the event. I have not signed a contract or even seen one. My desire to fight is not there like it used to be. I am happy to dedicate myself to making the IKF a force in Australia. I am also interested in promoting IKF in Sydney. Regards Grant Barker.



Today, Tuesday, October 9th, 2010, Grant posted a message on an Australian Kickboxing website that was a little misleading, as if he had never wanted to fight a comeback fight. The truth is, he had confirmed he wanted to, however, after thinking about it, choose not to. His post read:

Hi guys this is the bomber here. All I can say is "Don't believe the hype!" I am definately not fighting again, I am happily retired and that is where I am going to stay. Stuff like this happens all the time and I do still get offered fights. I love the sport, I loved my time in the sport but being in the ring is not for me anymore. I have a very busy Pt business that I run from Broadway gym, I train a few fighters, train myself like a machine (still!!) and run around around after all my kids. Life's good guys, stay fit!



So to confirm:

Yes, Grant Barker had accepted this fight.
Yes this fight was going to be for an IKF World Title.
Yes, the match-up was set to be Grant Barker VS Mike Angove.
Yes, Grant made a decision to not make a comeback fight.
The article posted on the October news page was not a "Stunt" to get ticket sales. To refer to a post on the mentioned message board, the Promoter DID NOT "take people for idiots such as in this case and pump up their own tires with total and utter rubbish to try and sell tickets." What was posted was 100% True at the time of the posting.
As for this quote by Australian Promoter Robert Wilesmith:

"This is a first for Brisbane Queensland Australia. Nobody has ever fought for a legitimate World Kickboxing Title here in Brisbane at a Professional level. The general public want to see the BIG GUYS fight, & THUNDERLEGS PROMOTIONS AUSTRALIA are bringing it to Brisbane Australia,"
All the IKF can add here is that his claim was that it was to be the first "International Rules" World Title maybe, or he could have possibly been referring to titles fought for smaller, less recognized sanctioning bodies, however, the IKF cannot confirm anything at this time in regards to the quote.



To add, YES, the IKF was indeed skeptical about allowing such a fight. However, the truth is, "The individuals involved wanted to make it happen, and the IKF approved it based on the above details."


What is funny is that on the Australian message board noted above, some posting comments wanted to make fun of such a title. One of them is the owner of an "Australian - New Zealand ONLY" Sanctioning body, the WKBF, named Lucy Tui. Many Australian fighters, have stated that having a WKBF title is no top title, but claiming such a title may look good on their resume. If the title in question was a WKBF World title, probably no one would have questioned who fought for it. However, this was an IKF World Title which holds credibility worldwide, not just in the world of the South Pacific.

So why did the IKF confirm such a title? Simply due to a combined inactivity of the Heavyweight weight class and the rule style the title was to be fought under. The proven background of those wanting to fight for it made such an opportunity possible for those involved.


ALL THAT BEING SAID...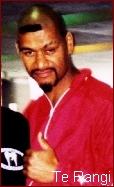 With Angove injured and awaiting a rematch date, Hiriwa Te Rangi does still want to fight for the IKF World Title under International Rules in the Super Heavyweight division. However, the question now is, "WHO" would he fight? Well there is a challenger who wants to fight him for the title who has stepped forward... Promoter Robert Wilesmith himself.
Yes, this may sound like an odd idea, but the reality is, NO ONE has ever held the IKF Pro Super Heavyweight World Title, EVER! So rather than let the title sit vacant for another 18 years, the IKF will allow the match-up. This title has never been held, and has no call from promoters to attain a Champion for it because all of the top 5 fighters in the International Rules Super Heavyweight Rankings have no desire to fight for an "International" rules title. All are either doing K-1 or Muay Thai...


Some background on Wilesmith...

Wilesmith's Amateur record started back in March 1991 till 1993, under Kru Greg Hinton. Hinton promoted Muay Thai shows in small venues such as nightclubs & in Albert Hall, then progressed to Belconnon Club Canberra ACT. Robert fought for the WKA back then and attained an amateur record of 15-0 with 14 wins coming by KO/TKO.
Wilesmith turned Pro at the end of 1993, fighting in Canberra ACT, up in North Qld, Darwin, New Zealand (Hamilton, Christchurch) & in Thailand (Koh Somui) 1998. He never fought in his home State of NSW due to he wasn't allowed to fight Muay Thai rules. His Pro record was 11 Wins with no loses with 9 wins coming by KO/TKO. There was 1 No contest due to a head clash in first round.
During his Pro career he won the NSW State Title & Australian Titles. He was scheduled to fight Steve Jez for the ISKA World Title back in 1997, but he pulled out of the bout 2 days before the show due to a head cold. Wilesmith was never given the title, his purse or offered another fight date.
Robert has kept active since his last pro fight as the head instructor of Thunderlegs Gym in Australia, sparring with many of the World Champions he trained over the years. Adding to this, over the last 15 years he has sparred and trained with the likes of Benny "The Jet" Urquidez, "Sugarfoot" Pete Cunningham, Maurice Smith, Grant Barker, Hiriwa TeRangi, Ali Hallak, John Hallford, "Mighty" Mark May, Shane Meads just to name a few. In Thailand, he fought & beat Krongshak Lek (Full Thai Rules at Lamai Beach Koh Sumui Thailand).
"After all that I've endured, I have a fire inside me that needs to be put out. This fight for the IKF Pro International Rules World Super Heavyweight Title would help put out that fire." says Robert. As a "Kru" Master at MuayThai he trains everyday with not just fighters but also with first class professional athletes & footballers (With the Brisbane Lions AFL).
Some may question Robert's qualifications for this title, but you can't question his heart. This is a title he wants and wants bad. He's hungry and would love the opportunity to shut up all the critics out there and let his shins & power do his talking. No more words, just Aussie Action! With that kind of desire, who could say "NO?"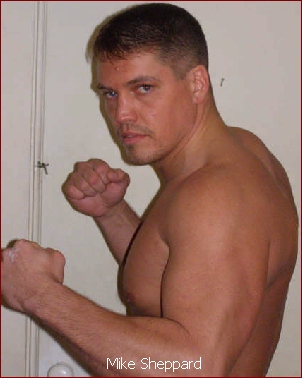 BUT WAIT.... THERE'S MORE DRAMA...


ALL THAT BEING SAID...

It seems Hiriwa Te Rangi started to question whether or not he wanted to fight Wilesmith. As the weeks went by, now Te Rangi was looking doubtful. Then, as if this bout was just not meant to be, Mother Nature stepped in and took a hit on Brisbane, Queensland Australia. Heavy rains followed with heavy flooding devastated the city and in the end, Wilesmith and the IKF had to throw in the towel.
However, Wilesmith still wanted his shot, so after the flood waters cleared, Wilesmith and the IKF came back to the fight. However this time, the IKF demanded he fight a "CURRENT" Champion. On February 7th, 2011, it was agreed the challenger would be current IKF Full Contact Rules World Champion Mike Sheppard. Sheppard was not just a FCR Fighter. He has excelled in international rules as well and jumped at the chance to add the IKF IR World Title to his trophy case.
So the stage had been set...
Mike Sheppard of Glenville, West Virginia, USA (20-5-1/15, Pro Team: 2-1/2 Pro MMA: 2-1, Pro Boxing: 15-11-1/8, ABX: 42-3/31) was to come face to face with Robert Wilesmith of Brisbane, Queensland Australia (15-0/14) in what many were calling the "Mystery Match". A Mystery because no one really knows what to expect from Wilesmith.
One thing is for sure, if desire is worth anything or even persistence, Wilesmith wins an award for them both as he has done all he can to bring an IKF World title to Australia. We all wanted to see what kind of mystery he brings to the ring on April 30th, 2011... However.... The event ended up being cancelled... Due to the massive floods that hit Brisbane, CLICK HERE... Wilesmith lost his lead sponsor, so again the fight was off...
Move forward now several months and one will see Wilesmith's preseverence... After weeks and months of work, Wilesmith finally secured a venue. Simply put, "Robert WANTED this FIGHT!"
So now... With all that being said, we are back on again, so lets...


Let's Bring It ON!"
March 24th, 2012, Skilled Park Stadium Robina (Gold Coast) Queensland, Australia!



IKF Pro International Rules Heavyweight World Title





Mike Sheppard
Glenville, West Virginia, USA
CURRENT IKF FCR WORLD CHAMPION
KB: 20-5-1/15, Pro Team: 2-1/2
Pro MMA: 2-1, Pro Boxing: 20-12-1/9, ABX: 42-3/31





VS


Robert Wilesmith
Brisbane, Queensland
Australia
15-0/14