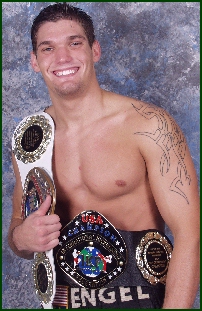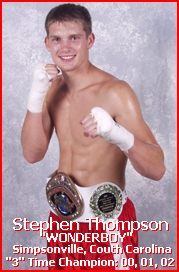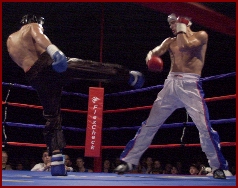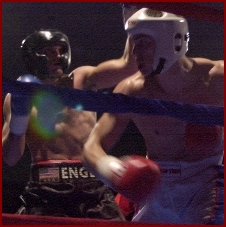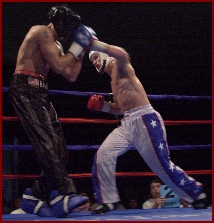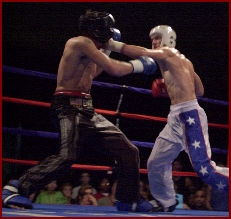 It was one thing to watch this fight, and yet even more exciting as my good friend Brooks Mason and I called it at ringside for the IKF TV Show. I will say this, "I am so glad we got this one on film!"
Greenville, South Carolina, USA: From the moment MC Sky Drysdale (Right) entered the ring and started his pre-fight pitch, everyone inside the Palmetto Expo Center had come to realize... "This was IT!" This was the moment so many had waited for. So many had been talking about it around the nation, many stating their opinions in person while others put their thoughts and predictions into words on the Kickboxing Message Board. There were the Thompson/Wonderboy fans placing previous stats into their predictions of a Thompson win due to his knockout record, to the Engel/Hitman fans explaining how martial arts training is not necessary to win a kickboxing title, which he has proved in the past. The reality is, BOTH were correct.
Sky Drysdale couldn't have said it any better as he opened the bout with "We've talked the Talk, now it's time to 'Walk the Walk'. The battles are over, and the war is about to begin... Are you Ready..." Which was answered with nearly 2000 fans screaming back.
Before the fight, I spoke to each judge that would score this bout and informed them that although this was an Amateur World Title, it would probably be the Most important World Title bout in IKF History. Why? For the reasons of the history the IKF has with both camps. We don't know them just as gyms that have fighters who have participated in IKF Sanctioned events. We know both trainers as IKF Promoters and officials too. Not just an event here and there, but Finney and Thompson have promoted not only a lot of IKF Sanctioned events but some of the most memorable and most important as well. Adding to their promotional efforts, both trainers have produced multiple IKF Champions in their gyms too. Simply put, to the IKF, "There will be no loser here, only two great warriors giving their all, for us all." And they did. To understand some of that history, lets look back at it...
The Finney Camp out of St Louis Missouri has made IKF Champions with very little traditional or general martial arts training... MANY OF THEM! Engel was just one of an impressive and distinguished group of IKF Champions coming out of their gym. Names like Mayfield, Bozada, The McNamara Twins, Mason, Ingram, Anic, Repa and of course, Finney himself. All IKF National Champions and some multi time IKF National Champions. Finney has proved his training system works, martial arts or not, the Finney Camp has produced winners.
Although the list of Champions may not be as long in the Thompson camp, Stephen "Wonderboy" Thompson has won more kickboxing titles than nearly the entire Finney Camp combined. At last count before this bout, he had won a total of 15. Five of them were IKF Titles and the remainder were from organizations such as IASKA, KICK, ISKA, USNMA, WPKA, USAKBF and PKC. He had already been crowned a World Champion in two different organizations. One by defeating a very worthy opponent, the other, by just defeating an opponent who had little to offer... However, on this night, the winner would know their opponent was without a doubt, "The REAL Deal!"
As I mentioned both Jesse Finney (Right) and Ray Thompson (Left) are IKF Promoters and IKF Officials. Not that we see a lot of favored judging, but if any outsiders were wondering or thinking it, it was clear to everyone that there would be no "Good ol boy" favorites here because we admire both of these trainers for their accomplishments in the sport. We also have great admiration for the fighters and their camps in their continued support of the IKF Organization. We would not be meeting either of these trainers for the first time, we know them both very well.
With that being said, it's time to take a look back at the fighters themselves. The two warriors that were no doubt, THE BEST TWO FIGHTERS to be selected for this title. Both had defeated the top contender in the weight class, Bill Jardine (Right) who went on to claim the IKF North American Light Cruiserweight Title on this same night against another top contender. The two had combined for over 50 wins and both had tremendous winning records, but more so, BOTH were CLASS ACTS!
We first met Kevin at the 2001 IKF National Tournament where he fought in the Light Cruiserweight (179.1 lbs to 186 lbs) division. He entered the National Tournament that year with a record of 3 wins, 2 loses and 2 wins by KO. In his opening round bout he defeated Mike Wood of Douglasville, Georgia by KO at 1:52 of round 1. In his second fight of the day he defeated an opponent Thompson would later face twice and defeat himself, John Scanlon of Chicago, Illinois. At the 2001 Nationals Engel defeated Scanlon by TKO at 1:40 of round 1 to advance to the final. In the title bout the next day, Engel had met his limit and it would be his endurance that would keep him from winning the IKF gold this year as Mark Feakes of Akron, Ohio defeated him by TKO at 1:05 of round 2. When you look at Feakes record of 12-7-1 as compared to Engel's, which by the finals was 5-2 with 4 knockouts, he really had nothing to hang his head about. Regardless, he would need to wait till the following year to win his first IKF Gold.
It was at the 2002 IKF USA Nationals where Kevin would impress us all. He dropped down to the Super Middleweight (165.1 lbs to 172 lbs.) division and felt stronger and had better endurance. In round 1 on Saturday he sliced through Christopher Terry of Phoenix, Arizona like a hot knife through butter as he won by TKO at 1:34 of round 1 to advance him to the final. In the final he faced a very strong Shannon Hudson of Lyman, South Carolina who stood with him all 3 rounds but lost by unanimous decision 29-28, 30-27 & 30-27.
Kevin made it to center stage again at the 2003 IKF/TKO USA National Amateur Tournament. Being the defending Champion he was to have a bye in his division. However his opponent, Dion Piamento of Roseville, California no showed at weigh-ins. After talking with fighters in other weightclasses, Bill Jardine of Mondovi, Wisconsin, USA and Jeremy Hodges of Beloit, Wisconsin, USA welcomed Kevin to their weightclass, a re-entrance into the Light Cruiserweight division. Since there were no defending Champions in the division, the seeding went by record and Engel had the number one seed. Weighed much less due to the weightclass change, he ended up facing Bill Jardine in the final and in a "VERY" close bout, Kevin pulled out the win by unanimous decision 29-28, 29-28, 30-27 to win his second IKF USA National Title in a row.
Kevin "The Hitman" Engel entered the ring Saturday night (Right) with a record of 26 wins, 3 loses and 10 wins by Knockout. At 6'3, 181 lbs. Kevin came to the ring ripped and confident with a swagger of a true World Title Contender and of course, with his famous Engel smile. He had won his last "23" bouts in a row since losing at the 2001 IKF National Tournament and he had expectations of making this his 24th.
Stephen Thompson was first introduced to the IKF in May of 2000 when he fought on the Spring Showdown 2000 at Fort Gordon's Gym 1 in Augusta, Georgia. In the bout Thompson defeated Keith Esskuchen of Cherry Point, North Carolina due to the disqualification of Esskuchen because of his failure to meet the minimum kick requirement of eight kicks per round. The bout was head sanctioned by the PKC and co-sanctioned by the IKF so the PKC had authority over the bout rules. The bout disqualification rule for missing kicks was a PKC Rule, not an IKF rule.
We next saw Thompson in June of 2000 when he fought at the Hot Summer Fights 2000 event at the Lowndes County Civic Center in Valdosta, Georgia. On this event he defeated J.R. Barnard of Hinesville, Georgia by TKO in round three.
There was no South East Regional that year so Thompson and others from the South East went directly to the Nationals. At the 2000 IKF USA National Amateur Tournament Thompson was the only fighter to have a full bout reversal done by the Nationals officials review staff. In his opening bout against Mike Mason (Of the Finney Camp), Mason had won by split decision with 2 judges giving him the win at, 29-28, 29-28 and 1 judge giving it to Thompson 30-27. However, an expected protest of the bout (Expected due to the crowd reaction) brought the bout under protest review. After the review, all 4 new judges gave the bout to eventual Champion, Stephen Thompson, 30-27 and Thompson advanced to the final. In the final the 17 year old Thompson faced and defeated 30 year old Peyton Russell by unanimous decision, 30-23, 30-24, 30-24. Russell and Thompson became very close friends after this bout and have remand so ever since.
Thompson remained active from here on with the IKF and on any other events he could get fights on. Traveling anywhere he and his father Ray were slowly becoming not only recognizable around the North American Kickboxing scene but they were also becoming a major name in the circuit. At the 2001 IKF USA National Amateur Tournament Thompson again won the IKF Gold. This time he defeated Vilavahn Seukpanya by TKO at 14 seconds into the first round. It was the only strike thrown in the bout and set a new record for quickest win by KO/TKO at the National Tournament. Why didn't Seukpanya continue? Because the kick broke his arm!
At the 2002 IKF USA Nationals he defeated a common opponent of Engel's, John Scanlon of Chicago, Illinois. Like Engel, Thompson put him away in one round but did it a minute faster at the 44 seconds mark.
In 2003, Thompson and his father/trainer Ray, choose not to compete in the 2003 IKF/TKO USA Nationals because there were a lot of people complaining on the Kickboxing Message Board. that he should step down and give others a chance. So he did and instead entered two other tournaments this year. He entered the KICK North American Tournament and the IAKSA World Tournament, and won them both with ease.
Stephen "Wonderboy" Thompson entered the ring on Saturday night with a record of 32 wins and not one loss. He has accomplished more at 20 years old than many kickboxers will in a lifetime, but he has accomplished more. Along with his "15" kickboxing titles he is also a 4th degree black belt in Kempo karate, a 2nd degree black belt in Upstate Karate's Kickboxing Program and a black belt in JuJitsu. In all of his 20 years of age he has been training in martial arts for 17 of them! Thompson, unlike Engel, credits his kickboxing success to Martial Arts training!


With all that being said, I believe it's time to get to the show.
As we say here at the IKF, It's time to "Walk the Walk and Bring It ON!"
ROUND 1
Both fighters came out with their front hand high and touched gloves in the center of the ring. It was clear that despite all the message board chatter and smack talkin, these two had great respect for each other and both knew this was to be the most important fight of their career... at least up to now. Engel threw the first kick, a left rear leg round kick that missed when Thompson stepped back. Thompson shot his own left leg round kick that bounced off of Engel's gloves as Engel fired a non landing jab back. The two exchanged a few shots and went to the ropes with Thompson leaning on them. Engel backed away to give him room, the two touched high gloves again to re-start their action. Many thought, as did Brooks and I as we commentated, that this would be a "Legs by Thompson, hands by Engel." bout. In round one, this proved true. Thompson shooting out head kicks and Engel firing back his hands. Between the two of them, few power shots landed. Then a bit past the half way mark of the round Thompson threw and landed a spinning hook kick to Engel's head. Engel adjusted his head gear and acted as if it wasn't anything to hurt him, and it wasn't. However it made him realize, Thompson can get his feet to his head with ease. As the round wore down, Thompson surprised us all as he landed left and right hands on Engels head and followed them up with round kicks to the body. Usually known for being a fast starter, as round one ended we were surprised we didn't see the expected power punching of Engel, but it was clear Thompson had landed more and countered better. All three judges gave round 1 to Thompson, 10-9.
ROUND 2
As round 2 started, again, both stuck their gloves high and the air to start the round. Thompson waisted little time after stepping back from the touch as he fired a left leg round kick to Engel's head that landed hard on his right forearm. What impressed us from the start was Thompson's movement. This had to frustrate Engel because everything he threw, Thompson seemed to slip away from it, to the side of it or slide out of it. Thompson's movement was a lot like a point fighter playing tag. It was clear he had no game plan that called for staying put and trying to bang it out with Engel as many have before. This was probably his best strategy of the fight, along with his hands... When Thompson wanted to score he shot in with a quick jab followed by his rear hand (Which ever that turned out to be from whatever stance he was in at the moment) and quickly got back and out of Engel's reach before Engel knew he was there. While Thompson got his kicks in quickly, Engel had to rush to get his in. However, these were not Kevin Engel kicks. They had little on them and seemed to be thrown just to get his count in. Brooks and I were a bit surprised he wasn't driving them in as we have seen in the past but maybe Thompson had already taken him out of his game plan so much, he was already thinking "catch up". Then out of no where, an attack that started when Thompson landed a right leg round kick to Engel's head, Thompson followed it up with about 12 unanswered punches with nearly all of them landing on Engel's head. Finally referee Danny Stell stepped in and gave Engel an 8 count. As Stell was counting Engel walked to his own corner, head down, leaning on the ropes. It was clear he was totally surprised at Thompson's reach, speed and power. As the 8 count ended, the bell sounded. If there was ever a moment to use the term "Saved by the bell", this was it! All 3 judges again gave the round to Thompson. Judge Ronnie Copeland scored it 10-8 Thompson, Judge Mike Carlson scored it 10-9 Thompson and judge Randy Pogue scored if 10-8 Thompson.
ROUND 3
Again, the two show their respects, gloves high and touch to start the round. Engel would start the press but it would be Thompson that would fire and land a good solid left leg round kick to Engel's head. As Engel would try to set in on his punches, Thompson would move left and right and attack him from different angels. There was one kick in the opening moments of this round that both Brooks and I thought, and even Kevin told me later, that landed so perfect you could feel the pain from across the ring. Although the kick didn't drop Engel, it certainly made him weak in the knees. Heck, it would have made ANYONE weak in the knees. It was a left leg round kick that landed square into the right side of Engel's body. We could see the pain on his face and all I was thinking was "I can't believe he's still standing!" But then again, these were "World Title Contenders" and it would take more than that to drop a warrior like Kevin Engel!
After the kick, it was clear Engel lost some of the snap in his punches... Again, anyone would after the shot! Like a lion sensing a weak pray, Thompson sensed Engel was not as sharp as he was before the kick. He took advantage of it charging in with a fake jab and landed a strong right hand on Engel's head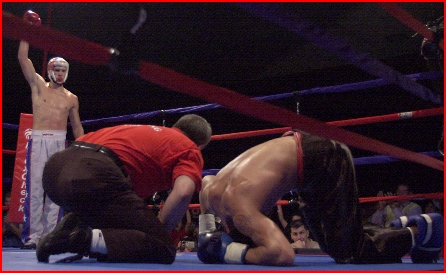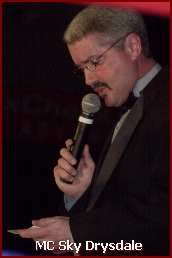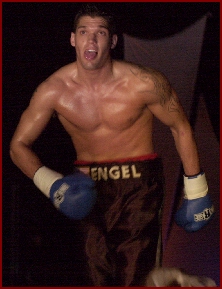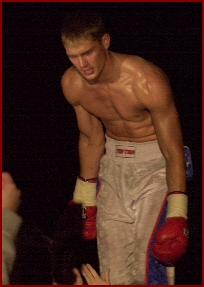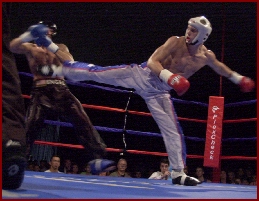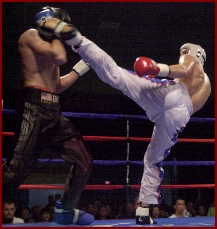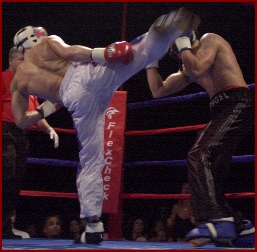 This was followed by another right, then a left, another right, another left and then, Thompson let the "Wonder" go! A strong spinning side kick with his right leg landed square on Engel's stomach directly in front of us. It hit him so hard we almost fell over ourselves. This was the shot that would drop Engel to his hands and knees. Referee Danny Stell quickly stepped in to begin the count. Would Engel be able to stand after such a perfect shot? Would Thompson finish him for sure if he did? What played out in the next few seconds is what gained Kevin "The Hitman" Engel the respect he deserved from EVERYONE! Even the Wonderboy fans. At the count of "9" Engel rose to his feet. Dan Stell asked him if he wanted to continue and he replied strongly, "Yes Sir!"
Thompson waisted no time and jumped on him again with a barrage of punches no one thought Thompson could throw, each landing on Engel's head and body! To the surprise of everyone, it was here that Engel threw his best attack back. He fired back a left hook that landed flush on Thompson's head as he fought off the ropes. Thompson countered with a kick that missed but followed it with another right hand which Engel answered back to. This may sound odd, but it was at this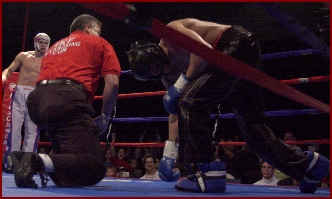 point that this World Title fight became "THE WAR" we all wanted to see! Thompson fired a perfect right leg round kick that hit Engel so hard it knocked his mouth piece out of his mouth and into the crowd. Danny Stell stepped in since the action paused and had Engel's trainer Jesse Finney get it back in his mouth.
The action continued but it was clear Thompson was setting the pace. As the round was coming to an end, Thompson again stood in front of Engel and fired off 5 to 6 unanswered punches which forced referee Dan Stell to step in to separate them and give Engel his "SECOND" standing 8 count of the round. As he did, Engel fell backwards to the canvas, more from exhaustion and a loss of balance than from pain. On his back, Stell continued the count into the round break (which is required). Engel rose to his feet at 6. It was quickly announced by referee Dan Stell that added to this, Engel lost a point for not getting his kicks in. Judge Ronnie Copeland scored it 10-6 Thompson, Judge Mike Carlson scored it 10-7 Thompson and judge Randy Pogue scored it 10-6 Thompson.
ROUND 4
STILL, both fighters touched their gloves high to begin the 4th round. The respect was still there and by now, both knew what it was like to be in a REAL World Title Fight! Thompson wasted no time again as he started with a right leg side kick. Engel tried to stalk him down but Thompson's movement was still 110%! Thompson's movement had completely taken Engel's power punching game plan completely out of this fight. Engel never got a chance to set down on any of his punches and when it appeared he would, Thompson would either move or just simply beat him to the punch. When he did, he never stopped at just 1 punch, it was 3, 4 and 5 followed by kicks.
Brooks and I kept looking for that one punch that Engel might throw that could change the fight in an instant, but it just never came. As the round went on though, Thompson stopped following up on his attacks. What use to be combinations of 3, 4 and 5 were now single kicks and punches. Could the Wonderboy be getting tired?
Then just as we thought and said that, he fired a right hand, left hand right leg round kick to Engel's head. He next followed with an attack as Engel sat on the ropes of all hands, left, right, left, right. However, it was here Engel hit Thompson with his best jab of the night, a straight left. But it was short lived as Thompson ducked the right hand he followed with and started on him again. Left, right, body, head and ending with a left leg round kick to Engel's head. As the two backed off the ropes, Engel threw another hard jab, this time knocking Thompson's mouth piece out of his mouth. Stell stepped in and had Thompson's trainer, Ray Thompson put it back in. When the action started again, Thompson led off with a lead left leg to Engel's head, but it was Engel who got the most of this moment as he landed two good right hands on Thompson's head. It was short lived though as Thompson came right back with a quick left and right of his own. MAN What a FIGHT!
Thompson's left hand continued to do damage, almost landing it at will on Engel's head as the 4th round came to an end. Engel would need to knock Thompson out to win as Thompson won all 3 judges cards 10-9.
ROUND 5
Dan Stell brought both fighters to the center of the ring to touch their gloves up for the 5th and final time. It was now very clear that Engel would have to knock Thompson out to win. He had lost all 4 rounds on all 3 judges cards plus he had lost another point for missing his kicks in round 3.
Engel started the rounds action with a good right leg round kick to Thompson's side, but didn't follow it with anything. A mistake he had been making all night and followed him into the final round. For whatever reason, both Thompson and Engel only threw single shots in those opening seconds of the final round. It was clear now that both were tired., yes, BOTH! But this was a World Title fight and we wouldn't expect anything less of either of these two great fighters. Instead of being the most exciting round, which we all expected under the circumstances, this final round was instead the slowest. Great combinations were now replaced by single shots. Engel landed some hard right hands and Thompson did too, but only single shots.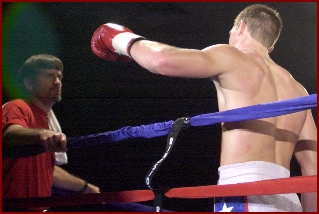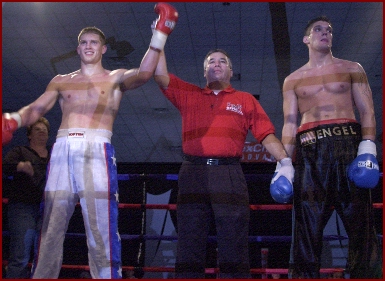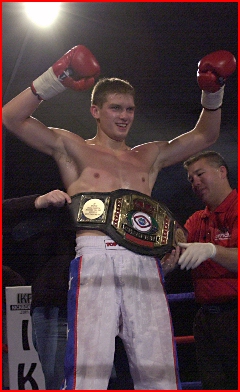 That is, until the final 15 seconds where each gave out what they had left which really wasn't much. They had left it all in the ring and there was little left in the end, but one thing was clear, this was all Stephen "Wonderboy" Thompson. Engel did just a little more in the final round according to judge Mike Carlson of Georgia to give it to him 10-9 while Judge Ronnie Copeland of North Carolina and Randy Pogue of Pennsylvania both gave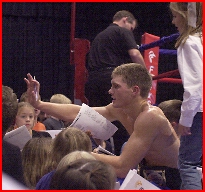 the final round to Thompson.
This was a war by two great fighters. Two fighters that proved to us all they were winners in the ring and out of the ring. On this night, only one would wear the IKF World Title belt home. Lets not take anything away from Kevin Engel though, who could have stayed down in the third round, but didn't. "Many of us probably would have..." These two deserve "ALL" of our praise, respect and admiration. Neither deserve to be slammed on the message board either, so keep off them!
These two are CHAMPIONS! Hats off to Kevin Engel and more so, hats off to Ray Thompson and his son Stephen. You not only won a IKF World Title on this night but you also produced a World Title Class Act show for ALL OF US IN THIS SPORT!
As the scores were announced, it was clear who won. Stephen "Wonderboy" Thompson of Simpsonville, South Carolina, USA (33-0/18, 184, 6', 20, Ray Thompson) had defeated Kevin "Hitman" Engel (26-4/10, 181, 6'2", 22, Jesse Finney) by unanimous decision to win the IKF Amateur World Title! Judges Ronnie Copeland and Randy Pogue scored it, 50-42 while judge Mike Carlson scored it 49-45. After the scores were read, Thompson did his famous back flip in the center of the ring.
Both fighters were swarmed for autographs as they exited the ring, and both took the time to sign them all.
But than again, why wouldn't they...
They are BOTH
CLASS ACTS!

See the photos of this great war below...