RINGSTAR Maxx SHOES
ARE AN APPROVED FIGHT SHOE FOR IKF PRO & AMATEUR "FULL CONTACT RULES' BOUTS ONLY!

-NO SHOES OF ANY KIND ARE ALLOWED IN ANY OTHER IKF RULE STYLE-

NO RESTRICTIONS...
Both Fighters DO NOT have to agree to wear Ringstar Shoes.
If one wants to wear them, it does not matter if his/her opponent wants to.
If one fighter chooses to wear the Ringstar MAXX shoes, the other fighter does not have to.


---



FRIDAY, June 22nd, 2007, AT 8:00 PM, PT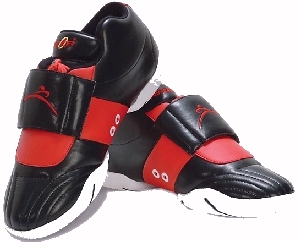 IKF
Approves
RINGSTAR
Fight Shoes For Competition!
Earlier today the IKF Officials Board approved the Ringstar® Sparring shoe known as The Maxx (Right) for both

IKF Point Kickboxing and IKF Full Contact Rules Kickboxing. If you have never tried these shoes, you need to get a pair because it will literally change the way you fight!
"I find the shoes as a great source of comfort and protection for my feet." Said IKF Point Kickboxing Director and former two time Professional (FCR) World Champion Johnny Davis. (Left) "As I sparred with the shoe, I felt the padding was exceptional because as I made contact, I didn't feel much shock at all on my foot that delivered the strike. When you get hit with this shoe its more like being hit with a pad than a shoe and that's a good thing."

Those who have tested the shoes here at the IKF have come to the same conclusions such as, If two fighters doing IKF Point Kickboxing or IKF Full Contact (American Kickboxing) style fighting wanted to wear the shoes it would be interesting and perhaps may add some excitement and intrigue to some of the fights as well as an added safety factor for both competitors.
It is true that the shoe protects the foot better than the currently accepted kick footpads. However, although the impact was safe and padded, the impact of the kick is harder with the shoe on than the foot pads due to the confidence in the use of the shoe as compared to the non stability of the foot pad.
"The protection of the shoe in sparring to the person wearing them is far better than the old style pads." Said former Kickboxing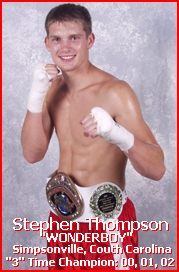 Champion, co-founder of the IKF and now head of Officials for the IKF, Dan Stell. (Right) "I no longer worried about jamming my toes, the pad coming off, and the padded instep was a major addition as well. I would without a doubt highly suggest them for serious fighters."
The first Kickboxing Fighter to use them in actual competition was former IKF World Champion

Don "The Dragon" Wilson (Right) "I loved them!" Said Wilson. "I used the very first pair, (-which has been greatly improved upon since then-) in a real kickboxing fight in Atlantic City at the Tropicana. The shoe gave me better footing and the safety on that first shoe was easily comparable to a regular foot pad."
The shoes have greatly improved since then, but back then, the shoes worked great in that bout which was Wilson's last kickboxing bout (So far...) as Don won by KO in the 10th round over Eddie Butcher.
Some other well known IKF Champions that have been using the shoes are Stephen "Wonderboy" Thompson and Peyton Russell. "We have been working out in them and sparring with them a lot and tall my students love them, both full contact kickboxers as well as regular martial artists." Said their coach Ray Thompson. (Right). "These shoes are a major addition for safety in the sport, not to mention the added hygiene issues fighters had to deal with walking around

in bare feet while working out."
This was a point Wilson made as well. "How many fighters pick up germs from the floors of gyms, athletes foot or whatever. Wearing these shoes while working out takes away the worry of this." Said Wilson.
"This is a great shoe that will without a doubt promote safety to the Full Contact Kickboxing arena." Said IKF Chief Medical Advisor

Dr. Allen Fields. (Left) "We have been watching Steve (Shepard's) progress with the shoe and I must say, the outcome of what he has produced is outstanding!"
Like in any new product, IKF will closely monitor the use of the shoes in regards to the decline of foot injuries as well as impact and contact feedback of this full contact Kickboxers that use the shoe. I think the fact that the shoes form to the foot better than the old foot pads, they offer a lot more affective kicking potential.
This is the second alignment deal that the IKF has made with Ringstar Products®. Previously the IKF announced they, along with their sister organization for MMA, the ISCF. had come to a sponsorship agreement with Ringstar Products® to be the official sponsor for Officials Shoes for all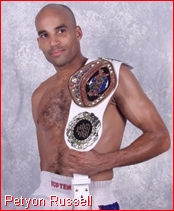 IKF & ISCF Certified Referees for ALL IKF & ISCF Events with their Flexx Pro Trainer Martial Arts Training Shoe. The sparring or "Competition" shoe is a different shoe itself.
"Making ailments such as this one for us here at the IKF are a 'Win-Win'" Said IKF President

Steve Fossum. (Left) I don't just mean for both companies, which it is of course, but what I mean is when you find a good product like the Ringstar Shoes and you are dealing with a Martial Arts and Kickboxing Icon who is as successful yet as humble as Steve Shepard, this is what we look at as a big 'Win-Win' for the IKF organization."
The founder and President and CEO of Ringstar Products® is Former Professional Kickboxer Steve Shepherd. "Making our relationship with the IKF has been one of the best moves for our connection with the sport of Kickboxing." says Sheppard. "All of us here at Ringstar are excited about the future of this relationship as well as the future of the sport. Together, Ringstar and the IKF have some great things planned."
As we have already pointed out to you readers here a few weeks back, Steve is a legend in the world of kickboxing. He is a 5 time, 4 weight division Professional Kickboxing World Champion who ended his career with a record of 49 wins, 4 losses and 2 no contest. He defeated International Champions from Canada, Japan, Australia, Europe, and Asia, and defeated World Champions in 7 separate weight divisions and was voted pound for pound the greatest fighter in the world in 1980, 1981, 1982 by Official Karate Magazine. He along with fighters like Jean-Yves Theriault, Brad Hefton, Jerry Trimble and others were the first stars of kickboxing when it became a new regulated sport and helped revolutionized the sport, taking it from small market special interest, to international recognition. To read more about Steve, click Here.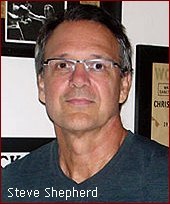 Here are some bullet point thoughts about the Ringstar Shoes:



POWER

More freedom to kick much harder with the shoes on rather than off. They are comfortable to lounge around in ...very good support on the feet and ankles.



STRETCHING

Even during warm-up drills the shoe is very comfortable as they allow you to slide into your stretch.



LIGHTWEIGHT

The shoes are very comfortable lightweight and don't take away from the speed in your kicks and they allow easy and quick movement.



COMBINATION KICKS

Combination kicks and a variety of kicks from one leg combos to jump kicks with the shoes on feel pretty normal and did not take away from the effectiveness of the technique.



VARIATIONS

The IKF does not get a kickback for each pair of Ringstar shoes sold, so this is not a sales pitch. However, some may want to have a pair to workout in and a pair to spar or compete in. This way, you don't cause unnecessary wear on your competition shoes during a workout when doing other aspects such as running, jumping etc. etc.. That is, unless you like to wear them all the time.



BOXING

We feel that these shoes would be great for boxing as well, but boxing doesn't need the additional padding. Maybe Ringstar can create a BOXING shoe as well. Regardless, the shoes did not take away from any punching power from those working with them over the last few months.



TRACTION

Unlike the foot pad, traction was a KEY part of the show for the user. No more slipping on the ring canvas or vinyl. The grip was solid and strong.



SAFETY

If you have ever had a toe in the eye or had a toe cause a cut on your head, you will appreciate it now if your opponent is wearing these shoes. Even a dropping elbow on the side of the foot as a competitor tried to block a side kick didn't hurt like when wearing a regular sparring boot.



MOVEMENT

This can be related to the traction section. No slipping or sliding and your explosiveness is 10 fold with the grip of the shoe. Left, right and all the angles were greatly enhanced due to the superior traction of the shoe that is also well padded for those being hit with it.



WINTER WORKOUTS

In the winter time the shoes are great for those who hate taking their shoes off to kick the bag as the bag and your feet are always cold. This can also prevent any injuries from the cold weather and strong impact with cold feet on a heavy bag.



CLEANNESS - HYGIENE

As clearly noted above, these shoes will greatly improve training cleanliness. The hygiene issues fighters have had to deal with while walking around in bare feet while working out are non existent with the shoes.
We here at the IKF who have tested the shoes feel that the shoes will be an asset to the sport of kickboxing but it may take some old school fighters a moment to get use to this form fitting 'boot'. These shoes will add to the full contact and point style fights which is why we have accepted them as a fighting foot pad for those fights that both fighters agree to wear the shoes.
For more info on the
Maxx Competition Shoe
or on all the Products produced by
Ringstar Products® go to www.ringstaradvantage.com