2014 IKF
WORLD CLASSIC
AMATEUR MUAY THAI - KICKBOXING
WORLD CHAMPIONSHIPS
Orlando, Florida, USA - JULY 11th, 12th & 13th, 2014

HOTEL INFO

Buena Vista Palace Resort Hotel & Spa
In the Walt Disney World Resort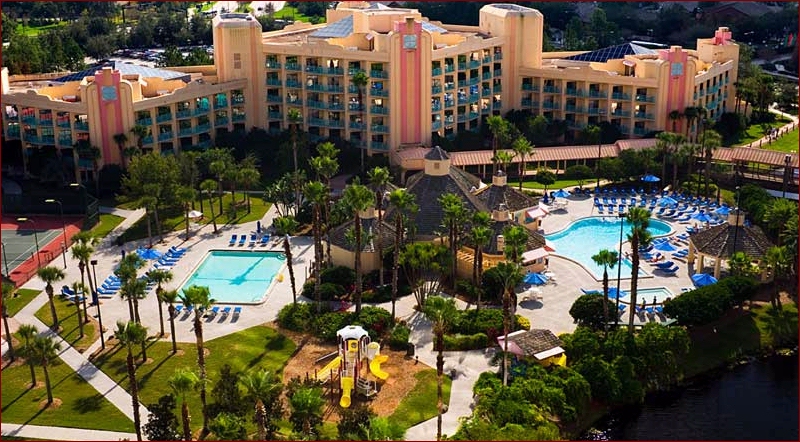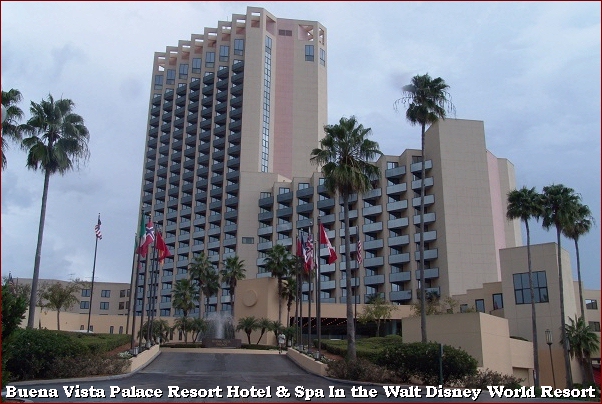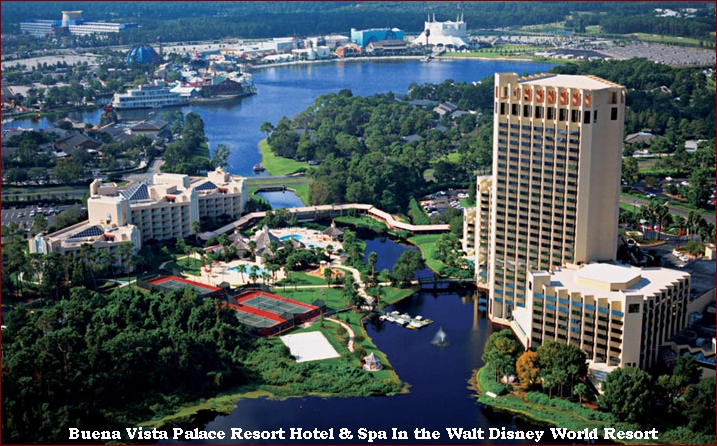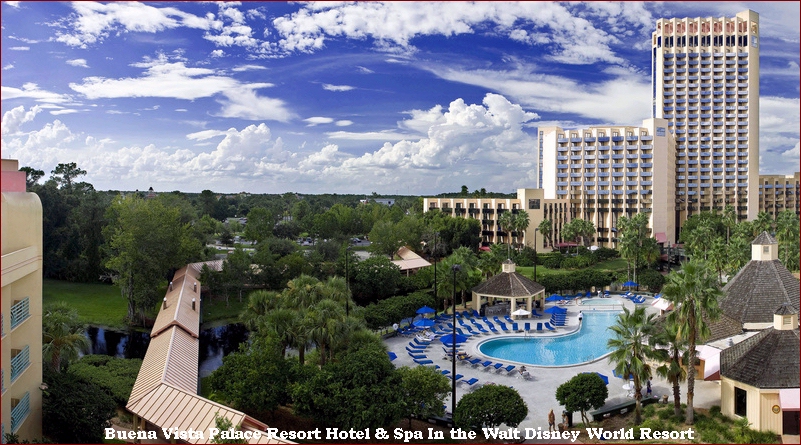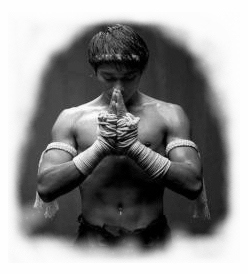 MAKE IT A VACATION!
Fighters, Trainers, Family & Friends, use the IKF Kickboxing name and book your rooms for not only the days of the Tournament, but you can also book at the IKF Rate 5 Days Prior to the IKF Tournament and 5 Days After!
(July 7th Thru July 18th, 2014)
There are only a limited number of "Additional Room Nights" Available outside our IKF Event Date Room Block,
So you need to book these early while they last.

Don't just make it an Event, Make It A Vacation!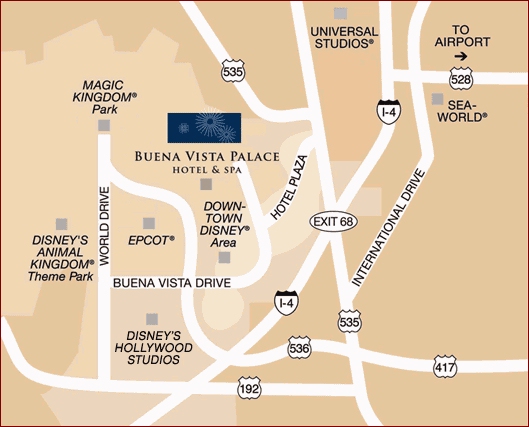 Buena Vista Palace Resort Hotel & Spa
Experience an Orlando resort getaway within this Downtown Disney hotel that ascends above the rest. Soaring 27 stories above the world's favorite destination, Buena Vista Palace Hotel & Spa in the WALT DISNEY WORLD® Resort raises the bar for exceptional quality and service in this sunny locale. Feel the magic the moment you arrive at our exclusive Walt Disney World hotel. Take a refreshing dip in one of three outdoor pools. Schedule a soothing treatment at our full-service Spa and Salon. Experience the thrill of world-famous Downtown Disney, with its vibrant shops, delicious restaurants, and exhilarating nightlife. For work or play, delight in our exclusive amenities, stunning accommodations, and alluring setting: Located on 27 beautifully landscaped acres in Lake Buena Vista, Florida Across the street from Downtown Disney® Just 20 minutes from downtown Orlando and the Orlando International Airport (MCO)

______________________________________________________________
Hotel Web Site: CLICK HERE


Hotel Facebook Page: CLICK HERE


Regular Room Rates: $199.00


IKF Room Rate at this Outstanding Resort!



$134.00
This discounted rate will be honored for reservations 5 days prior and 5 days after the event based on availability.


Hotel room rates are subject to applicable state and local taxes in effect at the time of check in (currently 12.5%).


BOOK EARLY! At EVERY IKF World Classic since 2007 we have Sold out our discounted Hotel Block, so if you want to get the reduced rate, you need to book your room early!

You can reserve your room early and if something comes up, you can always cancel the reservation.
All reservations must be accompanied by a first night room deposit, guaranteed with a major credit card.
Hotel will not hold any reservations unless secured by the above method.



LATE CANCELLATION: Should an attendee cancel a reservation, refund of the deposit and/cancellation fees will be given in accordance with the Hotel policy.
No refund is given or credit card is charged for one (1) night room and tax if an individual's reservation is cancelled less than 72 hours before 4:PM on the arrival date).


HOTEL CUT-OFF DATE
Reservations by attendees must be received on or before JUNE 16th, 2014! (the "Cut-Off Date").
At the Cut-Off Date, Hotel will review the reservation pick up for the Event and release the unreserved rooms for general sale,
and determine whether or not it can accept reservations "AT THE IKF REDUCED RATE" based on a space and rate available basis at the group rate after this date.



When Booking rooms, Ask for the IKF Kickboxing Room Rate!


Hotel Phone Number: 877-639-8762


Hotel Address: 1900 Buena Vista Drive, Lake Buena Vista, FL 32830



MANDATORY
To Stay At The Buena Vista Palace Resort Hotel & Spa For The IKF World Classic
Some of you may have noticed the little notation near your name where it is listed in the division you are fighting in at the IKF World Classic. It looks like this;
HOTEL ROOM #: _______
Write In At Check-in - PRIVATE to IKF.
This little slot is your final acceptance into the IKF World Classic. We will need your room number placed here by the end of weigh-ins on Friday afternoon which will be 5:30 PM.
The ONLY Fighters who are EXEMPT from this rule are fighters living within 50 miles from the hotel. If so, please bring a copy of a mapquest with your address on it AND A DRIVERS LICENSE for proof of location. Some may be asking WHY we have this rule. Well, the rule helps us in many ways, as well as you.
First, if we need to locate you for a schedule change, bout change, etc. etc, we need to be able to get a message to you easily through our hotel contacts.
If you are injured during the bout and we need to contact your parents, who should also be at the hotel, again, we need to be able to get ahold of you easily.
Those living outside the 50 mile radius and not registered at the host hotel will not be allowed to register to fight. Simply put, we do not want to deal with the problems we have had in the past with issues that arise from the breaking of this rule. Thank you for your understanding.

If you do not stay at the Buena Vista Palace Resort Hotel & Spa, you will be charged a $150.00 non compliance fee
On Top Of Your *$55 Tournament Registration Fee.
SEE BOTTOM OF THIS PAGE FOR DETAILED EXPLINATION...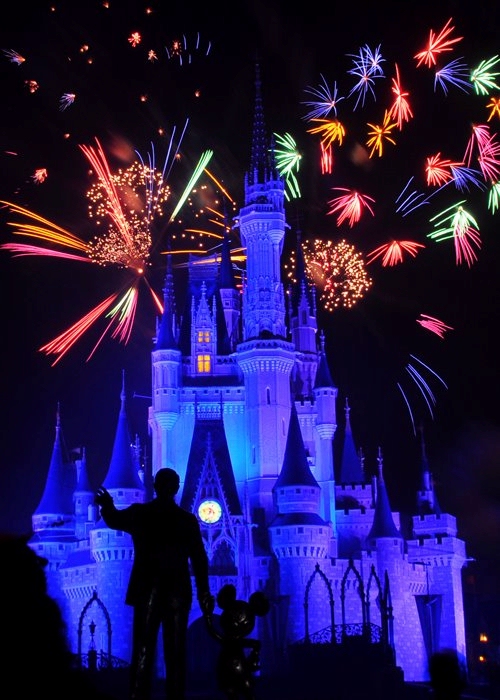 "A World Class Venue For A World Class Event!"
Buena Vista Palace Resort Hotel & Spa
In the Walt Disney World Resort
Lake Buena Vista, Florida, USA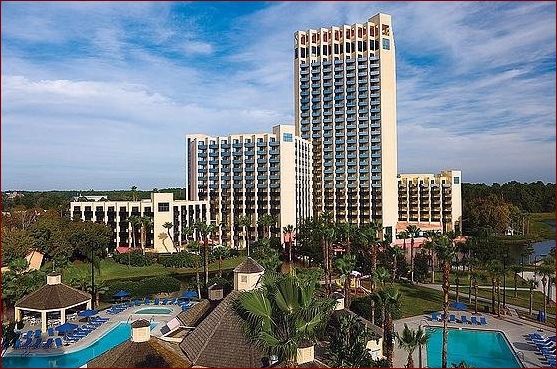 Buena Vista Palace Resort Hotel & Spa

1,014 Spacious Guestrooms With Private Patios Or Balconies.
Mini In-Room Refrigerator.
In-Room Electronic Safe.
Hair Dryer.
High-Speed Internet Access - Wired And Wireless Internet Access.
Clear By Jean Jacque - Bathroom Amenities.
Coffee Makers.
Iron And Ironing Board.
Microwaves (Resort Building Only).
Complimentary Transportation To All Disney Theme Parks And Water Parks.
Preferred Tee Times At All Disney Golf Courses.
Reservations For Disney Dinner Shows And Restaurants.
Disney Gift Shop o Fitness Center.
7 Restaurants And Lounges.
Room Service.
10,000 Square Foot Spa And Salon.
Video Arcade o Business Center.
Car Rental Service On Site.
3 Heated Pools
Whirlpool, Pool Concierge.
Tennis, Volleyball And Basketball Courts.
Children's Playground.
Laundry And Dry Cleaning Services.
Free Guest Parking.
Airline Boarding Pass Kiosk.
Off-Site Pet Accommodations On Disney Property.
Cordless Phone.
Daily Newspaper.
On-Command Movies.
Sony Playstation, And MSN® TV
World-Class Full Service Spa And Salon With More Than 60 Treatments And Services.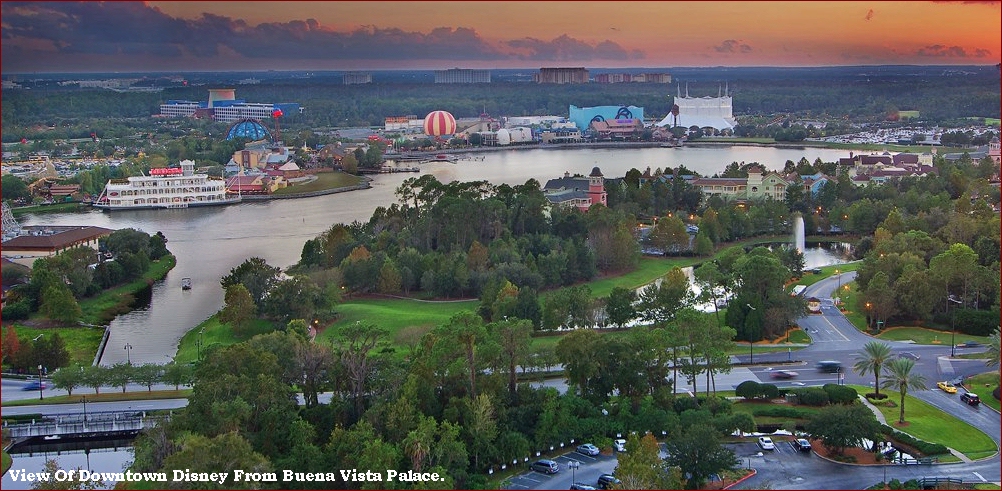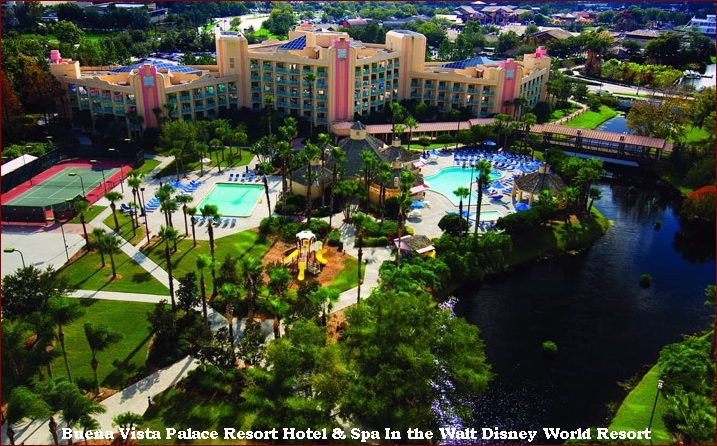 ---


DINING
Hotel Dining At Buena Vista Palace Downtown Disney
Avu-Avu

Experience the Buena Vista Palace's signature restaurant Avu-Avu!
Join us for an all-you-can-eat, family-style tropical feast featuring an array of meat skewers flame-grilled in our showcase kitchen!
Enjoy a fun-filled family dinner you won't forget.
From Coffee Colada Chicken Breast and Root Beer Barbequed Pork to Citrus Ginger Shrimp and Kalbi Marinated Salmon, Avu-Avu's mix of Flame Grilled Skewers provides something for everyone!
Opens at 5:30 PM.


The Kook Sports Bar

Featuring great food, spirits and fun watching all of your sporting events on our network of 38 televisions.


Lobby Lounge

Located onsite of the Buena Vista Palace near Disney, guests can unwind to nightly piano favorites, full cocktail service, specialty coffees, scrumptious pastries and a view of the waterway.


Castaway Grill And Shipwreck Bar

Serving lighter fare, snacks, cool drinks, salads, and more on Recreation Island.


Watercress Café

Enjoy American fare with a lovely lake view. Includes a daily breakfast buffet and Disney Character Breakfast on Sundays.
Take in our lakeside view as you dine for breakfast and lunch. Your family can enjoy a buffet breakfast with their favorite Disney characters every Sunday morning.


Watercress Cafe Mini Market

Need to grab something on the go? The Watercress Cafe Mini Market is open early morning to late night serving Starbucks Coffee, breakfast pastries and cereals, prepared salads and sandwiches, on-the go drinks, snacks and convenience items.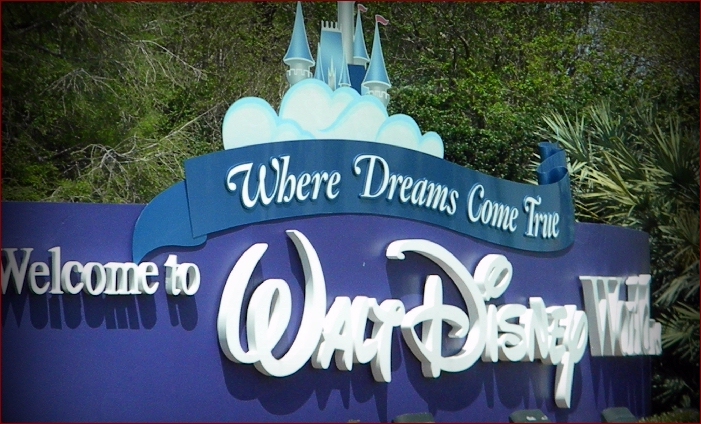 ---
FIGHT VENUE

CONVENTION LEVEL
Empire Ballroom, Crown Hall & Westminister
22,286 SQ. FT

PHOTOS COMING SOON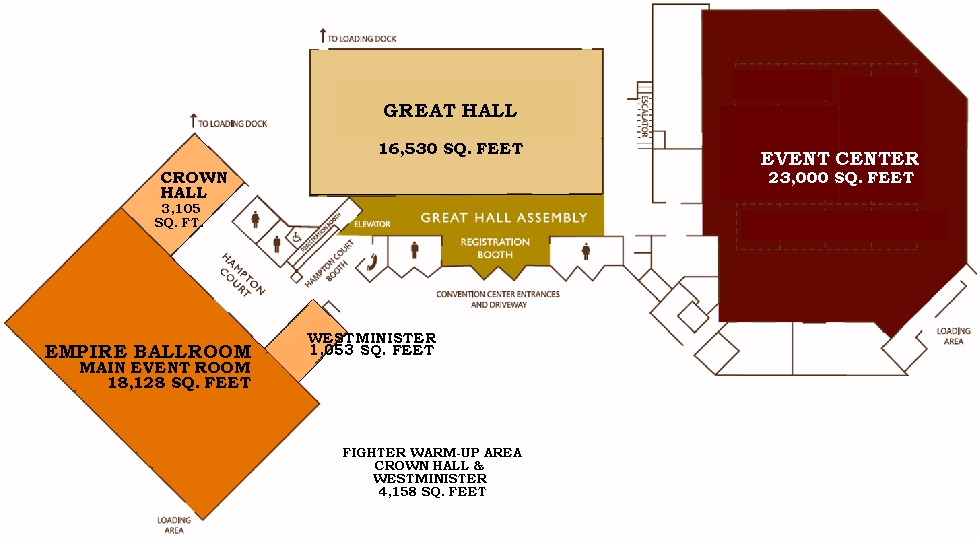 ---




ATTENTION
FIGHTERS, TRAINERS AND CORNERMEN
You can Save Money on your registration fee if you stay at the Buena Vista Palace Resort Hotel & Spa under the IKF Room Block.
Buena Vista Palace Resort Hotel & Spa Guests staying under the IKF Kickboxing Federation Room Code Register for
IKF World Classic for only $55.00 until the FIRST DEADLINE.

If you do not stay at the Buena Vista Palace Resort Hotel & Spa, you will be charged a $100.00 non compliance fee
On Top Of Your *$55 Tournament Registration Fee.

(*) ALL LATE FEES APPLY AFTER MAY 24TH.
The reason here is simple. We can afford to keep the IKF Tournament Registration Fees the same as they were back in 2003... $55.00,
by you staying at the hotel under the IKF Room Block, your reservation assists with hosting the event as well as making it easier to attend all meetings and events being held at the Buena Vista Palace Resort Hotel & Spa over the event weekend.
We hope that you will choose to stay at our host hotel in order to show our strength in numbers as a viable sport.
So be sure to ask the hotel for the IKF Kickboxing event code.
Thank you in advance for your support!
---


Orlando Attractions, Theme Parks & Shopping
2014 IKF World Classic Finals Page
IKF HOME - NEWS - EVENTS - RANKINGS - SANCTIONING INFO - JOINING IKF - IKF RULES - MERCHANDISE - ISCF