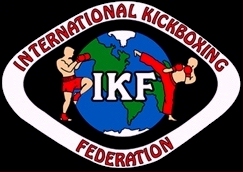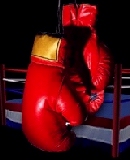 IKF PAST NEWS
This Page Includes IKF News For

AUGUST, 2003


HOME - NEWS - EVENTS - RANKINGS - SANCTIONING - JOINING IKF - RULES & REGULATIONS - MERCHANDISE - ISCF MMA


SATURDAY, August 30th, 2003, AT 3:20 PM, PT
IKF...
Taking Kickboxing To The World….
And Beyond
IKF Staff Writer Mike Marinoble (L)








If you're here, on the IKF web-site, and you've read thus far, chances are you're a fighter, trainer or promoter with a passion for Kickboxing. Maybe you're a fan or an interested new-comer to this popular but misunderstood sport of ours. The question remains, regardless of your standing in this new American fascination; Why don't we see Kickboxing on TV? How come we, the public at large, never get to hear the resounding SMACK of a well placed kick echoing through the comfort our own living rooms? What MUST be done to make this time-worn new sport popular? Or perhaps the most telling question, "Isn't Kickboxing like that WWE stuff that all the kids love so much?" (Asked by a students mother at a recent Karate event). The answers can be found in statements like those.

Our sport is the misunderstood step-child of every Poorly-dubbed Chinese Cinema export of the 70's. American film and our TV culture has miscast this noble and robust sport as an errant off-shoot of anything Kung Fu. "You mean HiYa-KiYai?" asked another innocent. NO! Dammit! This is Boxing! With Kicks! We attempt to explain. But to no avail. It's not their fault. Nor is it the fault of Chinese Kung Fu flicks. (Which we all know and love).

Kickboxing is not perceived by the mainstream media as a real sport. That's a sad statement, but true. Take for example a recent call to the Sports Desk Editor of a large metropolitan newspaper. "A local fighters just won the IKF/TKO USA National Tournament! Yes sir! Local Boys at that! You will?!? A photographer AND a story? In the "neighbors" pull-out section of the Thursday edition? Why not the Sports Page? This news is certainly is more exciting than a tennis player demanding higher pay? Isn't it?". It's scenes such as these that play out in our country's media centers everyday. Editors and producers are a timid bunch and not prone to explore new avenues of interest for viewers and readers. And so we read the same old stories of salary caps in Major League Baseball and draft-picks in Football and we watch the Shaquilles and the Kobys collect mad sums of money again and again. So what in Sports is new?

There's an old adage; "If ya want somethin' done right, ya gotta do it yourself." We need to take Kickboxing mainstream. Those very words KICK and BOXING need to be brought in to popular American lexicon and distinguished for it's fresh originality and understood for what it is. Exciting, fast-paced, awe-inspiring, dynamic and indomitable. A "true sport" requiring skill, precision, timing and heart. A viewer friendly activity worthy of its popularity and capable of procuring a huge fan-based income. A true "American sport". So how do we accomplish this glorious feat?

Ask IKF president Steve Fossum. He's got some answers. Just be quiet as you speak because right now, dear reader, the cameras are rolling and it's quiet on the set of "Corner-Talk", an IKF produced segment being filmed for the new and glossy IKF TV Show soon to broadcast on CSS (Comcast Sports SouthEast). Production crews bustle busily around the IKF headquarters in Newcastle, CA, USA as IKF reporter, Johnny Davis prepares to interview IKF World Middleweight Champion Dave "Mad-Man" Marinoble (R, ready for interview) and 4 time IKF Lightweight Champion Robert Elledge (L and ready for interview below). The segment is short but concise. Information, routine, "How did you get started", "What do you love about Kickboxing", but it's in the answers that we see Kickboxing's profound nature. "What do I love most about this sport? Having my hands raised in victory." Replies Marinoble, one of Kickboxing's staunchest and earliest proponents.




The interview is over in a few minutes. Nothing spectacular. However it is simply a tiny part of a larger picture being presented to the public. A dose in the cure for the ills of Kickboxing. A small step in the giant leap needed to bring the focus of a mal-informed public to this under-rated sport.
The show can be seen on CSS every Friday night starting this coming Friday, September 5th at 11:PM. Features include both amateur and pro bouts, fighter interviews and more. But of course the staple of the IKF Kickboxing TV Show are the fighters doing what they do best. Throwing leather and launching kicks in some of the best fights the IKF has to offer. So trainers, promoters, and yes, you, the un-sung gladiator….Take heart, and lift your eyes to your television screens because...
We're Finally Going BIG TIME!



MORE NEWS OF 8-30-03

A Stance For Something
Supporting
The IKF / Nationals
By Johnny Davis (R)
Since childhood most of us have had to take a stance for or against something. Oftentimes, the mental or emotional urges to follow the group in doing something that we knew was wrong or detrimental to us were the toughest to fight. We faced challenges in our adolescence that called for taking a stance. Remember when a "friend" would ask you to stay out longer than the deadline your parents had given? Some of us followed our parents' request while others went the opposite direction only to suffer the consequences of those actions...the wrath of our parents! As adults we deal with taking a stance on our jobs, with our children, spouses, and so on. Sometimes, not knowing if we are right or wrong but just following our hearts to what we feel is the right thing to do and hoping for positive results. Relying on our past experiences to show us and our loved ones the best way to proceed is never easy but nonetheless pertinent to our daily successes or failures.

Recently, Kickboxers have had to deal with the reality of other amateur tournaments that seem to spring up everywhere, alluring the "hungry for a fight" Kickboxer to make a decision. For the past four years the IKF has been building the most successful Kickboxing tournament in the history of the sport. Now in it's fifth year, most who have attended are pleased with the outcome of the IKF Nationals. Other organizations have recognized the success of the IKF and are now eager to produce their version of a National and/or North American tournament. The decision to try and support all of these tournaments may have financial and enduring consequences that all of us will have to deal with.

We will have to decide or take a stance on whether supporting other tournaments is helping to further grow our sport or diluting it in a way that diminishes the longest running and most successful tournament. Thereby, taking away the strength of a solidly laid foundation that could be the answer to convincing major potential sponsors to pour badly needed revenues into the dehydrated "spit bucket" we have had for many years. We are now starting to reap a few rewards of the hard work done by the IKF. For example, more sponsorships, a TV deal, and a Kickboxing magazine to name a few!

Some will argue they are more concerned with keeping their fighters busy than massaging any group's letters. Others will say that they support Kickboxing in general and the more tournaments the better. All of these views may be true and have their strong points. However, here is something to consider for example. When it comes to finances, some may find that choosing one tournament over the other will be their only recourse, resulting in one tournament losing out on a valuable competitor(s). Thus, possibly reducing the overall participants numbers to a level not respected by potential sponsors etc. So the real questions are do we take a stance for what has worked for us the past four years or, do we jump ship to chance the waters of the unproven? Is it better to have four or five small tournaments or one or two large ones? Are we willing to deal with the consequences of our actions in the potential demise of our sport...again? Or, should we continue to ride the wave of success that we have witnessed with the IKF / Nationals?

I don't necessarily see where supporting other tournaments will ultimately cause the demise of our sport and I also think one should follow their heart to what is the proper thing to do based on their situation. Keep in mind the questions posed above. But certainly there lies ahead a bigger challenge for the IKF and that is to continue to grow and make events even better than in the past. The IKF must continue to give the fighters, trainers, promoters and the fans what they want. The IKF must continue to prevail to the hearts of those who have committed their support to the IKF, regardless of their commitments to other organizations.

My mother, when I was a child, and my wife today constantly remind me of these cherished words "Johnny, either you stand for something are you'll fall for anything!"

Therefore, my objective and stance is unclouded and I'm willing to deal with whatever consequences that may befall me. I have witnessed firsthand the IKF fulfilling today my childhood dreams that never materialized for the sport of Kickboxing in the past. So today, my stance is for the potential bright future that has been established by the IKF's commitment to offer the best in growing our sport since its inception ten years ago! My stance is for consistency and to one day offer consistent opportunities for fighters to get more fights and make the kind of money that enables them to live beyond the meager means that many live in today! My stance is for fighters and trainers to get the recognition they deserve for their undying commitment, desire and hard work to become the best! My stance is for securing the hopes and desires of those not yet born but who will also dream of obtaining prosperity and longevity in this great sport of Kickboxing! My stance... is for the IKF! Forward March!



MORE NEWS OF 8-30-03

POSTED AT 3:50 PM, PT
Englands Amateur
Thai Boxing Show
IKF Europe
IKF Promoter Lee Whittington is all set to host his Amateur Thai Boxing Show at the Marlowe Rooms Sidcup in Kent England, Sunday 31st, August. The doors open 5:PM with the first bout starting at 6:PM. The main event will feature the quest for the vacant IKF Amateur British Heavyweight Title between IKF England champion Andy Kypriano of Eltham, London vs Mark Ward of Preston, England. The event will feature an undercard of 16 bouts as well. For more info please contact Jacqui Thompson or Alby Bimpson of IKF Europe at jacquithompson@msn.com
---

THURSDAY, August 28th, 2003, AT 1:55 PM, PT
In Memory Of Gods Champion...
Alex "F-14" Gong
1970 - 2003
Click HERE.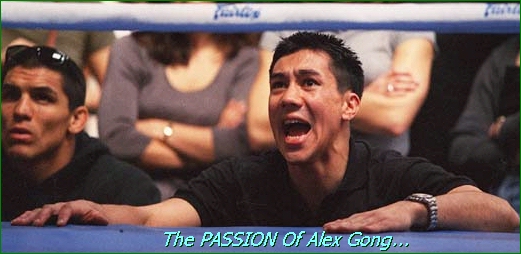 MORE NEWS OF 8-28-03


Cung Le
At News Stands Everywhere
Special To IKF
IKF Pro San Shou World Champion Cung Le is taking the sport of kickboxing by storm. With coverage in magazines such as DirectTV (Right) and ESPN, his presence has become undeniably mainstream. With power and finesse, Cung Le is getting kickboxing to the forefront and bringing a dynamic personality to the media screen. Hurry to get your own collector's issues of Direct TV (August 2003) and ESPN Magazine (October 1st 2003).


Pictured: Cung (Right) graces the cover of DirectTV and is shown in ESPN (Left) on a two-page photo spread of a great takedown at the last K-1 in Las Vegas. Issues are available at newsstands everywhere! For more on Cung Le CLICK HERE!



MORE NEWS OF 8-28-03
October 4th
IKF Point Kickboxing Grand
Pre – Registration Deadline Approaching!
Sept. 20th will mark the deadline for pre- registration for the October 4th IKF Point Kickboxing event to be held at Marinoble's Kickboxing Gym in Roseville, Ca., 600 Commerce Drive. This event is titled the IKF Point Kickboxing Grand $$ because of the cash prizes that are at stake. Additionally, there will be awards for first through fourth place with divisions for men, women and juniors and the beginner and advance competitor.

"We are right on schedule to have a nice event for all those seeking some great Kickboxing competition and a chance to win some wonderful prizes. We encourage all of you to save $10 and some time at the door by pre -registering. We look forward to seeing each of you Oct. 4th!" says promoter Johnny Davis. For more information call A. K. Promotions at (916) 780-7483.
---


TUESDAY, August 26th, 2003, AT 11:55 PM, PT
Thunderfoot Claims Another
IKF Title...
IKF Amateur Super Heavyweight World Champion
IKF Waterloo, Iowa, USA
About 1,200 fans turned out to watch Waterloo's favorite fighter go after the IKF Amateur Super Heavyweight World Title. Fans got to see a night of non-stop action that included adult male, female and juniors fighters. Before we get to the undercard, here's how the main event went... "Don't Blink..."

Trent "Thunderfoot" Tompkins (Right) of Waterloo vs. Rob Macdonald (2nd down on Right) of London, Ontario
Round #1: MacDonald came at Tompkins throwing a double jab. Tompkins answered with a spinning back kick. A barrage of hands from both fighters followed. Then Tompkins decided to show MacDonald why they call him Thunderfoot. This didn't seem to hold MacDonald back though, he came after Tompkins with some strong hands. The next thing thrown was a hard round house to the head of MacDonald that sent him straight to the mat. He got up staggering and went back down at 1:35 of the first round. It was a KO win for Tompkins who now adds the IKF FCR Amateur Super Heavyweight World Title to his trophy case. The crowd was definitely not disappointed. Not only did they get to see Trent Tompkins claim the World Title, they got to see a night of non-stop undercard action as well.
Here's how the rest of the nights action went.




ISCF MMA (Mixed Martial Arts)
Ryan Clark of Waterloo, Iowa, USA vs. John Patterson of London, Ontario, Canada.

Round #1: Clark took down Patterson and stayed on top the entire round. Each fighter exchanged some good blows to the body and face.
Round #2: Clark threw a round house that dropped Patterson to the mat, then immediately jumped on top of him. Patterson was able to do a reversal and gained control for a brief period of time, until Clark managed a reversal and dominated the rest of the round. Not a bad fight for two first timers. All judges scored the match 20-18 to Ryan Clark.



IKF Full Contact Rules KICKBOXING
Laura Jo Wessells of Beloit, Wisconsin, USA vs. Lola Braimoh of London, Ontario, Canada.

Round #1: Talk about heart, both of these young women has it. This was Braimoh's first fight. She held strong against Wessells, a veteran in the ring. Both girls fought hard throughout the entire first round.
Round #2: Wessells kept after Braimoh for the first 48 seconds of round two. That's when the referee stopped the fight. Wessells walked away with a TKO added to her record.



IKF Full Contact Rules KICKBOXING
Sam Armstrong of Beloit, Wisconsin, USA vs. Lorenzo Giancola of London, Ontario, Canada.

Round #1: What a fight. Non-stop action until Giancola threw a round house to Armstrong's head and dropped him to the mat. Referee Dan Stell called the fight at 1 minute and 14 seconds. Winner by TKO, Lorenzo Giancola.



IKF International Rules KICKBOXING
John Higdon of Waterloo, Iowa, USA vs. Tom Hopper of Dubuque, Iowa, USA.

Round #1: WOW! What a fight. It seems that Trent Tompkins may not be the only one from the O'Connell camp in Waterloo that can swing his feet. Action from both fighters throughout the entire round.
Round #2: This round had more of the same action. Higdon landed a spinning back kick that dropped Hopper to the mat. That didn't stop Hopper as he got right back into the fight.
Round #3: Again Higdon showed the crowd his kicking ability as he almost put Hopper to the mat again with another spinning back kick. Hopper kept after Higdon with a combination of hands and feet. All judges scored the bout 30-26 to John Higdon.



IKF Full Contact Rules KICKBOXING
Nick Anderson of Waterloo, Iowa, USA vs. Adam Jones of London, Ontario, Canada.

Round #1: Action, Action, Action. Jones kept charging in on Anderson, and Anderson would fight him off.
Round #2: Kicks and punches seemed to be flying all the time between these two fighters.
Round #3: Jones still charging and Anderson still defending. Until the last 10 seconds when Anderson decided it was time to charge. However, this was a little too late. All judges scored the bout 27-30 to Adam Jones.



IKF Muay Thai Rules KICKBOXING Exhibition
Chris Weitz of Iowa City, Iowa, USA vs. Dan Edmonds of Iowa City, Iowa, USA. This exhibition match up instructor vs. student. Both looked like they were having a good time. If either of these fighters stepped into the ring for a real bout I pity their opponent.


ISCF PRO Mixed Martial Arts
Travis Fulton of Cedar Falls, Iowa, USA vs. Bryan Robinson of Waterloo, Iowa, USA

Round #1: After Fulton charged Robinson a few times he kicked Robinson in the head with a round house and put him down for good 31 seconds into the first round. KO win for Travis Fulton.

For more info please contact Mr. Russ O'Connell at (319) 234-1935.

POSTED AT 4:00 PM, PT



MORE NEWS OF 8-26-03



We're Back....
IKF Headquarters
So much for any rest and relaxation after this years Nationals... Although we have been away from the IKF office here, it doesn't mean we haven't been working. Our scheduled "After Nationals Vacation" this year wasn't much as we spent our post event week meeting with this years venue people (U.S. Cellular Center), the event hotel (Crowne Plaze) and other venues between here and Iowa about next years 2004 IKF USA National Amateur Tournament.

We have also been on the phones with other upcoming IKF business such as the IKF Kickboxing TV Show, all three (Yes 3) Upcoming IKF North American Championship Tournaments (International Rules Event TBA soon), The IKF Magazine, which was delayed due to the IKF TV Show, and some new projects we have coming up we will share with you soon. So, as our friend Brooks Mason would say, "We are back in the saddle and ready to do battle" to bring you more IKF Kickboxing news!

Although this is a slow time of year for kickboxing we have plenty of news to post for you here in the next few days. As for us, we are busy getting unpacked and organizing our next couple of weeks of work which will include putting the finishing touches on our first 2 IKF Kickboxing TV Shows, scheduled to air on September 5th along with other projects as noted above. If you e-mailed or called us while we were away, please be patient since we have over 1,000 e-mails to answer. We will get to yours as soon as we can.



MORE NEWS OF 8-26-03
Thunderfoot Wins Amateur
WORLD TITLE
By KO In Round 1!
No Surprises Here...

IKF Headquarters
Although we are still awaiting the full report from IKF Iowa, the quick scoop is that we have a New IKF Amateur FCR World Champion! Trent "Thunderfoot" Tompkins (Right) only took a minute and 35 seconds to dispose of challenger Rob McDonald (See photo below) of London, Ontario, Canada to win the vacant IKF Amateur FCR Super Heavyweight World Title. This was Tompkins 3rd win by KO in the first round in a row. Hopefully we will have the entire full bout report in to us here at the IKF Headquarters by later today...



MORE NEWS OF 8-26-03
IKF Amateur Rankings
Updated Soon
IKF/TKO USA Nationals
Attention all 2003 IKF/TKO USA National Amateur Tournament Competitors. We will be updating all the rankings to reflect your titles and rankings within the next few days. As always, those who attended the Nationals will attain the top rankings, with the rank positions of other ranked fighters to follow. Keep in mind, fighters who have attended and won the USA Nationals in the past, with better winning records than other 2003 contenders finishing below first place (Champion) may attain a higher ranking than those 2003 contenders.

We will also be posting more 2003 IKF/TKO USA Nationals stories, final fighter count, number of bouts, inside stories, facts and stats etc. etc. soon as well.
---

THURSDAY, August 21st, 2003, AT 10:55 PM, PT
Thunderfoot Goes For
IKF Amateur World Title!
IKF Waterloo, Iowa, USA
Usually we would feature both contenders in the headline of an IKF World Title bout. However, if you know who Trent "Thunderfoot" Tompkins (Right) is and his reputation of knocking out opponents with things like spinning hook kicks to the head (The weapon used to KO his last 2 opponents) you would have a better idea as to why his name is the only name in the headline.

With a record of 14 wins and no loses with of 8 of those wins coming by KO/TKO, he may not seem like he's been in the ring a lot. But add his kickboxing with his Tae Kwon Do background and this kid has done some ring time. We have a highlight tape of him and from his Tae Kwon Do days through his amateur kickboxing career, knocking people out is a common ending to Tompkins' bouts'.

A while back we advertised here on the IKF News page for challengers to fight him for the vacant IKF Amateur FCR Super Heavyweight World Title. We only received two takers. One from the USA and one from Canada. After reviewing the two challengers, we selected Rob McDonald (Left) of London, Ontario, Canada. Like Tompkins, McDonald's ring time may not impress many. However add McDonald's kickboxing and mixed martial arts experience together and he soddenly becomes a very strong and credible contender for Tompkins. But this wasn't all McDonald was willing to offer. In the end, he was selected because he was the only one willing to step in the ring against Tompkins, to fight for the title. Not one fighter from anywhere else in the world offered to fight Tompkins, which tells us, he's clearly the number one contender worldwide for the title!

At 6'3", 230 lbs, McDonald comes in well recommended by several IKF Trainers and Promoters who have seen him in the ring. This explains his number two ranking. A win over Tompkins and he becomes the top of the class. A loss though, and he simply becomes another victim of Tompkins. This may seem insulting to McDonald, but it's not meant to be at all. The reality here is, McDonald has everything to gain and nothing to lose! The pressure this Saturday night will be more on Tompkins than McDonald, which puts McDonald in a relaxed position entering the bout.

On the other side of the ring, Tompkins has very little to gain since he has already proved he deserves to be #1 in the world with 3 IKF Super Heavyweight Titles to his name. Sure, he has a chance to hang some more IKF Brass on his wall, which always brightens up the trophy case, but the reality for him is, he does have a lot to lose, and the pressure will be more on him than McDonald.

Will McDonald be able to take the heat of Tompkins "Thunderfoot" legs? Will Tompkins be under too much pressure being expected to win? Will McDonald make a name for himself as another well known Canadian fighter did (Mike McDonald) against an already proven American Superstar? Come Saturday, these answers will be given to us all.

This Saturday night, August 23rd, this bout will be the main event on a night of more IKF Amateur Kickboxing action at the 5 Sullivan Brothers Convention Center in Waterloo, Iowa, USA. For more info please contact Mr. Russ O'Connell at (319) 234-1935
---


TUESDAY, August 19th, 2003, AT 3:20 AM, PT
On Any Given Sunday...
Or Weekend...
The Results of the 2003 IKF/TKO USA National Amateur Tournament
---


TUESDAY, August 12th, 2003, AT 11:30 PM, PT
2003 IKF/TKO
USA Nationals News & Info...
Crowne Plaza HotelCedar Rapids, Iowa, USA: Sorry for the long delay in posting some news on here IKF Readers but we have been busy with location work here in Cedar Rapids Iowa. After a quick little 1,800 plus mile trip of 26 hours and 45 minutes we landed here at the (Left) on Sunday, August 10th.

For the next week (Until Tuesday, August 18th) our IKF Headquarters will be based on the 15th floor here and for those needing to reach us by phone we are based in the Chairman Suite, room 1520.

For the next few days we will not be in the office much since we will be spending a lot of time taking care of outside business for this years Nationals. For this reason it is best to reach us by e-mail at main@ikfkickboxing.com The remainder of our IKF Staff will be arriving on Thursday and Friday to assist us with getting the final details in order.

The VENUE.. "ARENA!"
This years venue, the U.S. Cellular Center will be motivating for everyone. When the fighters take the stage this weekend they will truly feel like a championship fighter who has arrived at "The SHOW!"
If you see them around please say hello to our arena hosts, Roy Nowers, Director of Programming and Scott Piquard, Event Manager. When you see the stage these guys have built for you all, you will truly be IMPRESSED!
We will have two rings supplied by IKF Wyoming Representative David Smith and IKF Iowa Representative Russ O'Connell. Both rings will be TV Lighted by Ringside Inc. and thanks to IKF Representative Rob Zbilski, we will have kick lights for the full contact rules bouts as in previous Nationals Events. Both rings will have custom painted TV Blue IKF/TKO Logo Canvas covers and trimmed in IKF/TKO (www.tkogear.com) Ring Trim. When we say there is not a bad seat in the house, we truly mean it! From ringside to the top of the balcony, any spectator will be able to watch both rings with ease. We have plenty of warm-up area for trainers and fighters too. We have two warm-up areas measuring 400 feet by 80 feet. Also located in the arena are showers for all our event participants and a seating area for those who wish to eat while at the venue.

MERCHANDISE & BOOTHS

Cedar Rapids Visitors Bureau
Probably the first smiling faces you will see upon arrival Friday at the U.S. Cellular Center will be Mary Lee and Sue of the Cedar Rapids Visitors Bureau (www.cedar-rapids.com) booth. They will be located near the front entrance of the U.S. Cellular Center Arena. They have put together a welcome package for all the fighters that includes maps of the city and many other things. Make sure to ask them where all the great restaurants are too! Mary Lee will sing the National Anthem to start the event off Saturday morning.

IKF BOOTH
As far as booths, in the house this year will of course be the Official IKF Merchandise booth. Drop by and say hello to Toni and Frank. Available at the booth will be IKF/TKO Nationals Tournament T-Shirts, the new IKF Hats and Visors, IKF Water Bottles, License Plate Frames, Patches, Sweatshirts and more.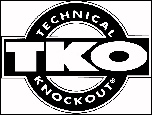 TKO PRODUCTS!
Next door to us will be Trish in the Official 2003 Nationals Sponsor Booth, TKO PRODUCTS! (www.tkogear.com) Trish will have all kinds of great TKO Gear that many of you have never seen. TKO has a lot to offer besides kickboxing gear. They have a full line of fitness products as well. For the Full Contact Rules fighters, we especially urge you to take a look at the TKO Foot Pads which we feel are The best on the market today! Trish will also have some great specials on event fight gloves for you IKF Promoters and Trainers. Many of you will be surprised at the wide range of products TKO has to offer. Many have seen their sporting good store line in sporting goods stores for the aerobic fitness needs but few of you have seen their "REAL" Fight Gear for the hard core Fighter! We suggest you stop by and take a look and don't forget to leave with a TKO Catalog and remember, TKO has brought a lot to this years event and it goes without saying, "Support those who support our sport!"

RINGSIDE
Across the way will be another sponsor of the event, Joe Taylor and Eddie Yuen in the Ringside Booth. Ringside has been with the IKF USA Nationals since the beginning. Over the last 5 years they have been a big part of the growth and success of this event and with them and TKO working together, it can only mean great things for our sport! This year Ringside has provided our IKF Officials Shirts and awards for our Champions, the GOLD Autograph Gloves and Champion Jackets. Ringside will have plenty of products at their booth as well so stop by and say hello to Joe and Eddie.


THE ZONE! 1600 AM
When you get to town, tune your radio to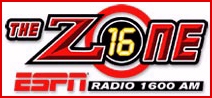 AM 1600, THE ZONE! The Zone 1600 AM ESPN Radio of Cedar Rapids, Iowa is the official event media sponsor of this years IKF/TKO USA National Amateur Kickboxing Tournament. The Zone 1600 is the most popular sports talk radio station in the Cedar Rapids area. Not only has The Zone 1600 been running a TON of thirty and sixty second ads to promote the Nationals but they have also been doing IKF give-a-ways such as IKF water bottles, license plates frames, mini Kickboxing gloves, IKF apparel like T-shirts and of course, event tickets. Director of Sales and Marketing for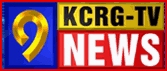 The Zone 1600 Demetrios Hadjis has already interviewed several fighters and trainers across the country who will be attending this year's event. Additionally, the station will cover the Nationals' Press Conference scheduled for Thursday, August 14th at the IKF/TKO USA Nationals host hotel, the Crowne Plaza Hotel. The station will have a booth at the event too and will possibly do a live remote broadcast of the action. The Zone's sister station KCRG-TV-9 along with local TV personality Scott Savelle will cover the Press Conference. Word has it that Scott may want to test his "skills" against someone in an exhibition match. Maybe we can talk IKF world Ambassador Brooks Mason into it... The Zone 1600 AM and KCRG-TV-9 are owned and operated by the Cedar Rapids Television Company. The agreement reached with The Zone 1600 AM Radio is a great way to give IKF competitors and Kickboxing in general more of the recognition it deserves and needs.



Although they will not have booths there, lets not forget our other great sponsors of this event.

F. L. Dean & Associates!
For the second year in a row our event and fighter insurance will be provided by the BEST SPORTS INSURANCE COMPANY in the Nation! F. L. Dean & Associates! Last year the IKF, ISCF and F. L. Dean & Associates partnered up to bring great insurance packages to those associated with the IKF and ISCF through their gyms and schools as well as promoters sanctioning with the IKF and ISCF Not only is this relationship providing the best possible coverage for those who participate in IKF and ISCF events throughout the United States and those who own schools and gyms, this valued relationship has saved IKF and ISCF Promoters thousands of dollars in promotional costs. To read more about F. L. Dean & Associates just click HERE!


Wipss - "Brain Pads"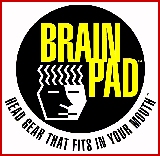 This year like in years past, Joe Manza of Wipss Products will donate "Brain Pads" to all the registered fighters. Fighters will be given these upon registration on Friday. The IKF has endorsed the Wipss Products since their beginning and we honestly feel they are the greatest protection a fighter can have. They are far more than a mouthguard, these things work WONDERS in helping a fighter avoid a knockout! Just ask some of those who wear them today. The Brain Pad is truly a pad for an athlete's brain! Fighters are not the only ones wearing these. Pro and amateur athletes in several sports use them too. From the Junior karate student to the NFL, others know what offers them the greatest protection in the sport today, "The Brain PAD!" To read more about this product click HERE!


FOSTER GRAPHICS
As in the past, the event programs have been designed and produced by Toni at

Foster Graphics. This years 14 page program (Plus front and back cover) will once again feature all 200 plus registered fighters in the event. In addition, as in years past, all the past tournament Champions are also listed in there from 1999 to present. A special photo section is featured in the middle along with some short stories and letters. These will be available at the IKF Booth. Foster Graphics. also designed all the artwork for our posters, fliers, t-shirts, championship jackets, belts, business cards and anything else we needed for the event. Stop by the IKF Booth and ask Toni how to better promote yourself, your gym, school and more with their Winning Image Promotional Ideas!


TANITA
REGISTRATION & WEIGH-INS
This year we will once again be privileged to use the best scales in the business.

Tanita has loaned us the use of their top quality scales for the official event weigh-ins that will take place from 12 noon to 7 PM inside the U.S. Cellular Center Arena at the head officials platform area. During this time you will officially register for the event and attain your fighter pass. If you have any fees due you will need to take care of them at this time. If a you did not send in a photo (as requested on each registration form) you will be charged $10 for your photo to be taken and laminated with your name onto your fighter pass whether you bring your own photo or not. You must have this pass with you or your trainer AT ALL TIMES. Lost or stolen passes will NOT be replaced.


AWARDS
Speaking of awards, this year "EVERY" participant will leave with something. Of course the National Champions will leave home with the "*NEW" IKF/TKO USA National Amateur Championship Belts (Valued at $235.00) and other awards. The second place finishers will be awarded our new custom IKF USA Nationals Medals that have the same USA Nationals logo on them as the Champions Belts. All other fighters will be awarded color event certificates.
(*) We know, you want to see what they look like... Well, you will have to wait, the surprise will be worth it! However, some have already seen them while at events in California such as Robert Elledge, Dan Stell and Brooks Mason. Maybe you can ask them if they look good enough on the message board... In the mean time, we choose to let you be surprised...
As you can see we have a lot to tell you and believe it or not, there is plenty more. Here are some more news notes and updates to give you for this years IKF/TKO USA National Amateur Tournament!

OFFICIALS MEETING

The Friday night Officials meeting will take place in the Crowne Plaza Hotel in the Monarch Room. This will be set up classroom style for the officials who will be working the event. Schedules and assignments will be discussed in the meeting and confirmed Saturday morning before the beginning of the event. The officials meeting will be conducted by IKF Head of Officials Dan Stell (Right) and IKF MuayThai Official Mike Storm. IKF Muay Thai Officials Representative Fred Fitzgerald will arrive at this years Nationals Saturday morning because he will be in the ring refereeing an event Friday night.



VIDEO TAPING

This year you will not need to pay for a video pass. We will be filming the Sunday Championship bouts for the but we will not be filming the Saturday prelim bouts. For this reason, any of you can bring a video camera in to film you fights and others for free on Saturday as well as Sunday. As noted, we will be filming the Sunday bouts and some of them will later be aired on TV. Since we will be using professional equipment the fee to reproduce the bouts will be a little more than a IKF/CSS Kickboxing TV showbasic video copy. Those who wish to purchase their championship bout from us may do so at the event at the IKF Table. The fee will be $25.00 for the first bout on the tape and $15 per additional bout.



EVENT PHOTOGRAPHY

This year like last year we will have a photographer at the tournament to take both portrait and action shots during the fights. Again, Official Photographer of the IKF, Mr. Glenn Berg (Same Photographer as last year) will provide professional portraits of you at the USA National Tournament. Glenn has designed a special edition border that will be customized with your name and weight division and fighting style. You can purchase a package listed below and the photos will be mailed directly to you following the tournament. Additional photos are available for $15.00 per sheet. No printed photos will be available until after the tournament. Team and group photos can be taken and placed on a special edition border for the same prices. Glenn will be available all weekend for special photos and will have a backdrop set up for posed photos. Here are the packages available:

Package #1: (1) 8 x 10, (1) 5 x 7, (1) 3 x 5's and (2) Wallets: *$30.00
Package #2: (1) 8 x 10, (2) 5 x 7's, (2) 3 x 5's and (4) Wallets: *$45.00
Package #3: (1) 10 x 13, (2) 8 x 10's, (2) 5 x 7's (4) 3 x 5's and 9 Wallets: *$85.00
24 X 30 Color Posters: *$50.00
CD With high-resolution images of "One Fighter Only": *$60.00

(*) There will be a $3.00 shipping charge on all orders.

Glenn will hold your pictures on file IF you purchase pictures at the event. If desired, he can offer fees for larger poster size prints as well.
ALL CHAMPIONS: Whether you purchase photos or not we need ALL OF YOU to go to the photo booth to have your photo taken.

We need to have your photo on file for the upcoming IKF *Kickboxing Magazine. The IKF Kickboxing Magazine. This includes both 2003 National Tournament Champions and ANY PRO and Amateur Champions who are in attendance at the event. If possible, PLEASE bring all past IKF Championship Belts for your photo.

*The IKF Kickboxing Magazine was delayed due to our IKF/CSS TV Deal that took priority over it. We assure you it will be coming out this fall, 2003 FOR SURE!

All photos are the property of "Makin' Memories" and the "IKF". No reproductions are permitted without express written permission from Glenn Berg or the IKF. Glennber@msn.com



FIGHT PROGRAMS

We will only have 150 event programs available to purchase at this years event. Each program has every fighter in them listed in their fight division. Since there will only be a limited number available we suggest you purchase one, if you wish to, on Friday during event registration.



TRAINERS - CORNERMEN/WOMEN - PHOTOS

Your cornerman's pass fee is $10 if you have your own photo of yourself. A Headshot is best no larger than 2" x 2". HOWEVER, as noted previously, If we have to take your picture for your badge, because of the delays this will cause like last year, the fee will be $15.00. For more info on your pass click HERE.



KICKBOXING FORUM

At 9:10 PM Friday evening, IKF World Ambassador Brooks Mason (Right) will lead a Discussion Forum for those interested in growing the IKF, the sport of Kickboxing and discussing topics of the needs of our sport. Mr. Mason's Forum will take place on the 15th floor of the Hotel in the "Presidential Suite", room 1512. Trainers, Promoters and Leaders of the industry are invited to attend this round table discussion of the Kickboxing industry. Please feel free to e-mail Mr. Mason directly with your ideas for areas of discussion at rbm322@cox.net Note that Mr. Mason will be leaving to come here Thursday morning so he will not see any e-mails sent to him on Thursday or Friday.



SUNDAY NIGHT PARTY

The Sunday night Party will now take place on the top floor of the hotel in the Commerce Club. With a full view of the city 16 floors up the room is much nicer than the first posted Monarch room on the third floor.


Some of you have inquired about the fight seeding brackets and who will fight who in the seeding at the 2003 IKF/TKO USA National Amateur Tournament. To answer those questions, here is a more detailed explanation for you.


The Number 1 Seed:

First right goes to the defending champion in the weightclass and rule style.
If no defending champion, the next seeded position goes to a fighter who fought in an actual regional division bout at a regional event and won his/her match.

If there is more than 1 winner, the seeding will be determined by the fighters bout record. The most bouts associated with a winning record shall take top seed.

If both have the same record, the first fighter to register shall take the top seed.



The Number 2 Seed:

First right going to the following placements under the above scenarios.
If none, the next seeded position goes to a fighter who fought in an actual regional division bout at a regional event but lost his/her match.

If there is more than 1 who meets this position, the seeding will be determined by the fighters bout record. The most bouts associated with a winning record shall take top seed.

If both have the same record, the first fighter to register shall take the top seed.



The Number 3 Seed:

First right going to the following placements under the above scenarios.
If none, the next seeded position goes to a fighter who "REGISTERED" to compete in an actual regional division bout at a regional event but did not have a fight. This is called a "Regional Walkover Entree".

If there is more than 1 who meets this position, the seeding will be determined by the fighters bout record. The most bouts associated with a winning record shall take top seed.

If both have the same record, the first fighter to register shall take the top seed.



The Number 4 Seed:

First right going to the following placements under the above scenarios.
If none, the next seeded position goes to a fighter who registered for the Nationals and did not compete or enter a regional event because there was no regional seeding event in their region. This is called a "Division Walkover Entree".
If none, the next seeded position goes to the fighter with the best winning bout record. The most bouts associated with a winning record shall take top seed.

If both have the same record, the first fighter to register shall take the top seed.


WHO FIGHTS WHO IN THE BRACKETS
IN DIVISIONS OF "2" FIGHTERS:

SUNDAY FINAL:

Seed #1 will fight seed #2 for the USA National Title.

IN DIVISIONS OF "3" FIGHTERS:

The #1 seed will receive a bye on Saturday.
ROUND 1 SATURDAY:

Seed #2 will fight seed #3.

SUNDAY FINAL:

Winner of 2 Vs 3 will fight seed #1 for the USA National Title.

IN DIVISIONS OF "4" FIGHTERS:

ROUND 1 SATURDAY:

Seed #1 Vs Seed #4.
Seed #2 Vs Seed #3.

SUNDAY FINAL:

Winners will fight for the USA National Title.

IN DIVISIONS OF "5" FIGHTERS:

ROUND 1 SATURDAY:

The #1 seed will receive a bye in round 1 Saturday.
Seed #2 will fight seed #3 in the first fight. Winner will advance to the USA National Title bout on Sunday. Seed #4 will fight seed #5.

ROUND 2 SATURDAY:

Seed #1 will fight the winner of Seed #4 Vs Seed #5.

SUNDAY FINAL

Winner of Seed #1 Vs winner of Seed #4 Vs Seed #5 will fight winner of Seed #2 Vs Seed #3 for the USA National Title.

IN DIVISIONS OF "6" FIGHTERS

ROUND 1 SATURDAY:

Seed #1 & 2 will have a bye in the first round Saturday.
Seed #3 will fight Seed #4.
Seed #6 will fight Seed #5.

ROUND 2 SATURDAY

Winner of Seed #3 Vs Seed #4 will fight Seed #2.
The winner of Seed #6 Vs Seed #5 will fight Seed #1.

SUNDAY FINAL

The winners of the last 2 bouts will fight for the USA National Title.

IN DIVISIONS OF "7" FIGHTERS

ROUND 1 SATURDAY

The #1 Seed will receive a bye in round 1.
Seed #7 will fight seed #6.
Seed #2 will fight Seed #5.
Seed #4 will fight Seed #3.

ROUND 2 SATURDAY

Winner of Seed #7 Vs Seed #6 will fight Seed #1.
Winner of Seed #2 Vs Seed #5 will fight winner of Seed #4 Vs Seed #3.

SUNDAY FINAL

Winner of Seed #7 Vs Seed #6 Vs Seed #1 will fight winner of Seed #2 Vs Seed #5 Vs Seed #4 Vs Seed #5 winner for the National Title.

IN DIVISIONS OF "8" FIGHTERS

ROUND 1 SATURDAY

Seed #1 will fight seed #8.
Seed #2 will fight seed #7.
Seed #3 will fight seed #6.
Seed #4 will fight seed #5.

ROUND 2 SATURDAY

Winner of #1 Vs #8 will fight the winner of seed #4 Vs Seed #5.
Winner of Seed #2 Vs #7 will fight the winner of Seed #3 Vs #6.

SUNDAY FINAL

The two winners from these last 2 bouts will fight for the USA Title.
---


SATURDAY, August 9th, 2003, AT 1:30 PM, PT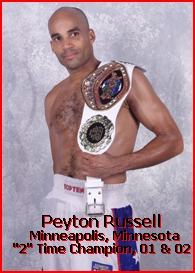 Russell Ready For
IKF North American Championships!
Two time IKF USA National Amateur Champion and 2002 IKF North American Champion Peyton Russell (Right) is the first to register for the 2003 IKF North American Amateur Championship Tournament.
Russell, from Minneapolis, Minnesota, USA has a current record of 32 wins, 5 loses with 7 wins coming by KO/TKO. He will be defending his Middleweight title he won last year over Shannon Hudson. This was a great bout by both fighters and very close to judge as well. In the end, one judge had it 50-45 for Russell (scores we didn't agree with at all), one judge gave them each 2 rounds and couldn't come to an answer in round 3 giving them both 10 for an ending score of 48-48. The third judge forced himself to a decision and it was the small difference that gave the bout to Russell by majority decision with a score of 48-47 Russell.
For more info on the 2003 IKF North American Amateur Championship Tournament
Click HERE.



MORE NEWS OF 8-9-03


Making The Trip Again
"For The TEAM!"











Within a couple of hours, IKF Representative Frank Curtis and IKF President Steve Fossum will start the 1819.8 mile trip to this years IKF/TKO USA National Amateur Tournament in Cedar Rapids Iowa. If they drive straight through the Yahoo Map quest says that in a perfect world, driving straight through would take a driver 27 hours and 59 minutes. This years trip will be about 50 miles less than last years trip Fossum did on his own. With Curtis along, the two should have no problem setting some land speed records (shhh... did we say that out loud...) and make it there sometime Sunday afternoon/evening. Hopefully we will find plenty of Red Bull along the way...

So your probably wondering "Why would they be driving all that way... Can't they afford a plane ticket?" Well, for those of you who have been around the IKF since the 2000 USA Nationals event will remember why the IKF now makes the sacrifice to drive to this event every year. well, at the 200 event, we had an official shipping sponsor, UPS (United Parcel Service). So much for being official, they "LOST" all the National Championship belts (Shown at left) for the 2000 Nationals Event... and we didn't get them back until about 3 weeks after the event. Oh there's a lot more to this story, but that tells enough of the story. "There was nothing worse that year than seeing all those Champions walk away from the ring with a "BORROWED" IKF USA National Champions Belt knowing they had to give it back after a quick picture." says IKF Fossum. "All those Champions, young and old that fought their heart out that year and were sent home with just a promise that We'll mail your belt to you..." Sure, they all got their belts about 3 weeks later, but they didn't get to come home with them after the event.

"What a crock of an explanation I thought... " continued Fossum "Here these amateurs traveled all this way, fought hard and won the National Title and now had nothing to carry home, let alone raise high above their head when they met those waiting for them at the airport or at the front door. "

Fossum continued, "NEVER AGAIN! Never again will I not be able to see the joy on a Champions face as they carry their IKF Champions Belt proudly over their shoulder as they leave for home Monday morning. 'd drive 3,000 miles to make sure these belts are there for those Champions on Sunday. I'll be tired, as always, but the adrenaline and excitement of everyone will energize myself and everyone there as if everyone's energy worked as one. "

The Nationals weekend is a marathon weekend for the IKF staff. Fossum himself and others are lucky if they will get 8 hours sleep from Thursday night to Sunday night. But the excitement of everyone there gives them more energy than they will experience throughout the year. It's the "Who's Who" of Amateur kickboxing in America.

Next weekend those in attendance will be surrounded by some of the greatest trainers in the world as well as some of the greatest fighters in the world. Their presence humbles us all beyond all means. "THEY" are the Champions on this weekend. Their desires make us all proud just to work hard and make things happen. The many officials and staff that will be volunteering their time to help, what can be said of them other than "THANK YOU!!" Without them, this event couldn't happen.

If you have ever been to this event, you know what we are talking about... This event will change your life in so many ways. The trainers who give their time, effort and knowledge to their fighters with no financial compensation in return. Their sacrifices they make is rewarded when their fighters proudly enter the ring of battle to "Walk The Walk!"















In addition to the many great amateur fighters, we will all be surrounded by many great current and past Pro fighters as well. Some of them include Jim Zbilski, Kevin Hudson, Jimmy Stewart, Scott Mincey, Troy Dorsey, Phil Nurse, Chuck Wolfe, Mick Doyle, Ray Thompson, Kurt Podany, Clerance Thatch, Pat Miletich, Mike Winkeljohn, and not to mention the many past IKF USA National Amateur Champions who will be there to assist with the event as well as with their own fighters such as Peyton Russell, Stephen Thompson, Jesse Finney, and Mark Grubel just to name a few. While in their presence, we are sure to be humbled greatly by what they have accomplished in their lives. Their work, dedication, determination and persistence to accomplish their goals cannot be measured in just words for their greatness is far too much to type here tonight.
There will be some other things that will bond everyone together on this weekend. This will be the 5 year anniversary of the tournament but we won't focus too much on that because to us, there is still so much we need to accomplish for our sport. So we will hold off on that big celebration until we can ALL Celebrate something we've all worked long and hard for such as a big IKF Kickboxing TV Deal... Now THAT is something to celebrate! Wait... We do have that... OK, we can all celebrate that at the Sunday night Party!
There's a reason we've been using an Eagle for the symbol of the USA Nationals the last two years. It's now more than just a bird to all of us. It represents Strength, Leadership, Integrity, Perseverance and so much more. How did it tie in with our National Amateur Tournament? The September 11th tragedy happened only 2 days after that years IKF USA National amateur Tournament and because of it, all of us will remember where we were when we heard the news.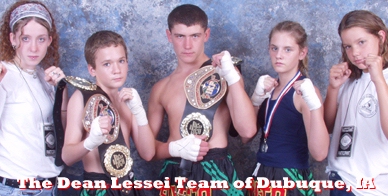 For those who will be in attendance at this years Nationals, make sure you make the most of the event. Win or lose, stop and look around at who surrounds you. The greatest Amateur fighters and their trainers and officials America has to offer. This will, as always be a Journey where we all find ourselves again. A Journey where we all gather together to see what our sport is all about.
As Ol Duke use to say, "It's all about filling the spaces between the places, the grass roots of America." This Journey will humble us all who won't be fighting in it. It will show us how great Amateur Kickboxers are today and give us a chance to think about when we fought as they did and with the same desires but far less the rewards. We will share stories, laughs as well as ideas and in the end, this weekend will truly change us all as we will become someone different than we arrived as. We will be stronger both mentally and physically from having experienced it. We will be wiser and we will take this wisdom we gained from the others and move forward to make next year even better for those who will "Walk The Walk" again. As trainers we will learn new ideas, new techniques on how to advance our fighters skills. As fighters, we will learn from others by watching their every move and eventually making some of those exciting moves our own.
When were among our peers for these days, it's as if nothing else around the world matters other than what's happening at the U.S. Cellular Center in Cedar Rapids Iowa on August 15th, 16th and 17th. Leading up to this week as in the past we have told quite a few people about this event as many of you have. Their response? What's in Cedar Rapids Iowa??? And our response, like yours is very direct and simple...
"The BEST AMATEUR KICKBOXERS IN AMERICA!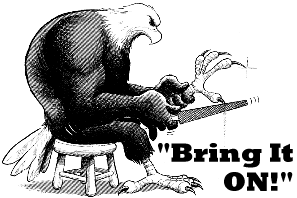 "Bring It ON!"



MORE NEWS OF 8-9-03
Rodriguez Gets His Revenge At
The DOME!
Bakersfield, CA, USA: About 400 spectators and fans braved the sweltering heat at the historic Bakersfield Dome (formerly Strongbow Arena), to witness some of the best kickboxing action that the sport has to offer last night August 8th. Promoted by Dominador Tomate and associate matchmaker, Abe Belardo, the event "King of the Ring II" showcased a rematch between IKF West Coast Light Welterweight Champion from Santa Barbara Mike Morello and Bakersfield home town son, Raul Rodriguez. The last time the two met, they fought for the then vacated title and in front of a partisan crowd, and Rodriguez was knocked out with a hard round house kick that Morello perfectly executed sending the highly favored Rodriguez to the canvas. Humbled by the experienced, Rodriguez asked for an immediate rematch and went back to training reliving that fateful day when lost the match. "You don't know or imagine how I've waited for this, how I've counted the days, the hours, the minutes."
When the bell rang for round one, Morello advanced with hard low kicks and looping punches. Rodriguez kept his composure and slipped most of the attack. Rodriguez in spurts was able to throw effective combinations to Morello's straight forward movement. But the Santa Barbara champion was able to block the shots effectively from his "peek-a-boo" defense. It ended evenly with both fighters returning to their benches satisfied with the round.
The second round started quickly with Morello sending a hard overhand right that caught Rodriguez on the head. The punch was partially blocked, and Rodriguez was not fazed by it. Though out this round, both fighters exchanged body shots and leg kicks, at a point trading shots and taking hits without defending them. Rodriguez scored with a hard upper cut and a series of well-executed head and body shots, many of them scoring. Before the bell rang, Morello threw a wide left that barely missed the challenger's head evoking several gasps from the home town crowd.
The third round had Morello using his side kicks to slow down the now aggressive Rodriguez, who started to take command with hard leg kicks and body shots. Morello's uncompromising strategy at the start of the fight was replaced with instances of rest when he tried to catch his breath and composure. Rodriguez used these moments to launch his attack with machine gun accuracy that Morello was forced to back up and cover up. Between these attacks, Morello answered with combinations of his own.
It appeared that the fourth round was when Morello was going to turn the fight around when he opened a full arsenal of hooks and low leg kicks. Rodriguez in that flurry slipped and covered, and allowed Morello to attack without answering. Then Rodriguez replied with a short exchange of his own. Morello pulled away and grabbed his mouth piece, circling the perimeter, showing obvious distress. He glanced at the referee Nelson "Doc" Hamilton, who clapped his hands and ordered the fight to resume. Morello then took a quick look toward his corner and pointed to his left knee and hip region. Rodriguez sensed the situation and attacked hard. Morello survived the round, but clearly hurt as he limped to his corner.
When the bell rang for round number five, Rodriguez smelled blood and went for the kill, setting up his opponent with punches but then following up with kicks to the injured *Muscle above Morello's knee. Morello went down and barely got up for the eight count. Asked if could continue, Morello said yes, and with one last "ditch" effort sent a round kick to Rodriguez' head, the same technique that took the challenger down at the first fight, but it only scored partially. Rodriguez' adrenaline at max answered with a final shin kick on the *muscle above Morello's knee that sent the champion down for the final count. Clearly hurt, Morello was not able to continue, and referee "Doc" Hamilton stopped the contest at 53 seconds into the last and final round.
(*Corrected on 8-13) This was earlier reported to be a strike to the knee. However, after speaking to several people, the strike was actually to the muscle above Morello's knee.
The Bakersfield crowd went wild and Raul Rodriguez climbed the turnbuckle and raised his hands in victory. Matchmaker Abe Belardo and World Champion Jennifer Alcorn presented Rodriguez with his belt making him the new IKF Light Welterweight West Coast Champion.
Here are the other fight results:
Collene Keefer from Santa Barbara defeated Jessica Trevino from Fresno by unanimous decision
Colene Keefer, Santa Barbara defeated Jessica Trevino, Fresno by unanimous decision.
Prudencio Portillo from Westminster defeated Antonio Dela Cruz from San Francisco by unanimous decision.
Steven Olivera from Santa Barbara defeated Van Polacios from Hanford by split decision.
Nathan Smith from Modesto defeated Doug Vierra from San Luis Obispo by unanimous decision.
John Polakowski from San Luis Obispo defeated Valentin Monroy from Modesto by TKO, 1 minute 43 seconds of the second round.
Julian Lugo from Barstow defeated Andrew Morello from Santa Barbara by unanimous decision.
Evan Esequerra from San Francisco defeated Bulfrano Gayton from Modesto by unanimous decision.
For more info on this event contact Mr. Domi Tomate or Mr. Abe Belardo at (661) 342-5222 or by e-mail at Rodani@aol.com
---


FRIDAY, August 8th, 2003, AT 8:00 PM, PT
The Real
"BEAST"
Will Be At The
IKF/TKO USA NATIONALS!
Mixed Martial Arts UFC Superstar Dan "The Beast" Severn informed the IKF today that he will be a special guest at this years IKF/TKO USA National Amateur Tournament in Cedar Rapids Iowa. Dan will be hanging out at the IKF Booth during the event and available for autographs as well.

Over the years, Dan Severn has captured the attention of fight and wrestling fans all over the world since his 1994 debut in the Ultimate Fighting Championships (UFC). He is known as "The Beast", a name given to him by Jim Brown during one of his many fights in the UFC. The native of Coldwater Michigan has accepted all challengers in any no holds barred, or professional wrestling events. On May 17, 1996, he was crowned the UFC Superfight Champion in his home state of Michigan. He demolished "The World's Most Dangerous Man", Ken Shamrock to regain the title. Dan is the only triple crown UFC champion in the sport today. He has won two eight man tournaments and The Ultimate Ultimate 1996, which pitted champions and runner-ups against each another to determine the true champion of the sport. To read more about Dan Severn's career, Click HERE.


MORE NEWS OF 8-8-03


Another
Sad Day Today For The
World Of MuayThai.
WMC Thailand: The American MuayThai scene was rocked last week with the death of American MuayThai Star Alex Gong. (See articles below) Now, one week later, the Worlds of MuayThai loses another. Gen Vorayudh Mesommonta, Secretary General of the WMC passed away after a long battle with illness. He will be sorely missed by all those who knew him.

General Vorayudh was the driving force behind the foundation of the WMC, and the course set by MuayThai internationally. He will be remembered as a kind man with a great vision for MuayThai. His work will live on through the 110 member countries of the WMC. We would all like to express our gratitude for his hard work, dedication and unfailing good spirits. We send our deepest condolences to his family at this time.

The funeral, Royal-sponsored which is a rare honor and accorded as a mark of the huge respect given to the General in Thailand, will take place over the next 12 days. Should anyone like to send his or her respects, please mail to wmcifma@hotmail.com
Thank you for your respect.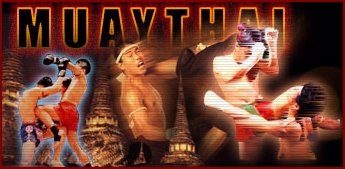 MORE NEWS OF 8-8-03


POSTED AT 3:00 PM, PT
2003 IKF/TKO USA
Nationals Participants...
DON'T Send Us Pictures HERE!
This announcement is to inform all fighters and trainers who are still planning to send late fees, pictures, cornerman registrations etc. to us for the IKF/TKO USA Nationals to NOT SEND them here.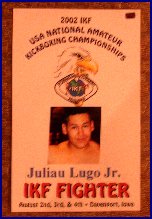 Our staff will be leaving for the Iowa event tomorrow, Saturday at NOON, so any mail that arrives here after 12 noon tomorrow will not make it for the Nationals. Because of this, "IF" you have sent us anything and it does not arrive here at the IKF Headquarters before 12 noon tomorrow, we will not have it with us at the Nationals. At registration on Friday, if our paperwork still shows that you did not pay your late fees due (if any) or we still need a photo of you, we will inform you at registration that these are still due. All fees due are required to be paid upon registration and any checks sent to us that may arrive here next week will be returned to you.
All cornerman who did not send in any trainer fees, photos etc will now all be done on event registration day on Friday in the main arena at the U.S. Cellular Center from 12 noon to 7 PM. All cornerman registration fees at Friday's Registration are $10 if you have your own headshot photo (no larger than 2 inches X 2 inches) and $15.00 if you do not and we have to take the photo. To read "WHO" are allowed to attain these passes, CLICK HERE. Cornermen and Trainers will register on Friday during the hours of 12 noon and 7 PM at the event Arena
Cornerman passes ARE NOT for family and friends. They are for TRAINERS who will be WORKING the fighter corners. If you are not a TRAINER, you will need to purchase an event ticket. To do so, please Click HERE. All fighters who never sent in a headshot photo to be laminated will now be charged $10 for this process whether you bring your own photo or not.
Please note that we requested ALL fighters to send in a photo of themselves on EVERY Nationals Registration form. (Please include a full body picture of yourself. ) This was to make registration faster (Remember last years line...) and eliminate the time it takes to take photos and laminate the passes at registration. Those who did send in their own photos, your fighter passes (2002 Pass Pictured Right) will be done prior to Friday's registration.



MORE NEWS OF 8-8-03
Rodriguez And Morello
REMATCH For IKF Amateur Title
TONIGHT!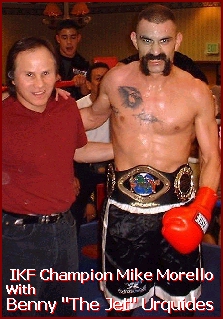 Bakersfield, CA, USA: Tonight, D. T. Promotions Present "King Of The Ring II" At "The Dome" - Formerly Strongbow Stadium. The main event will be a rematch for the IKF Amateur IR Light Middleweight Title between Champion Mike Morello (Right) of Bakersfield, CA, USA and Raul Rodriguez Santa Barbara, California, USA. Other bouts scheduled for the card are;
Evan Esguerra, San Francisco, California, USA VS Bulfrano Gaytan, Modesto, California, USA


Julian Lugo, Bakersfield, California, USA VS Andrew Morello, Santa Barbara, California, USA


John Polokowski, SLO, California, USA VS Valentin Monroy, Modesto, California, USA


Doug Viera, SLO, California, USA VS Steven Olivera, Santa Barbara, California, USA


Antonio DelaCruz, San Francisco, California, USA VS Prudencio Portillo, Westminster, California, USA


Katie Harris, SLO, California, USA VS JoAnn Mancillas, Fresno, California, USA


Jessica Trevino, Fresno, California, USA VS Colene Keefer, Santa Barbara, California, USA


For more info on this event contact Mr. Domi Tomate or Mr. Abe Belardo at (661) 342-5222.



MORE NEWS OF 8-8-03
MOSES SCORES AGAIN
With Another Titanic Card and Crowd

Atlanta, Georgia, USA: Southern Fight Fans thinking that they could beat the heat, this past Saturday, at the Dekalb Atlanta Centre, were sorely mistaken. The reason: IKF/ISCF promoter and World Team member, Brett Moses yet again unleashing a firestorm of red hot action.
A shoulder to shoulder sellout crowd was present in Atlanta for the 14 action-packed bouts. No one looking for an exciting night of great match ups (or signature drop-dead gorgeous ring girls) was disappointed. Here are the nights results below.
IKF Super Middleweight Full Contact Kickboxing
Mike Littrel (LA Boxing) Vs. Corey Lewis (Hunter Fight Camp)

Round 1: Littrel frustrated the straight forward attack of Lewis by scoring long range, looping punches that seemed to throw off the shorter, wider and powerfully built Lewis.
Round 2: Each fighter scored repeatedly during this round, backing each other into the ropes.
Round 3: This round quickly developed into a "real Pier Sixes," as the fighters threw technique out the window and exchanged telling blows in pursuit of the win. Winner: Littrel by unanimous decision.



Light Heavyweight ISCF MMA
Dustin Lowry (LA Boxing) Vs. Damien Stealy (Team Jacare')

Round 1: After Stealy scored with punches. Lowry missed with a kick and Stelly took him to the ground. Stealy dominated from the top position for the rest of the round.
Round 2: A clinic on Ne-waza was put on by both athletes in this round as positions, control and submission attempts were swapped. An impressive display.
Round 3: While standing, Lowry had the advantage, but on the ground, it was all Stealy as Damien was able to clinch, secure superior position and score with punches. Give credit to Lowry who was able to defend submission attempt after submission attempt from the accomplished grappler. A great fight on any level, even more so considering that neither had fought before. Winner Stelly by unanimous Decision.



Middleweight ISCF MMA
Ryan Ellison (Team Jacare') Vs. Sean Jolicoeur

Jolicoeur landed a good right hand but was then taken down and submitted by Jacare's top Atlanta grappler. Winner: ELLISON by submission



Light Heavyweight ISCF MMA Exhibition
Andy Foster (United/La Boxing) Vs. Sylvester "Ses" Stevenson (Team Ring Skilz)

Textbook win by Foster. Winner: Foster by armbar Round 1.



Super Heavyweight ISCF MMA Grudge Match
Kelly Williams (Contact Jiu Jitsu) Vs. Ben Morrell (Suua Khai)

Round 1: This looked more like a backyard whipping than a grudge match. Williams appeared tentative and out of shape. The powerful and muscled Morrell dropped Williams with a right hand that looked like an atomic meat hook. Referee Cam McHargue wisely stepped in to stop the fight. Winner Morrell by KO Round 1.



Heavyweight ISCF MMA
Ed Guinnard (S. Florida Boxing) Vs. Kevin Brooks (Suua Khai)

Round 1: After being taken down and on his back, Brooks erupted to his feet, and thundered with punches to a downed Guinard which ended the match. Winner: Brooks by TKO Round 1.



Super Heavyweight ISCF MMA
Chris Herring (Gorillanation) Vs. Ron Humphries (Suua Khai)

The explosive undefeated Humphrey stayed true to form, unloading a barrage of strikes that didn't stop until Referee Cam McHargue stepped in. Winner: Humphrey by TKO.



IKF Pro Woman's Super Lightweight Full Contact Kickboxing
Deborah Nichols (United Karate) Vs.Ryanne Dee (Detroit, Michigan)

Round 1: Both fighters threw right hand bombs at a tempo that caused one to wonder how they would maintain the pace in 5 rounds.
Round 2: After scoring with a front kick that put Nichols in the ropes, Dee dominated the round scoring with numerous unanswered shots.
Round 3: Nichols tried to score hard early, but missed her kicks as Dee kept up the pressure.
Round 4: Dee's front kick continued to produce, scoring a knock down early in the round. Nichols appeared tired, while Dee looked fresh.
Round 5: The "ooh's" were heard from the crowd when Dee round kicked Nichols in the head. She continued pressing and scoring. Winner: Dee by Unanimous decision.



Welterweight ISCF MMA
Jeff Bedard (USA Wresting) Vs. William Mcglothlin

Round 1: Bedard used his renowned takedown skills and leverage to get McGlothlin off his feet, keep him there and maintain top position on the ground.
Round 2: After another textbook takedown, Bedard fired punches from the top prompting the ref stoppage. As a side note, Bedard wound up breaking both of his hands. Winner: Bedard by TKO Round 2.



MAIN EVENTS
Light Middleweight ISCF MMA
Melvin 'The Young Assassin' Guillard Vs. Justin Wieman

Round 1: Wieman scored with several crowd pleasing slams. Somehow, Guillard kept escaping, despite Wieman's positioning. The round ended with Guillard landing a series of brutal punches from Wieman's guard.
Round 2: Although Wieman took control early with yet another textbook takedown, along with numerous submission attempts, Guillard somehow continued to escape, got into punching position forced the tapout. Winner: Guillard - Submission Strikes (Guillard also broke one hand).



Light Heavyweight ISCF MMA
Rory Singer (Hardcore Gym) Vs. James Wakefield (Golden Dragon Martial Arts)

Round 1: Singer refused to touch gloves, landed a strike, and quickly took Wakefield down. As Wakefield attempted to escape, Singer scored a textbook armbar on the obviously outclassed Wakefield, for the fastest win of the night. Winner: Singer - Armbar Round 1.



Light Middleweight ISCF MMA
Tony Tucci (LA Boxing) Vs. Marcus "The Wrecking Ball" Hicks (Team Jacare')

Round 1: This was a true see-saw battle with Tucci gaining side-mount and Hicks eventually reversing. When fighters returned to their feet, Hicks striking power forced this bout to be a conclusion. Tucci did appear to injure his shoulder while defending a shoulder lock attempt by Hicks. Winner: Hicks - Corner Stoppage

What could have been a disaster was quickly defused as Promoter Moses, Eddie Camden, Dr. John Keating, Kru Kevin Jakobs and the Fight Party security team quickly broke up a heated argument between Team Jacare and LA Boxing.



Light Middleweight ISCF MMA
Shaun Gay (VMAC) Vs. Jeff Joslin (Team Jacare')

Round 1: Questionable strategy by Gay, known for his striking, who instead came out and immediately attempted to take the BJJ Brown Belt, Joslin down. Joslin got the better of it, took the mount position, and began raining down strikes. Winner: Joslin - strikes.



IKF Pro Heavyweight Full Contact Kickboxing
Mark Selbee (Right - LA Boxing) Vs. Horace "The Real Deal" Craft (Box Off Gym)

Round 1: Selbee scored a knockdown with a smooth front kick and fancy TKD show boating that pleased the partisan crowd.
Round 2: Joe Lewis would have been proud of Selbee's effective use of the lead leg side kick in this round.
Round 3: Throwing kicks like a lightweight, Selbee fought through a cut from an accidental head butt, even utilizing a hook kick in one of his combinations.
Round 4: Selbee scores another knock down, this time with a side kick. The side kick proved a solid weapon for him, as he landed with it repeatedly.
Round 5: Refusing to sit on his lead, Selbee put in a hardworking round, aggressively throwing combinations of punches and kicks. Craft landed some solid shots but just couldn't seem to get off any consistent combinations. Winner: Selbee - Unanimous Decision


For more info please contact Mr. Brett Moses at (404) 315-7235 or not_tank@hotmail.com or brett@thefightparty.com. or go to the Fight Party Web Page at www.TheFightParty.com



MORE NEWS OF 8-8-03


Bob Sapp
To Play Guest On
"The Tonight Show"
And Fox Sports' "Best Damn Sports Show, Period"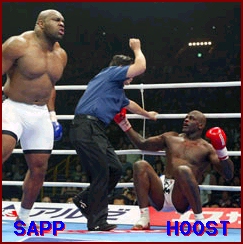 Special To IKF: Amidst his extraordinary rise to fame, K-1 slugger Bob Sapp will make a huge splash in the United States when he appears as a guest on NBC Network's "The Tonight Show" on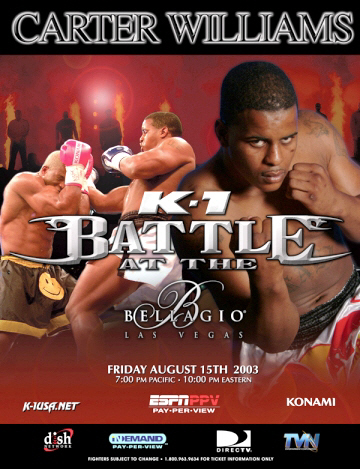 Monday, August 11th, four days before his highly-anticipated showdown with Kimo Leopoldo during K-1 "Battle at the Bellagio" at Las Vegas, Nevada's Bellagio Hotel and Casino.
On Tuesday, August 12th, he will continue his efforts to bring K-1 to the forefront of sports entertainment when he makes a guest appearance on FOX Sports Network's "The Best Damn Sports Show, Period." "We've got a bunch of television that we're gonna do," said the 6 foot 3 inch, 375-pound Sapp speaking from his hotel room in Japan, where he has been sequestered to escape the masses that flock to him when he steps into public view. "The (American media)'s basically heard a little bit about The Beast phenomenon and it's been crazy since." During "The Tonight Show," Sapp will fill one of the three customary guest slots during the Jay Leno-hosted one-hour talk show that airs between 11:30 PM and 12:30 AM.
The following night, he will chat with host Tom Arnold during FOX Sports Network's "The Best Damn Show, Period" that airs between 10 PM and 12 AM Eastern Standard Time (7 PM – 9 PM Pacific Standard Time). Since he made his K-1 fighting debut last June, Sapp has turned "The New Fighting Sport" upside down with little more than the raw power that he used in 2002 to twice topple Ernesto Hoost, (See above right) the most accomplished athlete in the history of the 10-year old tournament circuit.
Sapp's freakish size and strength combined with an appealing character helped propel him to larger-than-life celebrity status in Japan, a country that typically embraces superstars of the fighting genre of sports. To date, he has secured several lucrative endorsement deals with consumer products ranging from ice cream to bento boxes. His regular appearances on TV commercials and in the country's major newspapers were amplified when his face landed on the cover of the Japanese edition of TIME magazine.
More recently, the American media has been taken in by Sapp's metamorphosis from football bruiser to martial arts wrecking machine.
After being featured on Black Entertainment Television (BET), he made his way to the pages of ESPN magazine and prominent hip-hop publication, The Source. On Monday, June 23rd, Sapp infiltrated the suit and tie element of America when he graced the cover of leading daily business publication, The Wall Street Journal.
---


THURSDAY, August 7th, 2003, AT 4:20 PM, PT
IKF Tournament Champion
Featured In Augusta Chronicle
Zack Day's K-1 Bout Gets Play In "South's Oldest Newspaper"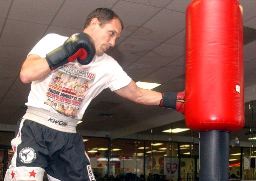 Augusta, Georgia, USA
No one who has perused the IKF news page over the years can say that they have not heard of 1999 IKF Tournament Champion, Zack "Attack" Day, of Augusta, Georgia. At the 1999 IKF/Ringside USA Nationals Day defeated Robert Rene Jr. of Orlando Florida in the FCR Middleweight Division by TKO at 1:09 of the 2nd round to advance to the final against Peyton Russell of Minneapolis Minnesota.
In the final Day defeated Russell by TKO at 1:56 of round 2. From there Day turned Pro and has proved himself a success in the pro ranks too. It seems that Day's many ring successes have generated some outstanding local coverage for the well known kickboxer. Linked below is the Augusta Chronicle's piece on Zack and his upcoming bout.



MORE NEWS OF 8-7-03


IKF Kickboxing Show
Moving Forward...
This week the IKF has been busy with shooting several segments of the first two IKF /CSS Kickboxing TV Program On Monday, IKF Champions Dave Marinoble, Carter Williams and Robert Elledge were all filmed and interviewed by Johnny Davis for 3 different segments of "Corner Talk".

IKF World Ambassador Brooks Mason (In the picture sitting on right) was flown to the IKF Headquarters in California late Monday night and Mason and IKF President Steve Fossum (In the picture sitting on left) worked on show scripting all day Tuesday. Yesterday, Mason and Fossum spent the entire day at the programs post production facility (See Left at Fresh Air Media with Producer/Director/Editor Dale Kasperson and Production Assistant Eric Maddox) filming the sit-down desk segments (See Right) for the first two shows.

The crew will be very busy at the upcoming IKF/TKO USA National Amateur Tournament getting a lot more interviews with fighters, trainers and other associates of the IKF and not to mention, filming more IKF Kickboxing Action! The Nationals Filming is being coordinated by Tim Bachman of Remote Control Productions out of south Carolina.

For more info on the program Click HERE.
---


WEDNESDAY, August 6th, 2003, AT 9:00 PM, PT
Memorial Services For
Alex Gong
FROM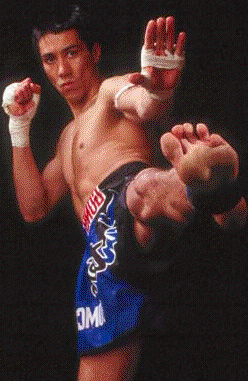 A funeral will be held Thursday afternoon in Daly City for Alex Gong, (Right) a San Francisco martial arts instructor and kickboxing champion who was killed last week after confronting a hit-and-run driver. The services will be at Duggan's Serra Mortuary at 500 Westlake Ave. in Daly City. Public viewing will begin at 4 p.m. Thursday, with a Buddhist ceremony for family and friends from 5:30 to 8 p.m. Burial will be in New Hampshire.
Gong, 32, saw a green Jeep Cherokee strike his vehicle parked outside the South of Market gym where he taught Muay Thai-style kickboxing. When the Jeep fled, Gong pursued it on foot, catching up to the vehicle at Fifth and Harrison streets. Police say the driver was an ex-con driving a stolen Jeep and wanted for parole violations. Determined not to return to jail, police said he shot Gong and fled.
Later the driver abandoned the Jeep in Millbrae after the shooting, was tracked to a South San Francisco motel Monday. After a 12-hour standoff with police, he shot himself in the head as SWAT team members began to turn over a mattress under which he was hiding, according to South San Francisco police. South San Francisco police said the shooter had left no suicide note. But San Francisco investigators said the ex-con had told his girlfriend he would not be taken alive.
San Francisco police and state parole officials say he was a Missouri native with a history of arrests in Arkansas for receiving stolen property and resisting arrest, and in California for weapons violations and auto theft. He had failed to comply with his parole requirements since his last release from state prison in July 2002, state officials said. For the past year, San Francisco police said, he has been part of a loose ring of San Mateo County methamphetamine users and identity thieves. A computer hard drive he allegedly used in those identity crimes was recovered in the South San Francisco Travelodge where he died, San Francisco homicide Inspector Michael Johnson said. It had been destroyed.
Police say there are still unanswered questions in the case, including the identities of two women reported to have taken items from the stolen Jeep after it was abandoned and the shooters history, such as his claim that his family had been killed in a car accident in Texas and that he had shot a police officer in that state. However, Johnson said, while they are still awaiting a ballistics test of the gun that killed Gong and the one the shooter used on himself, police are confident that Gong's homicide is solved.
Dugan's Serra Mortuary
500 Westlake Ave.
Daly City, CA, (651) 756-4500.
3 to 4 PM Family Viewing
4 to 6 PM Viewing for Friends and Members
6 to 8 PM Funeral
Immediately following the funeral we will gather at Fairtex in San Francisco to celebrate Alex's life. 444 Clementina Street San Francisco, CA. While we understand that everyone would like to pay their respects, we politely request that no one attend the family viewing unless invited by Alex's family.
Memorial Fund Information:
Wells Fargo Bank, Special Account Memorial #3443012574
---


SATURDAY, August 2nd, 2003, AT 12:15 PM, PT
The Sad as Well as Shocking Truth Is...
Alex Took The Bullet For
ALL OF US!
Steve Fossum
Earlier today I sent an e-mail out to associates in Kickboxing as well as Martial Arts about the loss of Alex Gong (See story below) and the senseless shock of his death. Several of those who received it called me and said it made them think about the tragedy in a different way and requested I post it on the news page for all to read. So I made a few changes and here are the thoughts...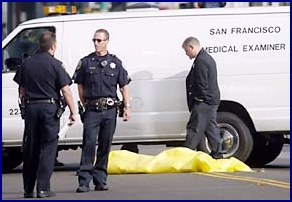 What hits home is the fact that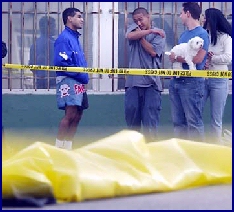 Alex did what any of us would have done, chase after a guy for harming our property. And I stress again, ANY of us would have, under the same circumstances, done exactly what he did... That could be any of us laying under that yellow blanket, ANY of us! However it's not. It is someone else. But not a stranger to us, not some random shooting, not a gang related killing. This was someone we all knew, which brings the circumstances of this story close to our hearts and forces us to reconsider our future actions more than we did a few days ago.
It makes you think deeply about letting things such as this go, something none of us would have thought to do before... A Terrible but convincing way to learn a valued lesson for all of us, but a different lesson than most would think. You see, to many of us, Alex did not do anything "Wrong", and I will never agree with those who claim this to be an act of "Road Rage". This was very different. I mean where is the line drawn as to "Protecting what is ours" and "Acting upon something that will result in our death?" What a hard line to determine. This was just a reaction of a man.
As a martial artist we are taught to "React" upon an "Action". We are also taught to determine in a split second in our minds the consequences of our reaction and conclude before we react that we will be justified as well as content with the outcome. Those of us who have trained in Martial Arts learned this in our training and I am sure many, if not all of us continue this same thought process in our daily lives in other areas, not just fighting. However, I honestly cannot believe that any of us, especially in our field of work and more so, our skill of mental and physical self, would have come to the conclusion in our minds that we would, or could, be shot to death by this guy. Instead, we all would have been thinking instead, how well prepared we felt we were as we reacted to the situation.
Alex, as all of us would have, just reacted upon his conclusion (Mentally) of his self judgement of the circumstance. He felt he needed to stop this guy rather than let him get away. If someone broke into our home, it would have been no different. We would have tried to stop the guy from getting away. It's hard to accept what has happened here to Alex but an even bigger picture has been drawn here for all in the Martial Arts.
Does this tragedy now give us all the message that when faced with such a situation, to now stop and do nothing? Sure, we are taught that if we have to use our hands and feet, we didn't use our head. HOWEVER, from what we have been told, Alex wasn't "Attacking" the guy. Sources have told us that he was trying to stop him from getting away. Some have said he was shot through the guys window while another story says he was reaching in the window for the guys keys. Time will tell soon which is correct.
ALL of us know Alex was taught to control a situation as others have who have Martial Arts training and this appears to be what he was doing. Sure, "HINDSIGHT" is 20/20. Anyone can say he should have just got the guys license plate. But those saying this, I would bet money on, that in the heat of the moment, they would have done exactly what Alex did. Chased the guy to try and control the situation, to stop him now so the police would not be looking for him as they still are today.
One witness had a camera, yet he was in such shock, he couldn't snap a picture. Is this a mistake of his or a reaction? Didn't he too react upon the situation? Hindsight says "Why didn't the guy snap a quick photo of the guys car?" But we were not there, it didn't happen to us, and these things all happen so fast, as did Alex's reaction to it all. A picture would have been helpful now, but in the moment, he choose to try and save Alex's life instead. Something all of us would have chosen to do.
In the heat of the moment, things change inside us. The moment has a way of changing our mind on the street far more than a prepared ring fight where we expect what could happen and know the limits of what will not, such as a gun in our face. The reality of all this is Alex made a logical as well as justified decision that under normal circumstances, (If there is such a thing) would have been the rational and expected thing to do. The outcome here has left us all forever questioning our future decisions... This tragedy has made us all stop to think about the world around us. Strange how tragedy has a way to bring us all together in our line of work and in our sport.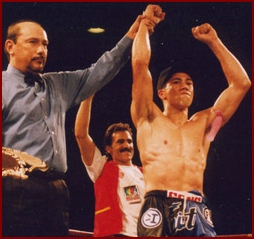 Let us all never forget this.
Let us never forget Alex.
For all of us are related to each other as martial artists.
Rest In Peace Alex, As someone has already said...
"You are Gods Champion Now!"

sf@ikfkickboxing.com
For More Stories on This Tragedy Click:
www.sfgate.com
www.sfgate.com/chronicle
---
FRIDAY, August 1st, 2003, AT 6:50 PM, PT
Champion Kickboxer
Dies In Deadly Shooting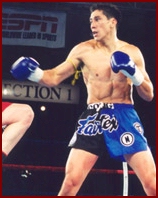 GONG





COKER

San Francisco, CA, USA: Prepare yourselves fight fans for what I (Steve Fossum) am about to share with you has hit those of us in the Kickboxing World very hard today. Sitting here working late on a Friday night, K-1 USA Promoter Scott Coker called me at about 6:30 PM to inform me of a very tragic loss to the Kickboxing world. Here is what we know so far from the sources we have attained information from.

At around 4:35 PM (PST) a car hit another car at the Fairtex Training Center in San Francisco with the driver pulling away without stopping. The person who's car was hit gave chase after the car and caught up with and confronted him. When done so, the driver of the hit and run car pulled out a gun and shot the chaser through his window in the chest. The victim fell back and bled to death within 10 minutes in the middle of the street.

Today kickboxing has lost a
World Champion Fighter, Trainer and Spokesperson of our sport as well as a friend to many of us...

Alex "F-14" Gong

San Francisco's TV CBS Channel 5 Reported: A road rage incident may have led to a deadly shooting South of Market in San Francisco during the Friday afternoon commute. Investigators say there was a minor traffic off 5th St. in the South of Market area, and that the victim of the homicide apparently chased the suspect's car. Witnesses say the victim confronted the suspect at 5th and Clara. "It appears that it was a traffic accident dispute," said Maria Oropeza of the San Francisco Police Department. "The victim chased the suspect, and upon contact, the suspect shot the victim."
A witness named Jason said, "He tried to confront the guy. We heard one pop, and he fell to the ground." The suspect's vehicle is described as a green or gray Jeep Cherokee with possibly a broken window. Southbound 5th St. was blocked off at Folsom, and there was another police blockade on Harrison. Traffic was moving in the area as of 6:30pm, but it was very slow.

Witnesses say after he shot Gong the driver sped away towards the Bay Bridge but not before several of Gong's students caught the make of the car and his license plate number. The students tried to revive Gong who was actually in his gym working out at the time of the hit and run but were obviously not successful. Once informed, the Police shut down streets near the Bay Bridge but no word on whether the shooter has been caught yet.





"This is a sad day for martial arts." Said Scott Coker, (L) who was responsible for much of Gong's publicized success as a fighter on the StrikeForce Events in San Jose, California shown on ESPN Worldwide. "He did so many great things for MuayThai and the martial arts community, keeping MuayThai alive in America through his spirit and his gym."
We here at the IKF knew Alex since his amateur career and watched him become a successful martial artist and World Champion. It's sad that a loss such as this makes you take a step back and think about what our lives are really worth. How meaningless our little troubles and problems are when compared to such an action. That a single gunshot from an unknown stranger can change the course and lives of so many.
Excuse me if I am short on words here as to what to offer or say to those much closer to Alex. No words can ease the loss of anyone and no story will either. We can only say we are here for you if you need anything from us, and I believe all in kickboxing feel the same.
Alex started training at the Fairtex Camp in 1994 with head trainer Phicheat Arunlueng "Ganyao". He has also trained with Master Apideh Sit Hirun (named Muay Thai Fighter of the century by the King of Thailand). Apideh is the head trainer of Fairtex Thailand. Prior to Fairtex, Alex trained with Paul Meteyo. Kru Mateyo inspired Alex to continue his Muay Thai and martial arts training. Before Muay Thai, Alex trained in the Seido Kai kan karate for three years under Shihan Edwards in the US and at the Seido head quarters in Osaka Japan, the K1 organization. Alex also trained in Tae Kwan Do for six years and several various martial arts including Aikido and Judo. His record as a fighter was 27 wins, 2 loses with 13 of his wins coming by TKO/KO. His accomplishments are many and include:
National Siam Award "Best fighter of the year" (2001)
K-1 SuperFight winner (2001)
K-1 SuperFight winner (2000)
ISKA Light Middle weight world champion (1999)
ISKA Light Middle Weight North American Champion (1998)
ISKA Super Welterweight Inter-Continental Champion (1997)
WMTC Super Welterweight North American Champion (1996)
IFCA Amateur Light Middleweight US National Champion (1995)


For past stories about Alex and his career see these links:
www.asianweek.com
www.examiner.com
www.fairtexbkk.com


To follow-up on updated news to this story go to
Ch.5 EYEWITNESS NEWS
HOME - EVENTS - RANKINGS - SANCTIONING - JOINING - RULES & REGULATIONS - MERCHANDISE - ISCF-MMA