FRIDAY, February 28th, 2003, AT 12:10 AM, PST
Gurule And Guadian Battle For
Rocky Mountain Title In New Mexico!
IKF New Mexico, USA: IKF Promoter Tony Rosales is all set for his IKF Championship Kickboxing event this Saturday night, March 1st in Belen New Mexico USA. The main event will feature Sonya Gurule of Los Lunas, New Mexico, USA Vs Melanie Guadian of Las Cruces, New Mexico, USA battling it out for the vacant IKF Woman's Amateur Rocky Mountain Regional Straw-weight Title. For more info please contact Mr. Tony Rosales at AnthoRosal@aol.com


MORE NEWS OF 2-28-03



WINTER WARS 2003
PROMOTERS "RESHUFFLE THE DECK"
Alterations to March 1, 2003 Fight Card Actually Adds New Bouts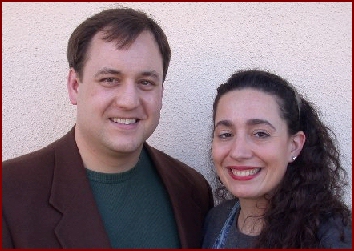 IKF & ISCF Georgia, USA: Promoters everywhere face the problem of cancellation and realigning fight cards. It is an unavoidable part of the business. Fighters get hurt, conflicts arise, and people fall out. With the work ethic that they are known for, Winter Wars 2003 organizers Mike and Elizabeth Carlson (Right) faced this situation and turned into a benefit for athletes and fans alike.
In fact, after numerous difficulties arose, affecting several of the original bouts on the card, they went to work. The result? Bouts have been ADDED rather than subtracted, from the card. According to organizer Elizabeth Carlson, "This is what is so great about being part of the IKF and ISCF team down here. There is an outstanding network of fight camps and trainers and even other promoters who are always ready to lend a hand. We want to see those who want to fight get them, and we worked hard to get as many match ups as we could, after some had to cancel."
IKF and ISCF World Director, Steve Fossum, is impressed with the Carlsons' ability to turn a stepping stone into a stumbling block, "Mike and Elizabeth have done what they always do best for us. That is,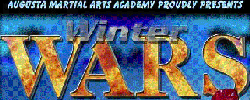 roll with the punches and get to work to make things better for all involved. To tell you the truth, we didn't even know that there were alterations needed on the Winter Wars card, until they sent the new one in!"
The new Winter Wars 2003 Fight Card, which will begin at 7:00 PM on Saturday, March 1, 2003, can be viewed below on yesterdays news post. These nighttime matches will be part of a complete day of martial sports action at Winter Wars 2003, including a daytime tournament and a Brazilian Jiu-Jitsu seminar. For more details, please review below on this News page or contact Elizabeth Carlson at (706) 855-5269 or E-mail at amaa@prodigy.net
---

THURSDAY, February 27th, 2003, AT 9:00 AM, PST
VMAC Fighters To Compete At
Winter Wars In Augusta This Weekend
IKF/ISCF Valdosta, Georgia, USA: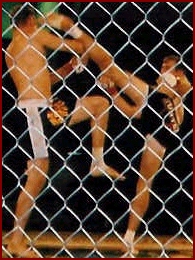 Four a Valdosta Martial Arts Center fighters will compete on the evening fight card at Winter Wars in Augusta, Georgia, USA this Saturday evening, March 1st. The event will be held near Augusta, Georgia, at Fort Gordon, Gym. Shaun "The Stallion" Gay (Right Kicking) will step into the ring against Shannon Hudson for the IKF Southeast U.S. Amateur Full Contact Rules Light Middleweight title. Shaun is a professional mixed martial arts competitor and plans to go pro in kickboxing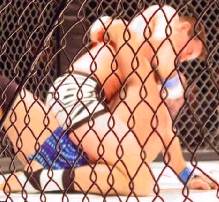 after this event. The Stallion was planning to kickbox professionally at the Winter Wars event.
However, his team-mate, Peewee McCall suffered an injury in his last bout (February Fight Party - See Below) requiring double retina re-attachment surgery. McCall's fight career is most likely over and he certainly could not carry forth with his match for the SE title against Hudson. Gay stepped up and took the match for his fallen comrade, who plans to be there to support him against Hudson.
Gay has made good on supporting his team-mates in similar fashion. His team-mate, Nick Panuousis lost a mixed martial arts match to Scotty "The Body" Johnson over a year ago. Gay fought Johnson in a World Extreme Fighting Championship match, February 8th, in Jacksonville, Florida. Gay completely dominated the match (see above left - Gay on top). He threw Johnson with a wizzer/leg sweep combination that would have made Yoshida, the Japanese Judo Gold Medalist and PRIDE fighter, proud. He then mounted Johnson and dropped punches until Johnson attempted to roll over but he eventually tapped out from more punishment. Gay hopes to represent McCall in good fashion at the Winter Wars event and bring the title home.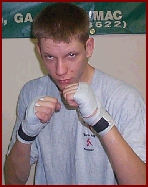 Returning to the ring for the first time since June of 2001 is Matt "Diesel" Parrish. Parrish, 0-1, will face Albert Cole of Texas in a FCR kickboxing match. Chris Vega, 0-1, will face "The Tub Doctor" Eddie Singleton of Augusta in a FCR kickboxing match as well. Wayne Music of Waycross, Georgia, will be VMAC's sole MMA competitor for the Winter Wars event. Music, the Super Heavyweight runner-up in Matthew Waller's Gauntlet Trials tournament of this past summer, will face Craig Gay of Atlanta's Suua Khai Fight School.
Winter Wars 2003 is a complete day of martial sports action, including a daytime tournament and a Brazilian Jiu-Jitsu seminar, and nighttime MMA and Kickboxing bouts. For more details, please review below on this News page or contact Elizabeth Carlson at (706) 855-5269 or E-mail at amaa@prodigy.net
---

WEDNESDAY, February 26th, 2003, AT 7:00 PM, PST
Winter Wars 2003 Fight Card
Saturday March 1st, Augusta, Georgia, USA


RED CORNER - BLUE CORNER
IKF Amateur Middleweight Kickboxing

Brad Taylor (AMAA) vs Tom Tramaglia (Hurricane MA)

ISCF Amateur Welterweight MMA

Donny Hadley (AMAA) vs Shane Pressley (LA Boxing)

IKF Amateur Middleweight Kickboxing

AK Kearney (Jendins) vs Carl Houston (Halverson)

ISCF Pro Heavyweight MMA

Wayne Music (VMAC) vs Craig Gay (Suua Khai)

IKF Amateur Light Middleweight Kickboxing

Reggie Kitchens (AMAA) vs Matt Dekle (Ivie)

ISCF Amateur Light Heavyweight MMA

Blake Grice (Hybrid Vale Tudo) vs Byron Whitesides (Whitesides)

IKF Amateur Super Middleweight Kickboxing

Stevie Dement (AMAA) vs Ryan Robertson (Halverson)

IKF Amateur Light Middleweight South East Kickboxing Title

Shaun Gay (Below Right - In White - VMAC) vs Shannon Hudson (Above Right Kicking - Hurricane MA)

ISCF Amateur Heavyweight MMA

Bruce Douglas (Douglas) vs James Thorpe (LA Boxing)

IKF Amateur Heavyweight Kickboxing

Albert Cole (AMAA) vs Matt Parish (VMAC)

ISCF Amateur Middleweight MMA

Shawn Gonzalez (Suua Khai) vs Usif Murtadi (LA Boxing)

IKF Amateur Super Heavyweight Kickboxing

Eddie Singleton (AMAA) vs Chris Vega (VMAC)

ISCF Amateur Heavyweight MMA

James Sutton (Suua Khai) vs Andy Foster (LA Boxing)
Fight card subject to change and is not in actual order
For more details, please review below on this News page or contact Elizabeth Carlson at (706) 855-5269 or E-mail at amaa@prodigy.net.


BELOW NEWS POSTED AT AT 7:00 PM, PST





MORE NEWS OF 2-26-03

Good Housekeeping Talks About
Brain-Pad!!
CLICK HERE!

BELOW NEWS POSTED AT AT 1:50 PM, PST





MORE NEWS OF 2-26-03



THE (TUB) DOCTOR IS IN!
Augusta Business Man To See Action In IKF Bout On March 1st!

IKF Georgia: No one in the CSRA (Central Savannah River Area in Georgia and South Carolina) has failed to hear a radio commercial for the "Tub Doctor" Eddie Singleton (Right). The 52 year old is one of the most successful contractors in the community, specializing in bathroom accouterments. What the uninitiated do not know is that Singleton is also a black belt, who spends hours weekly in the IKF and ISCF endorsed and approved Augusta Martial Arts Academy, training in kickboxing and Brazilian Jiu-Jitsu.
So, Mr. Singleton has once last question in his mind, "Could I get in there and give it a go?" Well, he will have his chance to answer that question on March 1, 2003, when he will face Valdosta's Chris Vega in an IKF Super Heavyweight full contact rules kickboxing match. "At the age of 52, I want to show others my age that they can train hard and stay in shape," says Singleton, "I appreciate Sensei Mike Carlson working with and training me despite my age. I hope to represent my school well." AMAA head instructor Mike Carlson says, "Why not give Eddie a shot. He trains hard and is dedicated. He is certainly an inspiration to us all in his determination and willingness to take up challenge after challenge with grace and in stride."
Winter Wars 2003 is a complete day of martial sports action, including a daytime tournament and a Brazilian Jiu-Jitsu seminar, and nighttime MMA and Kickboxing bouts. For more details, please review the 2-13-03 section below of this News page or contact Elizabeth Carlson at (706) 855-5269 or E-mail at amaa@prodigy.net.


MORE NEWS OF 2-26-03



"It's a FREE COUNTRY...
So Let Anybody Do What They Want."
Read more on this... CLICK HERE.


MORE NEWS OF 2-26-03



AMAA To Introduce Rookies At
Winter Wars
First Timers Look To Make A Name For Themselves At March First Card
August Martial Arts Academy can brag of placing its fighters in the UFC, RINGS, other pay-per-views, and producing numerous IKF National Tournament Champions. On March 1, 2003, it will be time for some of its young guns to try to make their mark. Brad Taylor ( Left - 25 years old), Reggie Kitchens (Right - 22 years old), and Donny Hadley (Below Right - 19 years old) will all make their first trip into the squared circle at Fort Gordon's Gym One, as part of Winter Wars 2003.
| | | | | |
| --- | --- | --- | --- | --- |
| Brad Taylor | __ | Reggie Kitchens | __ | Donny Hadley |

According to Brad, who will face Tom Tramaglia, in a Middleweight full contact rules kickboxing bout, "I've really been looking forward to stepping into the ring. I've trained hard and I want to win." Reggie, believes, "I'm thankful for the opportunity to fight and showcase my talent," as he prepares to face Matt Dekle in a Light Middleweight full contact rules bout. Donny, who will face LA Boxing's Shane Pressley in a Welterweight ISCF MMA bout, says, "I've trained really hard and would like to thank everyone for their patience, support, and hard work." AMAA instructor IKF Kickboxer "Precious" Paul Pearman looks forward to seeing some fresh faces in the ring, "We have got to keep the sport growing and these guys are headed in that direction. I just wish that I wasn't sidelined with an injury or I would be out there with them!"
AMAA point man and IKF and ISCF World Team Member, Mike Carlson says that his rookie fighters deserve extra credit for stepping forward in their home town, "First or second fights are tough enough, but with the added pressure of doing it in your home town takes it up another notch. We will be proud of them no matter what happens out there for taking all of that on."
Winter Wars 2003. is a complete day of martial sports action, including a daytime tournament and a Brazilian Jiu-Jitsu seminar, and nighttime MMA and Kickboxing bouts. For more details, please review the 2-13-03 section below of this News page or contact Elizabeth Carlson at (706) 855-5269 or E-mail at amaa@prodigy.net
---

MONDAY, February 24th, 2003, AT 6:00 PM, PST
TEXAS "ROLLS" WITH MORE
IKF ACTION
Richardson, Texas, USA: In a night that consisted primarily of the full-contact debuts of a number of young fighting prospects, The Fightatorium celebrated its 1 year anniversary with a 5 bout card that attracted even an NFL Hall of Famer. In its short existence, The Fightatorium has already played host to such martial-arts luminaries as Troy Dorsey, Raymond MaCallum, and Guy Mezger.
While those "in-the-know" regarding the world of fighting and kickboxing would readily recognize those three names, the general masses can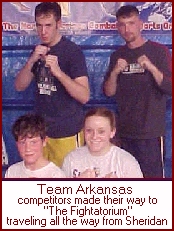 all identify with former Dallas Cowboys standout defensive tackle Randy "The Manster" White (Left & Right). Along with the faithful at The Fightatorium, White was treated to a series of action-packed fights for which The Fightatorium is rapidly gaining a reputation for.
In the 1st two bouts of the evening, kickboxing fans here were treated to exhibition competition. Bout 1 featured IKF USA National Light Welterweight Tournament Champion Kornelija Numic 134 lbs, (7-1/ 2KO's) against 2002 IKF Tournament Teen Lightweight Runner-Up Cody Smith 136 lbs, (5-5). This 3 rounder was followed by another exhibition treat as Gregory "Bear" Liflayandsky 95 lbs, (2-0) faced newcomer Jonathan "Thunder" Funderberg 100 lbs, (0-0) from Sheridan, Arkansas. As is The Fightatorium tradition, no losers are declared in exhibition competition as it is simply to keep fighters "busy" and ward-off "ring-rust". Of course, we all know that anyone willing to step into "the square" is a winner, no matter what the fight outcome!
Bout #3: Katy Frame, 141 lbs, (0-0) made her amateur kickboxing debut by making quick work of a very game Emily Lawson 142 lbs, (0-0) who was also from "Team Arkansas". "Steel" Frame simply out-worked and overpowered the very feisty Lawson, who was unable to continue as the bell for the beginning of round 3 sounded. For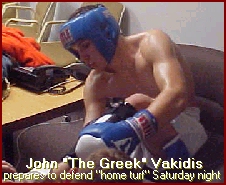 Frame, it was a nice rebound from her 1st round TKO loss in the Dallas Golden Gloves (Boxing) last week.
Bout #4: This bout featured Kung Fu stylist Doug Peacock 150 lbs, (0-0) against Kingdom Kickboxing's own Will "Slick" Ford 150 lbs, (0-0). Ford made his debut a brief one, rattling Peacock with a thundering overhand right, then KOing him with yet another shortly thereafter. This bout should serve as a nice springbaord for both men, with Ford beginning what promises to be a brilliant amateur career, and hopefully Peacock going back to the gym and coming back with the same game-ness that he started the evening with.
The main event featured 17-year old phenom John "The Greek" Vakidis 174 lbs (5-1/2KO's) against the gritty "Ready" Freddy Espiricueta 176lbs (2-0-1). In an awkward stoppage of action at the conclusion of the 1st round (scheduled for 4), Espiricueta said he could no longer continue due to the loss of both contact lenses during that initial round. Ring officials offered to find the lenses and allow Espiricueta to put them back in, but he deferred for lack of contact solution. Vakidis got the TKO, primarily because he packs a hard enough right hand to actually knock the entire eyeballs out of most fully grown men! Look for more exciting new surrounding this up and coming talent-laden prospect. Vakidis is now 6-1 with 3 KO's.
All-in-all, another brick was laid in what will be the legendary foundation of one of the best fighting venues in North America.......The Fightatorium. Legendary for its action-packed fights, as well as it's famous--even 'Hall-Of-Fame' --visitors.
For more info, call Chuck Best or Steve Goin at (972) 889-0129, or e-mail them at juno.com@sirkikman or visit www.kingdomkickboxing.com
IKF-NACSO


MORE NEWS OF 2-24-03



Brett Moses To Scout Talent
At Winter Wars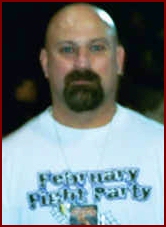 Georgia IKF: Successful February Fight Party Promoter to be Front and Center at the upcoming March 1st IKF and ISCF Event. Nobody ever accused promoter Brett Moses (Right) of being bashful about saying what was on his mind. So it should come as no surprise that he is quite outspoken about his motivations for attending Winter Wars 2003, on Saturday, March 1, 2003, in Augusta, Georgia.
"First of all, I will always come to assist and support anything that Mike and Elizabeth Carlson (event organizers) are part of. No one out there does more for the martial sports and expects less in return than they do. I cannot even begin to tell you how much they helped with the February Fight Party. I have joked that Elizabeth did more for us as a pregnant woman than any man did!"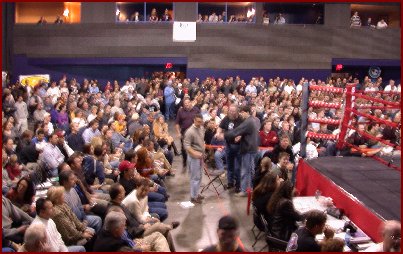 But Moses' reasons for attending the bouts to be held this Saturday at Augusta's Fort Gordon are not just inspired by personal loyalty or being a good IKF and ISCF team member. "I plan on getting back on the promoting horse soon, and will announce my upcoming dates in the very near future. I intend on keeping a careful eye on who I see inside the ring at Winter Wars, in terms of who are good prospects for my upcoming fight cards will be."
According to Moses, the success of his February Fight Party (Left) made him determined to diversify his upcoming promotional excursions. "I recognize that I am known as an MMA guy and that is where I made my initial foray into the business. But no one could look at the turn out and crowd reaction to the Selbee/Hudson (IKF Pro FCR U.S. Heavyweight title) bout and not be impressed. As a result, I plan on working more and more professional full contact rules kickboxing bouts in my upcoming promotions. You'd be crazy not to."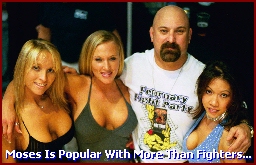 Moses says that upcoming Georgia IKF and ISCF cards have also caught his eye. "Again, I will be present at Winter Wars. I will make detailed notes, maybe just mental, on what I see in terms of who the up and comers are for future pro full contact rules and MMA fights. I have also planned on being at the IKF regional in Valdosta and the IKF National Championships (In Cedar Rapids Iowa, august 15th, 16th & 17th) with the same purpose in mind. I also see on IKF's upcoming events page that Matthew Waller, Mike Wood, Chris Stolzman and Scott Hicks have bouts coming up that will have either or both FCR kickboxing or MMA on them. So whether I can be there for all of them or not, doesn't change the fact that I will be very concerned about what happens, if you get my drift."
Moses adds that Georgia IKF and ISCF promotions are the exclusive venue for where he will look to for developing as well as established talent. "IKF and ISCF do more for fighters and promoters than anyone else out there. Its core people understand what teamwork is all about. Anyone not understanding that is shown the door. That's good. And I don't need to go anywhere else in the state to see where the real talent is. What I mean is, I could really care less about any other sanctioning bodies or what they think that they are doing, one in particular, especially given some of the creeps that they choose to get behind around here."
Moses encourages fighters and trainers to approach him at Winter Wars. "Even if you are not fighting, please feel free to get your foot in the door. The IKF and ISCF team believes in throwing out a big net!" Winter Wars 2003 is a complete day of martial sports action, including a daytime tournament and a Brazilian Jiu-Jitsu seminar, and nighttime MMA and Kickboxing bouts. For more details, please review the 2-13-03 section below of this News page or contact Elizabeth Carlson at (706) 855-5269 or E-mail at amaa@prodigy.net.


MORE NEWS OF 2-24-03



E-Mail Virus Alert
Please be alert for e-mails that have the following characteristics: The body of the e-mail says: "I'll try to reply as soon as possible. and or: "Take a look to the attachment and send me your opinion!" Attached is a file named either FUN.EXE or CARD.EXE. If you receive such an e-mail, even if it appears to be from someone you know, please delete it. For more virus warning info from the IKF click HERE!


MORE NEWS OF 2-24-03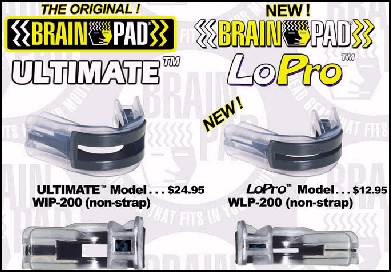 LoPro Brain Pad
Hey fighters! Wipss Product's has done it again. we know there are some of you that had complained about the Wipss BRAIN PAD being too big in your mouth. Well, here's the solution to your problem..
The New LoPro Brain Pad.
See at right the difference it has compared to the Original Brain Pad. Some competitors may want to wear the LoPro because it is so comfortable and not so noticeable. To read more on this new product click HERE! to read more on Wipss Products see our Wipss Fighters Safety Page by clicking HERE!
Wipss is a Proud Sponsor of the IKF USA National Amateur Championships.



MORE NEWS OF 2-24-03







Is K-1
"REALLY"
Being Kicked Off Fuji TV In Japan?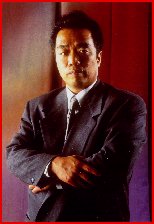 Now before all you K-1 Fans think were attacking K-1 here.. STOP and think again. Although what you are about to read is some more negative K-1 News, the big picture here will effect all of kickboxing. So before you form your opinion, make sure you read everything below...
IKF Japan: What's Happening? It seems there is even more bad news coming in to us here daily about K-1 and it's future. Although we are told K-1 USA is still solid, things are clearly in question at K-1 Headquarters in Japan. It all started last December when on our December news page we announced the shocking news about K-1 Boss Kazuyoshi Ishii (Right) and his tax problems. What we hadn't reported was that on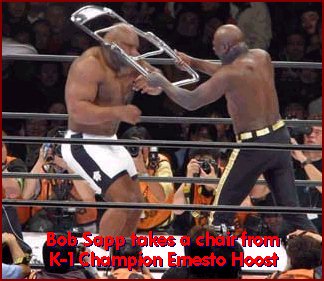 February 3rd, 2003 Ishii was officially arrested in Tokyo for corporate tax evasion charges that the Tokyo tax bureau had grilled him on. The official charge against Ishii was tax evasion of 200 million yen (around $1.7 million dollars).
A month or so back those left to run K-1 appointed American Bob Sapp (Being hit over the head at left by Hoost in a pro wrestling show) as the head of K-1. Bob Sapp? This was a shock to many that K-1 would put someone like Sapp in charge of their organization. Adding to this there was even rumor that K-1 would get more into "Big Time" wrestling (As shown at left) with storyline fights and more because it would make more money than K-1 and the TV people they were talking to wanted it more. (See: Is Japan Setting The Standards Of Our Sport? 1-19-03)
K-1... Say it isn't so... What are you thinking? Lets hope this is ONLY a Rumor! If not, we all need to ask ourselves... "What are we doing here?" If K-1 is considered a leader in our sport, where are they (Or Japan) taking us? What road are we following if they are to be the LEADERS of our sport?
Making things worse for K-1 and the sport of kickboxing now was that last Friday (2-21) it was announced that Fuji TV President Koichi Murakami announced Fuji TV will no longer air K-1 shows on their network effective immediately after the promotion's last airing on the network (3/30 Saitama show with Sapp vs. Cro Cop). Word had it that K-1 was working to land a back-up deal to shift shows from Fuji TV to Tokyo Broadcasting System and Nippon TV if Fuji TV goes through with their promise of cancellation. Has K-1 been shown the door for a reason? could it be true K-1 "IS" now looking into Pro Wrestling?? If so, is it really the management of K-1 making this decision or is K-1 simply following what those in TV Management are leading them to do? Is there a bigger picture here to all this? Who would be afraid of K-1 or any kickboxing for that matter?
Source: www.puroresupower.com: Tokyo prosecutors attempted to make the case today that former K-1 boss, Kazuyoshi Ishii, and two other associated were guilty of $2 million dollars of corporate income tax evasion. More charges are expected to be levied against Ishii, as Tokyo prosecutors have called in US judicial authorities to help out the case. A 31-year old man from Bangladesh is also involved in the case as "part of the Mike Tyson camp." Tyson became a part of Ishii's defense, as Ishii claimed that he had spent 1 billion yen in an attempt to get Tyson to work a K-1 fight in 1999.



MORE NEWS OF 2-24-03



WHAT ARE WE DOING?
Where Is Kickboxing On TV? Big Purses? Is there a Bigger Picture?

So is this icolated or is it a wake-up call for all of kickboxing? Or is it the style of fighting in question? A thread on an internet chat page noted that in Europe, Sky Sports was no longer going to air MuayThai style fighting claiming it isn't exciting enough for British TV! Isn't exciting enough? Could this be true for the USA audience as well?

ESPN has drastically cut back all kickboxing they had which in the past 3-5 years has swayed over to more and more MuayThai style bouts instead of the previously more popular full contact style bouts (Above the waist). ESPN had recorded record viewer numbers when they showed Full Contact style fighting as did ABC sports (Owner of ESPN) when kickboxing was on Wide World of Sports years ago. The viewer numbers haven't come close to those of the 80's on ABC & ESPN. Is full Contact Rules style fighting the desire of the viewers out there? In the defense of these

kickboxing shows, it's hard to get an audience at 2:AM on a Tuesday night. Sure we here always complain about the commentating, title contenders and many more production flaws but lets face it, it was kickboxing and it was ON TV! And as the only kickboxing on TV, we still watched it, no matter how bad it was because we were all kickboxing FANS! So WHY does ESPN only show kickboxing in the weeee hours of the morning while Boxing gets top billing on prime time? Is there more to this than a debate in rule styles? Who knows.
One thing is for sure, Kickboxing remains to be the ONLY Major sport in the world without a major TV Contract. For Gods sake, TV Networks have regular shows on Fishing, Trap Shooting, Hunting Dog Challenge, Arm Wrestling, Strongest Man and even Dog Jumping... to name a few of those NON known sports we never even knew were sports... And we have to be told by these TV Executives"We just don't have room for any kickboxing..." Look at FOX who has promoted the Hollywood Boxing show, again at PRIMETIME!! when will kickboxing be given a "CHANCE" to prove our audience in a Prime Time slot. The network that does show kickboxing doesn't even advertise it. we have to find it by "Chance" flipping through the stations.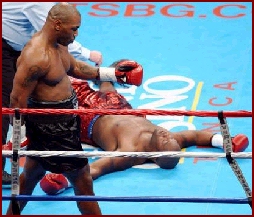 this last Saturday night the Showtime TV Executives and the nights Promoter can be proud to bring us our 49 seconds of Mike Tyson (Left) who KO'ed Clifford Etienne in Memphis, Tennessee. These executives were sure were even more excited when after being paid 5 Million dollars, Tyson had the nerve to say on live TV "I wasn't paid enough..." What a CROCK! "FIVE MILLION dollars! At 49 seconds, Tyson made more "Per Second" than nearly EVERY kickboxer in the world has made for their greatest payday ever. Tyson made $102,040 Per SECOND! Nearly EVERY Kickboxing promoter we know could put on a GREAT Kickboxing event for what Tyson was paid for just "ONE SECOND" of work, AND have 1 or maybe even 3 World Title fights of GREAT KICKBOXERS on the show as well. All it would take is TV!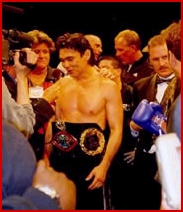 So where did all this money come from that Tyson took home? It wasn't "ONE" promoter as it happens in Kickboxing. It was the sponsors who paid for the TV Exposure. Heck, the highest paid kickboxer to date is NOT a K-1 fighter. They have to fight "3 Times" to make their money. It was Don Wilson (Right) when he won his IKF World Title back in May of 1999 who was paid more than any other Professional Kickboxer in the history of the sport. How many millions was Wilson paid? Wrong... It was small change compared to many of the Pro Boxing World Title bouts. Wilson was paid $150,000.00. Or to make it more clear, about 1/33 of what Tyson was paid for Saturday's NON TITLE Bout! But hey, here's an even funnier JOKE. Tyson's opponent, Clifford Etienne lasted 49 seconds in the ring and was paid "ONE MILLION" dollars. That works out to a $20,408.00 per second payday. Heck, and Tyson's bout wasn't even the highest payday in Boxing...Not even close...
So TV Executives... What is it going to take to bring Kickboxing to TV? No doubt the sport has GREAT Promoters and GREAT Fighters! What do you need from us? What do you want from us in Kickboxing? What will it take? Or do we even have a chance.... That is, is there something you have been keeping from us?
Let us help fill in the void here. The truth is, there is FAR more to this than rule styles, available air-time and top name fighters... Sources have informed us that the powers in charge of BOXING have no desire to see KICKBOXING as a "Fight Sport" competitor on TV. It's clear they want this audience all to themselves. They know that Kickboxing is a valid and legit threat to their big Dollar deals around the world, and "HOW" do they get those big dollar deals? TV! Now we see that one of the few companies with a TV Deal, K-1, is being threatened to lose their spot as well. Was there more to it than an Ishii Tax Scandal? Or did they want their money to go somewhere else? Without TV, our Professional Kickboxers may never see the purse money they DESERVE! Same goes for MMA (Mixed Martial Arts like NHB, UFC etc.) though. Boxing was the MAIN source behind their drop from TV in the 90's. Anyone remember a well known politician in Arizona...? This guy was in Boxings corner from the start to the end of MMA on TV. Now with all the Big $$ feeding into Boxing, their voice may be just enough to keep the kicks and choke holds off the TV tube for years to come. If only we had our own TV Network...
---


THURSDAY, February 20th, 2003, AT 4:40 PM, PST
FIGHT TO SAVE SAN SHOU
IN NEW YORK STATE!
IKF New York, USA Source: Recent changes in New York State law have made ALL martial arts competitions which include any form of application event (point sparring, continuous sparring, kickboxing and San Shou) ILLEGAL! unless sanctioned by a small group called the "approved list". The law is available online at: http://assembly.state.ny.us/leg/?ul=11
The amendment to the current law (Section 5A) states that the only legal "martial arts" competition will be ones sanctioned by organizations on the New York State Athletic Commission's (NYSAC) "approved list". (U.S. Judo Association, U.S. Judo, Inc., U.S. Judo Federation, U.S. Tae Kwon Do Union, North American Sport Karate Association, U.S.A. Karate Foundation, U.S. Karate, Inc., World Karate Association, Professional Karate Association, Karate International, International Kenpo Association, or World Wide Kenpo Association.) According to Hugo Spindola, General Counsel for the New York State Athletic Commission, only these organizations can legally run events in NY State. Furthermore, the commission has not established any process by which other organizations can be added. If you are not one of these organizations, they will send police to shut your event down!
Voice your opposition to this list (None of who are actual kickboxing let alone San Shou Sanctioning organizations) and the fact the commission will not add any new martial art organization to the list. You can do any or ALL of the following.
And when you call, E-mail, FAX or write, tell the officials in New York that what they need to do is add IKF and ISCF to the State's list. This would facilitate San Shou and other sports being run credibly and safely under the watchful eye of the largest and most successful independant sanctioning bodies in the world.
Please be professional and factual when contacting NYSAC. Thank you!
For more info on this situation click HERE
---


WEDNESDAY, February 19th, 2003, AT 5:25 PM, PST
IKF TEXAS This Weekend!
FIGHTATORIUM Ready For More IKF-NACSO Kickboxing!
Richardson, Texas: IKF Promoters Chuck Best and Steve Goin are all set for this weekends IKF-NACSO Kickboxing action at The Texas Fightatotium! Known as the 'Warrior-Zone' the Fightatotium ring (Below Right) is a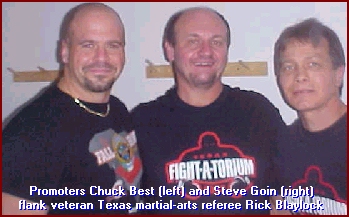 scant 13' x 13'....hardly enough room to run if one had a mindset to do so, therefore; "fight or flight" is not an option being that "FIGHT" is the only choice one can make in such limited confines!
Here's the nights tentative fight card:
EXHIBITION
IKF USA National tournament Women's Light Welterweight Champion Kornelia Numic, 8-1 / 2KO's (140 lbs) VS Cody Smith, 5-5 (137lbs).
This is a "grudge-match" of sorts. These 2 have faced-off in exhibition competition before. Although neither match counted towards either competitor's actual record, Smith stopped Numic in their first outing last March, then out-pointed her in their 2nd meeting last June. Numic has gotten progressively better, and has shown marked hand/punching improvement in her last 2 meetings with a 2nd round KO in January to win another organizations Women's Light Welterweight Title for North Texas, and an impressive KO (23 seconds into the 1st round) of her Dallas Golden Gloves women's welterweight novice finals opponent. Smith last fought in January, losing a 3-round decision to Chris Smith of Carrollton.



BOUT #1: Chris "The Destroyer" Royer (age 13, 133lbs) 0-1 VS. Heath Dorey (age 14, 125lbs) 0-0. Royer last fought at Southfork Ranch in July 2002 losing a 3-round decision to Juan "El Tigre" Fraire. Royer has stayed busy fighting in local exhibition matches. Dorey is from Sheridan, Arkansas and will make his amateur debut in the scheduled 3-rounder with Royer.


BOUT#2: Katy "Steel" Frame (140lbs) 0-0 VS Emily Lawson (141lbs) 0-0. Frame comes off of a disappointing performance in the recent Dallas Golden Gloves, losing her 1st match via TKO of the initial round. Lawson, from Sheridan, Arkansas makes her amateur debut after a successful point-fighting career. This is a scheduled 3 round bout.


BOUT #3: Will "Slick" Ford (152lbs) 0-0 VS Doug Teacot (150lbs) 0-0. This is a match-up of the "new amateurs" as both competitors make the jump from point-fighting to full-contact. Ford has a background in TaeKwonDo, while Teacot boasts skills in Kung Fu. Scheduled for 3 rounds.


BOUT #4: MAIN EVENT: Freddy Espiricueta (175lbs) 2-0-1 VS. John "The Greek" Vakidis (175lbs) 7-1 / 2KO's. Espiricueta has generally fought international (leg-kick) rules and has found a successful fighting niche there. Espiricueta fought Andrew Goldwaithe to a 3 round draw back in September of 2002, then pulled off a decided victory in their 3 round rematch last December. Vakidis is down coming-off of a hard loss last week in the Dallas Golden Gloves High School finals match. 'The Greek' was able to stun his opponent once or twice during the finals match, however, in the absence of putting his opponent away, lost the match on all 3 judges score-cards. This is a scheduled 4-round Full Contact Rules bout.


For more info, call Chuck Best or Steve Goin at (972) 889-0129, or e-mail them at juno.com@sirkikman or visit www.kingdomkickboxing.com



MORE NEWS OF 2-19-03



Southeastern Title Fight To Offer Combatants
"Redemption By Proxy"
Hudson And Gay Seek To Avenge Losses Of Teammates At Winter Wars 2003 In Augusta, GA, USA
IKF Augusta, Georgia, USA: No fighter likes to lose. But any fighter worth his salt likes watching a teammate take a loss even less. Multiply that if you are so close, you could be considered brothers. Magnify that, if you actually are brothers. Either way, the one thing that you want to do is get out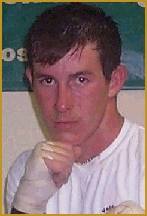 there and get some payback. Not just for yourself, but for your fight team, and your fallen comrade.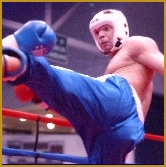 That set of facts provides the backdrop for the IKF Amateur FCR Southeastern Light Middleweight title bout between South Carolina's Shannon Hudson (Left kicking) and Georgia's Shaun Gay (Right).
At Brett Moses' February Fight Party in Atlanta earlier this month, both watched teammates come up short in their matches. For both men, this focused their resolve to take the IKF title home. In the case of Gay, his Valdosta Martial Arts Center teammate and Southern fan favorite Pee Wee McCall lost his bout due to an injury-related corner stoppage. Along with trainer and IKF and ISCF World Team Member, James Corbett, he and McCall have sweated, bled and traveled together, in fight after fight, in rules style after rules style, forging a friendship and allegiance that only fellow comrades in arms can sport as having.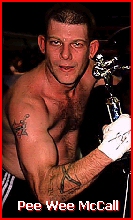 McCall was originally slated to fight Hudson for the title in Augusta however injuries have forced him out of the bout. That left an opening and Gay has picked up the gauntlet for himself, 0VMAC and his teammate. Gay and McCall share a close bond. The only closer one for fighters would be if they truly were brothers. If that were the case, perhaps they would have even more inspiration to prevail.Gay's opponent just might.
Shannon Hudson is the younger brother of IKF professional kickboxer, Kevin Hudson. Shannon stood by and watched his own flesh and blood defeated at

February Fight Party, as Kevin lost his IKF U.S. Heavyweight title he won *last year to the devastatingly powerful Mark Selbee of Atlanta. Many from their Lyman, South Carolina, USA Hurricane Martial Arts Center were present. That gave the younger Hudson a mission. Get an IKF title belt back into the family as soon as possible, no matter what the opposition or the cost in terms of training and personal sacrifice.
(*) Hudson won his Title By majority decision (95-95, 97-93 and 97-92 ) over Lane Collyer on March 16, 2002 in Augusta, Georgia, USA.
So, the collision course is set. Redemption of programs and pride will be in the air for this fight. Gay will bring diverse experience, height and reach to the match-up.

Hudson, a full contact rules specialist, will seek to restore the prominence of the family name. Neither is expected to take any quarter or ask of any in the contest. One way or another, these fighters will both look to take more out of the ring than they both went in with on March 1st! That's the IKF title.
This nighttime match will be part of a complete day of martial sports action at Winter Wars 2003, including a day time tournament and a Brazilian Jiu-Jitsu seminar. For more details, please review the 2-13-03 section below of this News page or contact Elizabeth Carlson at (706) 855-5269 or E-mail at amaa@prodigy.net. Fight card subject to change.
---


MONDAY, February 17th, 2003, AT 8:20 PM, PST
Pre-Registration Now Open For May 3rd
IKF Point Kickboxing©
Rocklin, CA, USA:

The event will be held at the Professional Business Park at Marinoble's Kickboxing, 600 Commerce Dr. in Roseville, California, USA. The event date is Saturday, May 3rd, 2003.
This is an open tournament for all weight classes in the divisions of (PK) Point Kickboxing and (PMT) Point Muay Thai. All registration received before April 13th will save $10 off the regular entry fee of $35. To print registration click HERE!
For event rules, click HERE!
Mail all registrations to 2230 Sunset Blvd., Suite 330 #142, Rocklin, CA 95765.
Or, contact the Art of Kickboxing Promotions at (916) 780-7483.
---


THURSDAY, February 13th, 2003, AT 12:10 PM, PST
WINTER WARS
ARE DECLARED!
IKF AND ISCF Action Returns To Augusta, Georgia On March 1st, 2003!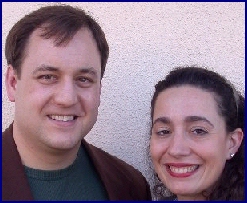 Augusta, Georgia, USA: Augusta, Georgia's Fort Gordon will play host to another great night of IKF and ISCF bouts as Winter Wars 2003 is set to kick off. WW 2003 will bring just what we have grown to expect of IKF and ISCF world Team members Mike and Elizabeth Carlson, (Right) namely, an entire day of martial sports activities for the entire family and competitors of all stripes.
Of course, the cornerstone of the event will be the nighttime IKF kickboxing and ISCF mixed martial arts bouts. Again, it looks like the Carlsons are bringing fans some familiar names, but are also providing some new and less experienced combatants with an opportunity to gain some experience. In addition to the IKF and ISCF bouts, WW 2003 will lead with a daytime martial arts tournament. A light contact, continuous action, sparring division will be available to kids and adults, separated by size and belt rank. Similar divisions will exist for grappling division for the kids. Adults will also have available the very popular "Shoot sparring" competition at the day tournament. That division, also known as "submission kumite," combines light contact striking, grappling and submissions in an elimination format.
As an added bonus... ALL WW 2003 DAY TOURNAMENT COMPUTERS WILL RECEIVE A FREE GENERAL ADMISSION TICKET TO THE EVENING IKF AND ISCF FIGHTS!
But there is more!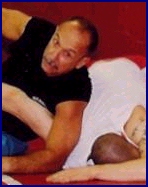 After the day tournament and before the nights' action, Brazilian Jiu-Jitsu Master and ISCF World Advisory Board member, Ricardo Murgel will conduct a three-hour ground-fighting seminar from 1:00 PM to 4:00 PM. One half of the seminar will be "with the gi," and the remaining 90 minutes will be "without the gi." Because this seminar is taking place commensurate with WW 2003, a special price can be made available. This three-hour seminar will only cost $50.00 (FIFTY DOLLARS)! That's right, three hours of intense BJJ training with this respected professor will only cost $50.00.
AND... ALL MURGEL SEMINAR ATTENDEES WILL RECEIVE A FREE GENERAL ADMISSION TICKET TO THE EVENING IKF AND ISCF FIGHTS!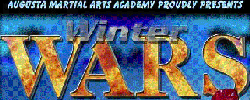 All of this action makes IKF and ISCF World President, Steve Fossum, glad that he is making the trip to the Garden City for WW 2003,
"The Carlsons have always been out front on bringing innovations and quality to our efforts to develop the martial sports world wide. In addition, they have selflessly sacrificed and contributed to others in that quest. This time, it looks like they have outdone themselves again. Now people can compete, attend a seminar and see great fights at an affordable price and a great location. All of this while supporting our armed services. My hat is off to them, again, BIG TIME!"
Although fights are being added, the WW 2003, fight card is currently set as follows:
Winter Wars 2003 Fight Card
RED CORNER - BLUE CORNER
IKF Amateur Middleweight Kickboxing
Brad Taylor (AMAA) vs Tom Tramaglia (Hurricane MA)

ISCF Amateur Welterweight MMA
Donny Hadley (AMAA) vs Shane Pressley (LA Boxing)

IKF Amateur Middleweight Kickboxing
Chris Moncrief (Ivie) vs Toty Otarola (Hurricane MA)

ISCF Pro Heavyweight MMA
Wayne Music (Waller) vs Jason Thompson (VMAC)

IKF Amateur Light Middleweight Kickboxing
Reggie Kitchens (AMAA) vs Matt Dekle (Ivie)

ISCF Amateur Light Heavyweight MMA
Blake Grice vs Byron Whitesides

IKF Amateur Super Middleweight Kickboxing
Stevie Dement (AMAA) vs Ryan Robertson (Halverson)

ISCF Amateur Middleweight MMA
Blake Barber (Waller) v Cleuder Junior (LA Boxing)

IKF Amateur Light Middleweight South East Kickboxing Title
Shaun Gay (VMAC) vs Shannon Hudson (Hurricane MA)

ISCF Amateur Heavyweight MMA
Bobby Gay (Waller) vs Andy Foster (LA Boxing)

IKF Amateur Heavyweight Kickboxing
Albert Cole (AMAA) vs Matt Parish (VMAC)

ISCF Amateur Middleweight MMA
Shawn Gonzalez (Travkin) vs Usif Murtadi (LA Boxing)

IKF Amateur Super Heavyweight Kickboxing
Eddie Singleton (AMAA) vs Richard Cox (VMAC)
Fight card subject to change and is not in actual order
Here is the full schedule of events for WW 2003

Saturday, March 1, 2003

8:30-9:30 AM: Registration for Daytime Karate/Grappling Tournament at Gym 1, Fort Gordon.
9:30 AM: Black Belt Meeting.
10:00 AM: TOURNAMENT BEGINS

Entry Fee: $25.00 one division, $35.00 two divisions (Pre-registered competitors: $5 discount) Spectator Fee: $5.00 General Admission.

6:00 PM: Doors Open for Winter Wars 2003 evening event.
7:00 PM: Action Begins.
Profiles of several of these fights and fighters will be placed on the IKF and ISCF pages in the coming days and weeks. So stay tuned! For more information, call (706) 855-5269 or Email at amaa@prodigy.net
For info on last years 2002 Winter Wars Click HERE!



---


WEDNESDAY, February 12th, 2003, AT 3:55 PM, PST
Full Title DETAILS!
Did you ever glance into the various divisions in the IKF Rankings (Or any organizations rankings for that matter) and see a Champion and wonder, "Who did they fight to win their title?" Well fight fans, wonder no more. This week we here at the IKF have started the long and tedious task of going back and researching EVERY IKF Title ever won and placing the date of the event, where the event was at and who the champion defeated to win their title below EVERY IKF Champion in our IKF Rankings, Pro AND AMATEUR! Be patient as this will take us some time. So far we have all the 2002 Champions updated. We will be working our way down the years all the way back to the beginning of the IKF in 1992.
However, in case you didn't know, all the IKF Pro WORLD Champions fight info has always been listed with their name. Their fight info is also listed on the World Champions pages on our site as well. For Men IKF World Champions Click HERE. On the Men's page, we have also listed the World Champions of the other 2 larger Sanctioning Bodies in the World. For Women IKF World Champions Click HERE.
In addition, we keep track of EVERY IKF Champion who ever won ANY IKF Title, amateur or pro. the current ones are listed of course in the rankings still, but what about the champions that moved from amateur to pro. Or who lost their title in a title defense, or simply retired from kickboxing? We have them ALL on our PAST Champions Page. To see this page click HERE!
---


TUESDAY, February 11th, 2003, AT 11:50 AM, PST

2002 IKF Amateur Promoter of the Year
Kicks Off 2003 With A BANG!
By Brooks Mason


Jesse Finney
St Louis, Missouri, USA: Boys and Girls, This past weekend I was at the famous Lucky's on the Landing in beautiful St. Louis, Missouri. I know I have talked about standing room only crowds but if the fights had been in the audience, you have been knocked out and not fallen down for ten rounds. The usual crowd is about 800 and this is a packed house. However on this night, 1,400 fight fans showed up and set a record for Lucky's attendance. The owner told me kickboxing is the most popular thing they have ever seen and a long future is in store for Jesse Finney and Lucky's. The reason for this attendance is the fights of course and the 2002 Amateur Promoter of the Year (Jesse Finney - Right) never lets you down.
Fight #1: Jen Repa vs Leslie McNamara
This was intended to be an exhibition but somehow I think the girls thought that would be a waste of time. Repa was coming out of over a years retirement and had some rust to shake off. Leslie, on the other hand, fights often and is building a reputation to be contented with come the Nationals. For those out there who may have to face one of these girls down the road, may I suggest a safer sport like feeding sharks with your teeth or mountain biking blindfolded. Repa's strength is always her hands. She hits in combinations and sits down on her right. Good legs and especially her right leg round house, although it was conspicuously absent from this fight, excuse me exhibition.
Leslie has developed a lot in the past year and has added more power to her legs. Good hands and a left leg roundhouse to the ribs that hit the same spot each time. Small war, big smiles, rust gone. Repa is back and Leslie, well she just keeps getting better.


Fight #2: Mike Fusco of St Louis VS Brock Billings of Vermont
Fusco took some time off to get to know his new baby. Beautiful child, obviously takes after his mother. Fusco knew he would have to shake some rust off but I have never seen anyone more anxious to return to the ring. His opponent was a newcomer to the game from Vermont, not exactly a hot bed of activity for kickboxing. These boys traveled from Vermont to St. Louis at their own expense to fight the best. Billings soon discover the difference between Olympic style TaeKwonDo and kickboxing. Billings did well for his first fight and with the added blessing of Fusco having ring rust, managed to stay in the game. I thought he did better in the third round than the first two. Fusco shook the rust off however and the outcome was carved in stone. Fusco by decision.


Fight #4: Kevin Engel and the head trainer of the Finney Team, Kevin Bosada, did an *exhibition. I say exhibition because at no point in the fight did you think Bosada was really in the game. Kevin Engel is perhaps one of the best kickboxers in the world at his weight. He has hands and feet that make meals of good fighters and he has ended more than one perfect record. His latest victory over Anthony McGaughey placed Engel at the top of the heap. McGaughey has set the standard for fighters and his defeat by Engel put Engel in the gunslinger spot. Everyone is looking to beat Engel and build a name.
Back to the exhibition. Bosada spanked Engel. Yes there is a big weight difference but the experience and quality of the fighter we saw was much more than that. Kevin Bosada is one bad ass and Engel, along with the rest of us, will never forget it again.

(*)Engel was scheduled to fight Victor McCullough but the fight fell out.



Fight #6: Matt Taff of St. Louis VS Nick Anderson of Waterloo, Iowa
This was a very good fight despite the outcome. Anderson handed Taff his hat for the entire first round and I thought for sure Taff would go down. Taff surprised us all. He came out in the second round and showed not only was he not shaken but was just getting warmed up. Taff turned up the heat hot enough to fry eggs and Anderson simply could not stand it. Pounding Anderson with relentless combinations, Anderson went down at the bell and the ref stopped the fight. Taff by TKO


Fight #8: Mike Green of St. Louis VS Chris Ballard of Vermont
Chris Ballard is new to the game but I have a feeling we will be hearing from him down the road. In the mean time, he made the mistake of getting in the ring with Mean Mike Green. The man has his own army of fans decked out in the Mean Mike Green t-shirts and he never lets them down. Usually a NHB man , Mike has moved to kickboxing. This was only his second or third kickboxing match but Mike looks like he has been doing it forever. Ballard was game but when the referee, Vance Thompson, asked him if he was good to go after a knock down and Ballard answered "where?" Thompson decide the fight was over. Green by TKO.


My thanks to the boys from Vermont and welcome to the game. The New York Yankees, Chicago Bulls, and The San Francisco 49ers have all been described as dynasties at one time or another. Their overwhelming domination of their sport year after year. The Finney Kickboxing Team under Jesse Finney and Kevin Bosada has taken on that same mantel. Fighters in almost every weight division. Constant work by every member of the team. Finney's Kickboxing has more men and women ready to fight at anytime then any other gym in America.
The Finney promotion team headed up by Rob Donaker has set up 26 fights for this year, giving the Finney Team virtually unlimited potential to fight and improve their skills. Finney's Kickboxing Team. Get used to the name. It will dominate for some years to come.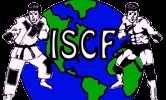 This is Brooks Mason coming to you from the Emerald Mongoose Muay Thai Camp in Omaha, Nebraska, USA. Thank you and see you at the fights.
Information on the ISCF bouts was not reported on in this press release. For more info please contact Mr. Jesse Finney at (314) 351-5226 or by e-mail by clicking: HERE or visit their website at www.FinneysKickboxing.com


MORE NEWS OF 2-11-03



"1" World AMATEUR Rankings!


MORE NEWS OF 2-11-03



Dan Stell Is MUCH MORE
Than a Referee!
Simpsonville, South Carolina, USA:
"There's much more to Dan Stell


(Left) than refereeing fights" says Ray Thompson, (Right) promoter of the first IKF North American Kickboxing Championships held November 17th, 2002 in Simpsonville, South Carolina, USA Thompson is also trainer of IKF Full Contact Rules National Kickboxing Champions *Stephen Thompson, Rebecca Preacher and Andrea Zalas.
While in Cancan, Mexico several weeks ago for an IKF Sanctioned event, Ray was able to pull Dan away after the event for about an hour to work with Stephen and *Peyton Russell, who is also an IKF National Champion, on some boxing drills. Stephen and Peyton were in Cancun competing in a kickboxing tournament and Dan was there as an IKF official.
(*) Stephen and Peyton are also IKF Amateur North American Champions.
"While I observed Dan working with Stephen and Peyton I decided right then that I've got to get Dan to come and teach a seminar at my school" says Ray. Well after several phone conversations Ray was not only able to convince Dan do a seminar at his school but he was also able to convince Dan to spend a week in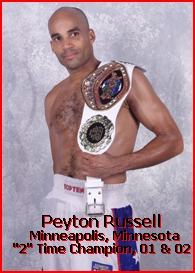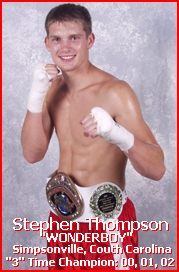 Simpsonville training Stephen and other students from his school. To top it all off Peyton (of Minnesota) has decided to come to Simpsonville for seven weeks. He will take also be trained by Dan during this time. Russell will as well train with Ray and Stephen for the remainder of the seven weeks. Ray says "Not only has Dan proven himself as a top quality ref and a former kickboxing champion, he has proven himself as a trainer as well".
Dan's first training session at Ray's school, which took place on Monday of this week, was a total eye opener for Ray and his students. "I thought I was doing pretty well as a trainer but after watching Dan I suddenly realized I have a lot to learn." After an hour of exercises designed specifically for boxers and kickboxers Dan took them through another hour of "hand" drills and combinations that had Ray's students "smilin and sweatin" and looking forward to the remaining four sessions of the week.
"I believe Dan's skill as a trainer will be a VERY big and important factor in helping me take my students to another level. Also, if we want our fighters to be able to compete successfully on an international level we'll seekout trainers like Dan." says Ray. "After watching him train my students I can only say that I am glad he is "Head of Officials" for the IKF. If he were training fighters we would all have to step it up several knotches to be able to compete with his fighters."
Ray says that he's already planning future training sessions with Dan. He wants to make sure his fighters get the best training he can get them so they can continue bringing titles to South Carolina. Ray also says "If you think the Wonderboy was good, LOOK OUT, you ain't seen NOTHING yet!!!"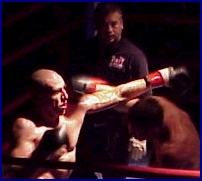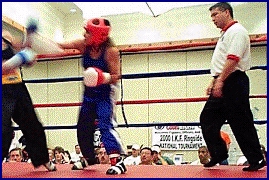 ---


MONDAY, February 10th 2003, AT 2:10 PM, PST
IKF Pros Change Weightclasses!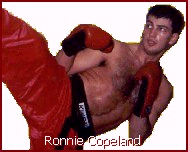 IKF SouthEast USA: IKF Pro World Ranked Full Contact Rules Super Heavyweight kickboxer Ronnie Copeland (Right) has decided to move down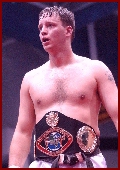 in weightclass to heavyweight. Along with his decision comes the decision of former IKF Pro U.S. Heavyweight Champion Kevin "Hurricane" Hudson (Left) to move down to the cruiserweight division.
"I noticed that, after intense training, my weight significantly came down to the heavyweight level," Said Copeland. "I appeared that I would not be able to maintain my weight at the superheavyweight level anymore. I discussed the matter with Mr.Carlson (IKF World Team Member) and we agreed that the right thing to do for me is declare myself a heavyweight."
In terms of "doing the right thing," one matter that Copeland is referring to directly is the controversy that emanated around his IKF East Coast Super Heavyweight title bout against Kelly "The Lion" Leo (Left) in August 2002. That fight resulted in a win for Leo, which Copeland's camp protested. Copeland sees his decision as removing a cloud from that match.
"This (Copeland's moving to heavyweight) will free-up the IKF East Coast United States title, at least as far as our objections go," said Copeland. "Now there should not be any issues about that bout hanging over anyone's head. We felt that this was the right thing to do for the IKF and for Kelly Leo as well. After being in the ring with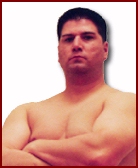 both of them, I think that Kelly and Mike Shepherd of West Virginia should fight for that belt soon."
Hudson sees moving down to cruiserweight as being more fitting for his frame and experience, "I'm not a terribly large framed person," says the former IKF Champion Hudson. "At my level in the game I will always have to deal with people who walk around at 225 lbs or higher and suck down to 215. I think at 195 I would not give up much strength or reach. Looking back, I won my first world title (with another sanctioning body) at 190lbs. And that should tell me something. You need to dance with who brought you."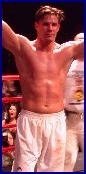 Although Hudson and Copeland are dominating forces at the weight classes in which they have been inhabiting, we see these moves as being good for them and kickboxing. With the IKF World Title at Cruiserweight vacant, one would think that Hudson's move down could put him on the fast track for an opportunity there. Certainly, a bout with IKF U.S. Champion Jason Robinson would probably be on the immediate horizon for the Hurricane. In Copeland's case, moving down to heavyweight would seem to put Copeland in the front of the line for a shot at newly crowned U.S. Champion, powerhouse Mark Selbee (Right).
With these fighters' and many of their potential opponents having tremendous popularity in the Southeast, promoters in Dixie are probably reviewing this news with particular interest. Sources say that February Fight Party promoter, Brett Moses, has already begun to explore options now made available by the Hudson and Copeland announcement. So what will this mean for IKF Kickboxing in the future? Only those who hit the IKF News will know first!
---


FRIDAY, February 7th 2003, AT 10:00 AM, PST

2002 IKF Amateur Promoter of the Year
To Kick Off 2003!
St Louis, Missouri, USA: A little over a month has gone passed since Jesse Finney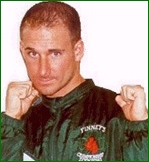 (Right) and his staff receive the 2002 Amateur Promoter of the Year Award. Now they are ready to take on 2003. The first event is this Saturday, February 8th, at Lucky's on the Landing in St. Louis, MO. They are holding true to what they said they were planning to do in 2003, "Get MMA/NHB noticed in Missouri".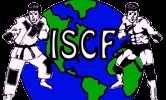 There will be three ISCF sanctioned fights on this Saturdays card.
The first one will be Tim Vandersteck -vs- Ken Sparks. Vandersteck is a former Holland kickboxing champion, fighting out of Nashville, TN. He is trained by Eddie Clay who is the President of Grappling Gear. Sparks is a 2-time All American wrestler. He also has some boxing experience. He is from Rolla, MO. Both fighters are new comers to NHB.
The next one will be "Brazilian" Mike Rothmeyer -vs- "The Pit Bull" Carema Bennett. Rothmeyer is a Brazilian Jiu-jitsu fighter trained by Rodrigo Vaghi. He has trained with UFC Veteran Steve Berger and King of the Cage veteran Mike Rodgers. Vaghi is a black belt student of Rickson Gracie. Rothmeyer has numerous Jiu-jitsu fights under his belt, and will be showcasing his skills in his first NHB fight. Bennett is a Jiu-jitsu fighter from Waterloo, IA. He as been training on his kickboxing skills with Trainer Russ O'Connell. He is no new comer to the NHB scene, he has an NHB record of 2-2.
Lastly is Dustin Fercella -vs- Don Davis. Fercella is an American style wrestler with submissions. He has been working on kickboxing and boxing since coming to Finney's Championship Kickboxing and Martial Arts. Davis is a submission specialist, and has been in numerous grappling matches. He still hasn't made the transition into NHB, but will be on Saturday.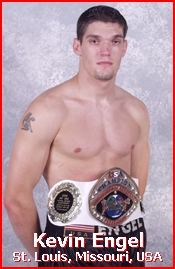 The main event will be Kevin "The Hitman" Engel -vs- Victor McCullough. Engel is coming off a big win over undefeated Anthony McGaughy. Engel has been jumping up and down between weight classes, and has been dominate in doing so. Still there are plenty of top contenders that Engel is wanting to face, but he is being patient and letting everything fall into place. Also, Engel is the current 2002 IKF USA National Amateur Super Middleweight Champion and is looking to improve his 18-3 record. McCullough is the former 2001 IKF USA Junior Amateur Champion. Now that he is out of the Junior rankings, he is taking on someone that could really make a name for himself if he can pull out the win.
Also in action will be 2001 IKF USA National Woman's Amateur Champion Jen Repa, Mikey "Babyface" Fusco, and Jose Ponce. All of these fighters have had some time off and have been eager to get back in the ring. Fusco will be facing Matt Neibergal from Battlesville, OK. Ponce will be squaring off against Belleville, IL native Chris McDavid. McDavid is no stranger to the ring, he has comprised a 7-1 record since starting a year ago.
Rounding out the card are three up and coming fighters. Dylon Leonard, Mike Green, and Matt Taff (Left) Leonard will be facing Brock Billings. Leonard has comprised a record of 2-0 since

he started training 6 months ago. Billings is flying in from Vermont to make is first appearance in St. Louis. Mike Green is still making a transition from NHB to kickboxing. He has a kickboxing record of 1-0. His opponent is also from Vermont.
Chris Ballard will be

making the long trip to show St. Louis fight fans what he has to bring to the ring. Taff will be facing ring veteran Nick Anderson. Taff is one of Finney's standouts. At only 17 years old, he's holding his own with top fighters from Finney's gym. Anderson (IKF National Runner-up.) is from Waterloo, IA, and is trained by Russ O'Connell (Right). Knowing O'Connell's fighters this fight should be a great one for the crowd to watch.
For more info please contact Mr. Jesse Finney at (314) 351-5226 or by e-mail by clicking: HERE or visit their website at www.FinneysKickboxing.com


MORE NEWS OF 2-7-03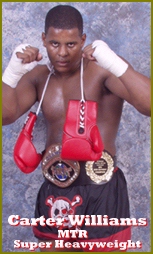 Carter Williams
To Be Featured On USA MTV's "TRUE LIFE"
According to the K-1 USA Press, 2001 IKF USA National MTR Super Heavyweight Champion Carter Williams (Right) of Modesto, California, USA is being called "The New "AMERICAN" hope for K-1!"
Williams was recently featured on the K-1 USA site as "Americas New Hope". Williams is scheduled to be in the K-1 USA 8 man tournament this May at the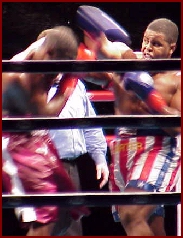 Mirage in Las Vegas. It seems K-1 isn't the only one though to be impressed with the former IKF Champion. He's also caught the eyes of MTV Associate producer Mick McGuire of the program "TRUE LIFE". MTV is now in the works on considering a documentary on Williams' his life and his prepping for the K-1.
This will be aired sometime after the K-1 is over. If he wins it will make a great story. With competition like IKF World Champion Rick Roufus and 2002 K-1 North American Champion Mike McDonald in his path though it could be a learning experience for him instead. However Williams hopes to be giving the lesson instead of learning one. He has respect for the veterans but he also feels his time has now come. As he quoted in his K-1 article Williams said "I'm young, I'm fresh and it's time for some new blood (in the sport)," said Williams. "I may sound cocky, but I'm confident. A lot of these guys out there are up in age and close to retirement. Some have got a lot of heart and want to play with the new blood. But, you know, the new blood's gonna be around for a long time."

Filming should begin soon and will follow him all the way to Vegas. Williams stated "You have to start somewhere and work hard to get a chance to get to the top and again I want to thank the IKF for giving me the opportunity and believing in me as an amateur."
For more info on Williams you can contact his trainer, Gene Fields (Right) at Academy of Kickboxing, (209) 579-5425 or at (209) 669-8522 or by e-mail at teamvoodoousa@hotmail.com.


MTV's TRUE LIFE: Since its initial episode in 1998, MTV's award-winning True Life documentary series has told remarkable real-life stories of young people and the unusual subcultures they inhabit. Whether documenting the lives of plastic surgery enthusiasts, illegal streetracers, or competitive cheerleaders--the True Life series tells its stories solely from the varied voices and points-of-view of its characters--putting the series in the unique position of reflecting the state of youth culture at any given moment.


MORE NEWS OF 2-7-03



Up Close and Personal with…Johnny Davis
CLICK HERE!

Get Ready Amateur Fighters... To


"Walk The Walk!"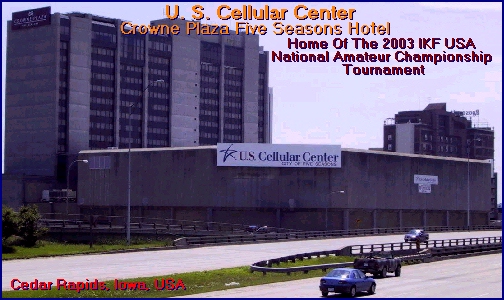 ---


THURSDAY, February 6th 2003, AT 8:00 PM, PST
Winning IKF USA Nationals
Venue Announced
2003 IKF USA National Amateur Kickboxing Championships!
After months of reviewing proposals for this years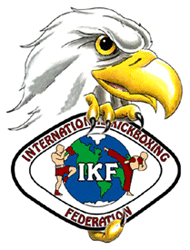 2003 IKF USA National Amateur Championship Finals Venue, (Event Date: August 15th, 16th and 17th.) we are finally able to announce the winning location for the 2003 IKF USA National Amateur Championship Finals! "This has not been an easy process" Stated IKF President Steve Fossum. "As always we try to please everyone all the time but this was a hard decision."
the selection process was much harder than in the past. In previous years the selections were made from maybe 10 to 20 location proposals. This year the selection committee started with 67 proposals from around the USA in cities such as Orlando and Daytona Beach Florida, Kansas City Missouri, Topeka Kansas, Sacramento, CA, Omaha, Nebraska, Atlanta Georgia, Las Vegas, Nevada, Denver Colorado, Davenport Iowa, Chicago, Illinois, Sioux Falls south Dakota, Waterloo Iowa, just to name a few. The determining factors of who would be dropped from the list were from the feedback we received from many of you. Things such as hotel rates, central locations for everyone to travel to, Airport Shuttle, Venue size and many other things. We must say that the opinions and comments that many of you offered were valued greatly and made a valuable part of our selection process.
The selection breakdown was first cut down to 20, then to 10, then 5 and this week to 3. The final 3 were all great locations and we could very well see other IKF Championship events at any of them in the future. The final 3 included...
Hyatt Regency Tech Center, Denver Colorado

Contact: Celeste Mock
Venue Size: 11,000 sq. ft. + 1,900 sq. ft. side room



The Sheraton and Sioux Falls Conference Center, Sioux Falls South Dakota

Contact: Jennifer Nagel
Venue Size: 34,000 sq. ft.



Crowne Plaza Five Seasons Hotel and US Cellular Center, Cedar Rapids Iowa

CVB Contact: Mary Lee Malmberg
Venue Size: 30,000 sq. ft. arena


The room rates from all of these locations were all the same at $79.00 per night. All had Great Hotel facilities to offer as well as Great Venues. There were three things that were the determining factors in the final selection. One of them of course was of course, location. Although the other two still had good locations, this one was a neutral location for both ends of the nation.
The next factor was the actual venue itself. Last year, although the River Center was impressive, a lack of local marketing for the local crowd equaled a small crowd which made the venue appear empty and lacking energy. If the room was filled the energy level would have been great (Some of you may remember the 2001 event at the Holiday Inn in Lenexa Kansas!!!) but it takes a lot of people to fill a 34,000 square foot convention center. However with a new marketing plan in place for the 2003 event (since it's our 5 year anniversary) we didn't want the venue to be too small a location either. Unlike last year, this year the IKF will set-up in the host location months before the event and coordinate all marketing efforts instead of depending on others.
Finally was the amount of support of the local Convention Visitors Bureau (CVB). If they do their job right and are motivated about bringing a big event to their cities, the CVB of any city can make a lot of things happen. This was the case of our winning location. So now, without further delays, we present to you the 2003 IKF USA National Championship Finals Location...


Cedar Rapids
IOWA
USA!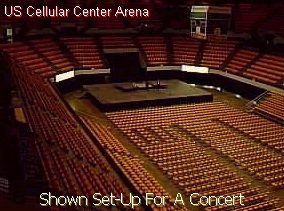 The winning Venue is the
U.S. Cellular Center Arena (Right).
There is a total of 16,200 square feet on the actual arena floor and 30,000 square feet total making plenty of bleacher seating for spectators.
It is one of the most impressive entertainment venues in the Midwest.
It also has 4 locker rooms for the participants and plenty of warm-up area surrounding the outside of the arena bowl.
The winning Host Hotel is the Crowne Plaza Five Seasons Hotel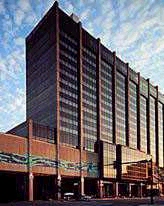 (Left)
It is connected by hallway to the event venue, the US Cellular Center and connected by 12-block skywalk system to numerous shopping and dining options and 2 theatres, the Theatre Cedar Rapids and the IMAX Theatre.
The hotel is located 10 minutes from the airport and they do have free shuttle service. All 275 rooms in the 16-story hotel feature cable TV and in-room movies, coffee maker,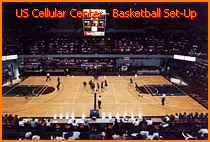 hair dryer, ironing board/iron and there are non-smoking rooms available. Hotel offers concierge level, business center, fitness center, indoor pool, and sauna.
Top of the Five rooftop restaurant and Front Street Lounge, serving lighter fare, are both open 7 days a week. The room rate will be $79.00 per night.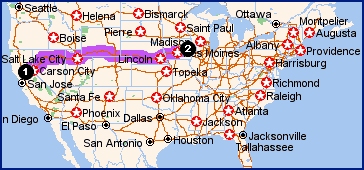 According to the Yahoo Maps locator, the location is 1,819.8 miles from the IKF Headquarters in Newcastle, California, USA. If driving straight through, the trip should take right at 29 hours. That's what IKF President Steve Fossum will be facing in August... AGAIN.
Last year he made the trip back solo to Davenport Iowa in under 30 hours. This year he plans to have a co-pilot with him for the trip. Why does he drive the belts and not ship them? Well, the second year of the Nationals (2000) the shipping "Sponsor" UPS, United Parcel Service lost all the Nationals Belts. When they found them, they weren't delivered to the venue until Monday after the event. However they lost them "AGAIN" when they shipped them back to IKF Headquarters.
There was over $900.00 in damages to the belts and the Champions didn't get them for over 2 weeks after winning them. After the disappointment of that situation, he vowed to personally drive the IKF Championship Belts to every USA National Amateur Tournament now. "No fighter likes to hear, ' Oh we have a belt for you but it's not here, we'll mail it to you." says Fossum. "We've heard that from promoters before we started the IKF and till this day, we're still waiting for those belts."
There will be NO WAITING for the Championship belts at the 2003 IKF USA National Amateur Championship Finals! For more info about the 2003 IKF USA National Amateur Championship Tournament Schedule and other info, Click HERE! With that being said, we challenge all the Amateur Kickboxers in the USA to get prepared for the Greatest Amateur Kickboxing Championship Tournament YET! Fighters... It's time for all of us to...
"WALK The WALK!"



---


WEDNESDAY, February 5th 2003, AT 11:00 AM, PST
Looking For
Amateur Fighter!
Albuquerque, New Mexico, USA: IKF Promoter Tony Rosales was all set with his Main Event Bout for his March 1st event in Belen New Mexico USA between Pete Rael of Albuquerque, New Mexico, USA and Pete Woods of Casper, Wyoming USA... That is... until Woods pulled out of the bout. The two were scheduled to fight for the IKF Rocky Mountain Bantamweight (120.1 lbs. - 124 lbs.) Regional title. Now Rosales is scrambling to find a top contender and opponent for Rael who is from the Mountain Time Zone Region for the bout.
If you are a trainer who has a fighter or a fighter in the Bantamweight (120.1 lbs. - 124 lbs.) weight class that lives in the Mountain Time Zone region and would like to apply for this title spot, please contact the IKF here at title@ikfkickboxing.com. Let us know your name, where you live, full fight record, height, weight, age, trainers name (if one) and contact info.
The Rocky Mountain Region includes those living in the satates of Montana, Idaho, Wyoming, Utah, Colorado, New Mexico and Arizona. The contenders must live in this region to contest for this title. All travel expenses will be covered by the promoter. They are also looking for a woman Kickboxing between the weights of 105 to 109 lbs and around 16 years old. Those interested may contact the promoter, Mr. Rosales, directly at RosalesKarate@aol.com
---


TUESDAY, February 4th 2003, AT 2:25 PM, PST
Bach KO'S Nesbitt
To Win IKF WORLD Title!
By Brooks Mason

Crystal Lake Illinois, USA: Well Boys and Girls, this past weekend I was at Spikes, in Crystal Lake, Illinois, USA. Spikes is a sports complex coupled with a huge bar that makes for an excellent kickboxing venue. IKF Promoter Rob Zbilski (Right) along with right hand man Mike Drevline, and their Z PROMOTIONS Team put on one hell of a show.
The fights featured two IKF Professional bouts. One for the vacant IKF World title and the other a Pro non title bout. The remainder of the card was a Midwest Tournament. The

event was well done and came off as smooth as any event I have ever seen. Mark Wadika of Next Move Gear provided the fight gear and it was the first event of many to be sponsored by Wadika. Kickboxing needs more men like Wadika to step up and sponsor events of this magnitude.
Well enough Zbilski plugs... Let's get to the fights. Did I say great card or did I say great card?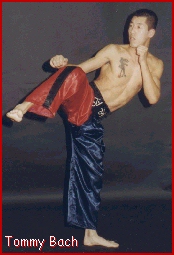 The MAIN EVENT matched up Keith Nesbitt of Steelton, Pennsylvania vs Tommy Bach (Right) of Buffalo Grove, Illinois, USA for the Pro IKF World Title. Here's the action as I saw it... Round #1: "Bada Bing Bada Bang!" That's it. Bach beat Nesbitt from one rope to the other until he cornered him and landed a left leg to the head followed by a right hook to the chin. Bach danced around the ring to the cheers of his hundreds of fans while Nesbit was asking for the license number of the truck that just ran over his world title ambitions. Perhaps another division Keith, this one belongs to Tommy Bach and I pity the fool who tries to take it from him. It was Nesbitt's 3rd loss by KO in a row that we know of and two of them have come in the first few seconds of the first round.
The Semi Main Event was another IKF Pro bout with Mike Winkler of Belleville, Illinois, USA taking on IKF Pro U.S. Super Welterweight Champion Jim Zbilski (32-2/29) of Lake Zurich. Zbilski was fighting for the first time in three years after a long lay off. The first two minutes was a feeling out period with both fighters building up to a fight pitch by the bell. It was Winkler's last bell. Jim Zbilski shook off three years of ring rust in two minutes. The second round could have been fought in 1999. Winkler tried to make a fight of it but Zbilski was everywhere. A hard kick to the body followed up by a solid left hook to the ribs sent Winkler to the canvas and dancing to the Horizonal Tango. Good night Mr. Winkler, Hello Mr. Zbilski. Welcome back. Two questions left. When do we see the next fight and isn't that world title vacant?
IKF: As a matter of fact, it is, and it will be Zbilski against Jimmy Stewart as soon as we can confirm when and where!
Here's the remainder of the card which was the Illinois Tournament.
Fight #1: Chad Bucholz of Eau Claire, Wisconsin, USA VS Justin Uhl of Vernon Hills, Illinois, USA.

Round #1: The first elimination bout in their division, the winner would have to come back later to face Dan Serna for the Midwest Tournament title. Uhl would be that man. Justin took the fight to Chad from the opening bell and never let up. Scoring well with hands and feet, Uhl knocked Bucholz to the canvas in the first round and put him in the spectators seats for the finals.

Fight #2: Said Hatim of Chicago, Illinois, USA VS Joe Surack of Kokamo, Indiana, USA.

Round #1: The first round was by no means a feeling out round. Both fighters came to the ring hot and went right to work. The fight was close at the bell and the crowd knew they were in for a treat.
Round #2: The second round was not so close. Hatim started to pull away, much to my surprise. Surack has been a fixture in the top ratings for some time and I just figured he would school the new guy. Wrong. Hatim took the second convincingly and showed impressive skills with both hands and feet. Sharps, clean combinations kept Surack guessing and the judges eyes on Hatim.
Round #3: Hatim sent Surack and his hopes of winning to the canvas this round. Simply dominating the round with hard-hitting hands and feet, Hatim showed skills that will serve him well at the Nationals. Hatim took the fight on all cards. Robert Elledge has good reason to worry.

Fight #3: Luke Larson of Eau Claire, Wisconsin, USA VS Shelton Barnes of Lake Zurich, Illinois, USA.

Round #1: Sheldon Barnes did two things well in the first round. He came out hitting very well showing excellent skills with his hands. He also bounces very well off the canvas. Barnes would have won the round but staying on your feet is a big plus to do that. Larson took the round on the strength of the knockdown.
Round #2: It seemed as though Larson would be following Barnes to the canvas but he weathered a barrage of kicks and punches by Barnes and worked his way out of trouble. He faded as the fight went on and the outcome started to sway in Barnes favor.
Round #3: Round 3 was all Barnes. Landing at will, he backed Larson to the ropes several times and landed a roundhouse kick to the head that we all felt. Larson weathered it all and was fighting back but it was not to be.

Fight #4: Bill Matthies of Bradley, Illinois, USA VS Mike Spelz of Chicago, Illinois, USA.

I do not have a round by round for this fight. It went the distance but quite frankly none of us had any time to take notes. The action was so fierce all you could do was watch. I know this. Both fighters have excellent hands and feet and Both fighters were in tremendous shape. Matthies took a standing 8 in the second round and ended his chances because the fight was so close. I do remember one comment from Spelz's corner. His trainer told him to pick up the pace. All the ringside officials looked at each other and almost on cue said, " How in the hell could he pick up the pace"?

Fight #5: Harris Hadzalic of Chicago, Illinois, USA VS Estorgio Gama of Lake Zurich, Illinois, USA.

Round #1: Round one was dead even. Two of the judges scored it dead even and so did I. A good solid round for both fighters but the tide was soon to change.
Round #2: Gama must have gotten the Zbilski speech because he came out much tougher and busier than the last round. Hadzalic was still in the game but you could tell he was starting to have trouble keeping up. Gama took, the round and turned the fight.
Round #3: Round three was all Gama. Staying much busier and landing more effectively, Gama was coming into a rhythm when the bell rang. It would be interesting to see this boy in a 5 round fight.

Fight #6: Tim Mazurkewicz of Roscoe, Illinois, USA VS David Wright of Roselle, Illinois, USA.

Round #1: Round one was even. Wright was counter punching well and Mazurkewicz was spending his time trying to end the fight in one punch. Two pretty well matched fighters. I hoped the first round was a feeling out period for both fighters and the action would settle down to more concise fighting but that was not the plan.


Round #2: Mazurkewicz caught Wright with a solid right and sent him to the canvas. Wright shook it off and continued the round with little effect. He countered well but had little chance to breath under the constant onslaught of Mazurkewicz.


Round #3: Wright sends Mazurkewicz to the canvas. I am not sure what the blow was or even if there was a blow. Mazurkewicz was firing so often and from so many off balanced angles, it was hard to tell what was going on.Wright took the round and kept the fight close. A word: Wright is a good fighter and I look forward to seeing him fight again. Mazurkewicz on the other hand should be the world champ by now and should never have had that kind of problem with Wright. Can you say "Slow down and keep your distance. Zurk"

Fight #7: Justin Uhl of Vernon Hills, Illinois, USA VS Dan Serna of Ingleside, Illinois, USA.

Round #1: A great round for both fighters with Serna landing punches with a little more heat. Very close. Too close to call.
Round #2: Too close. Too close. Staring to get the picture? These boys some how got the idea that you could pack three minutes into a two minute round. Needless to say the action was heavy.
Round #3: Ditto. Good hands. Good feet. Good combinations.
Round #4: That's right. Surprise, surprise. A majority draw and I could not have agreed more. The fourth round saw a different fight however. Uhl simply wanted it more and had the juice left to take it. Serna tried very hard to stay in the game but Uhl had too much left for Serna to handle.
Well that was the fight. The Zbilski boys did a great job as usual and I would like to extent my thanks on behalf of the IKF for very well run and well-matched fights. Thanks to Mark Wadika and Next Move Gear for sponsoring the event. This is Brooks Mason (Right) coming to you from the Emerald Mongoose Muay Thai Camp in Omaha, Nebraska, USA. Thank you and see you at the fights.
For more info please contact Promoter Rob Zbilski at (847) 458-8333 or by e-mail at teamz@3di.net


MORE NEWS OF 2-4-03





New Daily Hit Record
For IKFKickboxing.com Of
109,686 HITS!
The IKF web site continues to get more and more traffic exposure as marked by yesterdays new Daily Hit Record of 109,686 Hits. As far as what day this happened on, it was no surprise it was set on a Monday which is the most popular day for the site and the same day all the previous daily hit records were made. It's too bad that some promoters miss the high traffic Monday by not getting their event results in immediately after their events. Monday is the best day for reading all the news.
As noted many times before, web viewers increase greatly on Mondays since so many want to read about what happened in kickboxing over the weekend. This makes Mondays the highest rated traffic days for the site and the best news days for any news articles. The old Daily Hit Record was set the day after the 2002 IKF USA National Amateur Tournament. That record was on August 6th, 2002 of 100,177 Hits. The most popular (Most visited) top 10 pages on the site for February, not including the most visited Front Main Page are;
---

MONDAY, February 3rd 2003, AT 6:20 PM, PST
Mike Morello by KO!
IKF USA National Tournament Contender Gets His Just Due!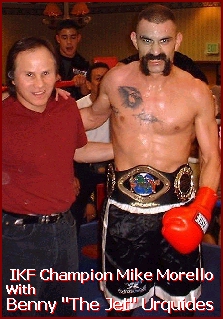 Despite major sponsors pulling at the eleventh hour, King of the Ring at Bakersfield's Double Tree Inn was a success with a capacity crowd of 600 attending on January 31. The highlight of the event was when Mike Morello of Santa Barbara, California, USA took the IKF Amateur IR West Coast Title in the 152 lb. division by knocking out Bakersfield, California, USA's own, Raul Rodriguez, 24 seconds into the first of five scheduled rounds.
Easily the favorite with a win-loss record of 6 wins and three losses, three by way of knockout, Rodriguez

danced around the ring after a short flurry of punches. Morello stalked his opponent and planted his left foot and let loose a right round kick to the head that caught Rodriguez off guard. The blow connected squarely on Rodriquez's jaw and neck that he fell hard on the canvas nearly rolling him out of the ring below the bottom ropes. Promoter Dominador Tomate (Left) and Judge Cecil Peoples jumped up from their seats and held Rodriguez from falling from the edge.
A small crowd of around 50 Morello Fans from Santa Barbara roared in approval when referee Nelson "Doc" Hamilton called the match over as Rodriguez was out. The remaining 550 partisan crowd was hushed to silence.
Promoter Dominador Tomate said, "I see this happen all the time. You train everyday, see your skills and techniques develop to be a good as they can, and then end up knocked out by a single punch or kick that comes from nowhere." On the other hand, it's clear that Morello's training "DID" work as planned. congratulations on the Title win!
Here are the remainder of the nights results
Joe Maxwell, (Right) 176 lb.(1-0) of Santa Barbara, California, USA beat Josh Tolbert, 178 1/2 lb. (0-1) of Oakhurst, California, USA by TKO, 1 minute and 22 seconds of the third round.


David Kellog, (Left) 158 1/2 lb. (1-0) of San Luis Obispo, California, USA defeated Brandon Armer, 160 1/2 lb. (0-1) of Bakersfield, California, USA by way of TKO when his corner stopped the contest at 1 minute and 15 seconds of the second round.


Kirk Floyd, 207 1/2 lb. (1-0) of Fresno, California, USA won a unanimous decision over Victor Lopez, 202 lb. (0-2) of Bakersfield, California, USA.


Arthur Wong, 184 1/2 lb. (1-1) of Pacifica, California, USA defeated Daniel Scott 185 lb. (0-1) by way of TKO, 1 minute and 27 seconds of the third round.


Michael Holliquest, 162 1/2 lb. (1-1) of Fresno, California, USA knocked out Savak Doudaklian, 164 lb. (0-2) of North Hollywood, California, USA at the 15 second mark of the first round.


Antonio DeLa Cruz, 136 lb. (3-0) from San Francisco won a unanimous decision over Blufrano Gaytan 137.5 (0-1) of Modesto, California, USA.
Also in attendance were former multi time World Kickboxing Champion Benny "The Jet" Urquidez, Woman's Boxing World Champion Jennifer Alcorn, and former IKF US Amateur Champion and now top UFC World contender Chuck "The ICEMAN" Lidell.
At right, Alcorn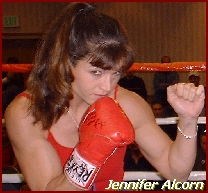 shows off the nights door prize. A pair of Gloves signed by herself along with Benny Urquidez, Chuck Lidell, and Oscar DelaHoya.
Tomate was happy with the outcome though he said he wished some of the matches went the distance. Weeks before the event sponsors pulled out, leaving huge gaps of expenses to

be taken care of by Tomate and his crew. Matchmaker Abe Belardo (Left) said depending upon venue availability, the next show will highlight a rematch between Rodriguez and Morello.
However, we'd like to see Rodriguez make his way to the 2003 IKF USA National Tournament instead and possibly meet Morello there. It's clear that Morello's experience from the tournament paid off in this bout. For more info on this event contact Mr. Domi Tomate by e-mail at Rodani@aol.com or Mr. Abe Belardo at (661) 342-5222.


MORE NEWS OF 2-3-03



Robinson Stops Crowdin
To Win IKF Title!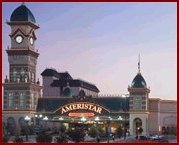 Kansas City, Missouri, USA: IKF Promoter Doug Freeman was a little worried as fight night approached. Number 2 World ranked Jeff Robinson of Kansas City, Kansas (Pro: 12-3/9, Am: 5-0/5) was scheduled to meet up with number 4 World ranked Gregory Laurence of Springfield, Missouri, USA (7-2) for the vacant IKF Pro International Rules Light Heavyweight Central US Regional Title at his Battle Star XII event at the Grand Pavilion Room at the Ameristar Casino Hotel (Right) in Kansas City, Missouri.
However, close to fight time, Laurence couldn't make the fight weight so he was replaced with unranked fighter Pete Crowdin out of Paris Arkansas, USA (7-5/0) The switch didn't hurt Robinson at all and in fact, helped him as he stopped Crowdin quickly at the 1:35 mark of round 3 of the scheduled 7 round bout. This was the only kickboxing bout on a night of Pro Boxing and Kickboxing.
For more info on this event you can contact Mr. Doug Freeman at (816) 767-0870. Mr. Freeman's next IKF event is scheduled for March 7th at the Beaumont Club in Westport Kansas City, Missouri, USA.
RESULTS
From IKF World Title In Illinois Coming Tuesday!!!
---


SUNDAY, February 2nd 2003, AT 11:20 PM, PST
IKF Point Kickboxing©
Marching ON!
Rocklin, CA, USA:There was no question to whether the City of Rocklin, CA USA was 'rocked" this past weekend because the answer is clear. YES it was! Johnny Davis' Art of Kickboxing Promotions company

and the IKF promoted yet another successful Point Kickboxing tournament at Rocklin's Sunset Community Center. Hundred of spectators, participants and volunteers came to assist with the event and witness the action. The Sunset Center is equipped with a huge kitchen area, well lighted stage, comfortable seating, meeting rooms and even a balcony area for cameras. With the ability to seat up to one thousand spectators, this venue makes a great host venue for Point and full contact Kickboxing and Davis' plans are to Bring It On!

Yesterday (Saturday) Davis' IKF Point Kickboxing© tournament would certainly be the best yet for IKF Kickboxing. Not only was the pre-registration strong but at 9:AM sharp, fighters begin showing up for registration with hopes of taking home one of the beautiful trophies that would be awarded to the winners. The registration was steady until the first tournament meeting at 11:30 AM. The elimination would start shortly after noon for a fine day of good, clean competition.
During the meeting, several instructors attending had some concerns about the tournament being a one round elimination event, stating that it would give the fighters a better chance of winning in a dual elimination bout. Reluctantly, Davis agreed to try this for the junior divisions which would allow them to fight two one minute rounds as oppose to one, one minute round. As Davis continues to develop IKF Point Kickboxing© on the tournament circuit, its clear he wants to do what's best for the participants.
However, during the event some of the same instructors who insisted on the dual elimination had a different opinion as they saw many of their fighters gasping for air and lacking techniques. However, the instructors were quick to make a point 'that perhaps we should have competed in a PKB event first before making such a strong suggestion for the dual elimination.' Since the inception of IKF Point Kickboxing©, it's been said that this event challenges one's conditioning much more than Point Karate because of the 14 and 16 oz. boxing gloves and the continuous domination style fighting.
Dual Elimination matches are up for review for future events and may become more realistic as instructors and participants learn the importance of proper conditioning in Point Kickboxing©. As some of them suggested, the tournament gave them a good idea of what and how they will need to adjust their training in order to be successful in Point Kickboxing©.
Children seven and under (boys and girls) division kicked off the competition that got everyone excited and cheering for the "little champs!" The 8-10 year olds came out in droves for this event as they had to be split into three divisions in order to give more competitors a better chance of winning as well as not allowing them to fight too many times in one day. As it stood, the winner of the event could have possibly fought up to five or six times or more, far too many times for this division.
Junior boys and girls, women and the men's divisions would follow with exciting matches that kept the cheering spectators on their feet! It would be one of the men matches towards the end of the day that would be one of the best example of Point Kickboxing©. These two men went toe to toe for the full two minutes, both landing well placed and controlled kicks and punches but this bout would end in a draw! Therefore, after a short rest, they had to fight another one minute "draw breaker round" and it was awesome! Sweat, blood (nose bleed) and determination was the only thing between these two as again they went head to head for the first and second place trophy! The crowd was going crazy, cheering each fighter! In the end, there would be a split decision winner but as promoter Davis looked on, he was compelled to give the contender a first place trophy for making such an exciting fight for the spectators and showing us all the true meaning of having grit and desire to WIN! The center referee, judges and the spectators burst into a loud and boisterous standing ovation to show their approval!
As Point Kickboxing© continues to march forward to obtaining its place on the long standing Point Karate tournament scene, it will have to constantly review and make adjustment to continue its productive path. Several promoters are inquiring as well as posting events for Point Kickboxing© tournaments. Soon the IKF/PKB Circuit should be in full affect and offering exciting semi contact tournaments across the country and abroad! This past weekend, Rocklin, CA USA was introduced for the first time to the new wave in martial art tournament competition. Based on the responses from many that attended, its future is secure!
Davis offers a special thanks to all the volunteers, instructors, competitors and spectators for making the event successful. For more info, contact Johnny Davis at Art of Kickboxing Promotions (916) 780-7483 or by e-mail at johnnyd@netwiz.net


MORE On Point Kickboxing©


Point Muay Thai Division Under Review
Although, the "American" Kickboxing (PK) division was very strong this past weekend at the IKF Point Kickboxing© tournament in Rocklin, CA USA and made the event successful and profitable, the Point Muay Thai division (PMT) will have to be reviewed to whether it is productive to continue in IKFPoint Kickboxing© Tournaments. Although, many MuayThai fighters requested this division be a part of the tournament, their support of it seems to say something totally different.
Hundreds of dollars in trophies were bought in advance for these divisions and without participation, this becomes what any good business person calls a "bad investment."
"Future PKB tournament participation from the Muay Thai community will determine the fate of the Point Muay Thai (PMT) divisions in IKF Point Kickboxing© and "Point" Muay Thai tournaments." Says Davis, IKF Point Kickboxing© Director.
---


SATURDAY, February 1st 2003, AT 11:30 PM, PST
The Sleeping Giant Awakes!
While Moses Parts The Sea Promoting, Selbee Parts With The Title!
Atlanta, Georgia, USA: IKF Promoter Brett Moses (Below Left) was once known in Atlanta as one of the GIANTS in the promotion game. However a few years back, he decided to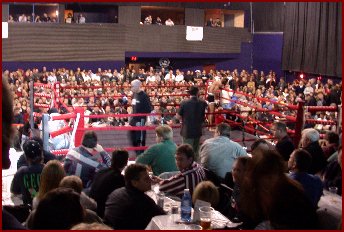 take some time off from promoting due to a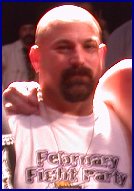 busy work schedule and other life commitments. However, tonight, the "Sleeping Giant AWOKE" at the DeKalb-Atlanta Center in Atlanta, Georgia, USA!
Now we've all read stories that claimed sellout shows, when in reality, there were plenty of empty seats... However, Moses and this writer don't need to make anything up... Those who were are witnessed the facts and the pictures at the right should speak for themselves... Georgia Fight Fans, along with many from South Carolina as well ROCKED THE HOUSE TONIGHT!
With 900 printed tickets gone before the opening bout, Moses and his promotional crew still had a line around the block, so they elected to sell standing room only tickets which according to our closest estimates, brought the crowd to around 1,200 to 1,300. This was a PACKED HOUSE! Moses picked up the promotional business right where he left off several years ago... ON TOP! With a 20' x 20' big screen to enlarge the fight action for those not so close there wasn't a bad seat in the house. In the end, several were turned away and all that was left now was the action, and was there ever plenty of that!
Moses' "February Fight Party" was mainly a card of mixed martial arts and because of this, many thought the crowd came just to see the ISCF MMA bouts... How wrong we were. The South East fight fans came out tonight to see BOTH ISCF MMA and IKF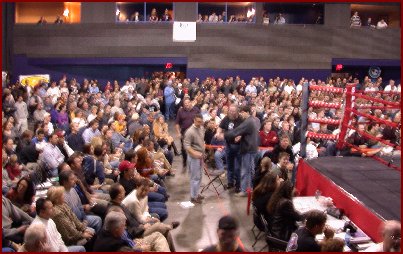 Kickboxing! The Main Event was one of only 2 IKF Kickboxing bouts on the night. It was the first title defense for IKF Pro USA National Heavyweight Champion Kevin Hudson of South Carolina against the challenger, Mark Selbee of Atlanta, Georgia. You would think this would be a total Selbee crowd in Atlanta but the Hudson loyals from South Carolina showed up in force! And we mean FORCE!
From what many had seen these two do in the past, the concensis was, "If it ended early, it would be because of Selbee's Power. If it went the distance, it would be Hudson's win." Selbee had never ventured past 5 rounds in a kickboxing fight so it was figured that the rounds past 5 would be his hardeast to win. On the other side of the ring, Hudson was known for being a slow starter, and was expected to get stronger after the first few rounds. However tonight, it was like the rolls were simply reversed.
Out of the opening bell, it was Hudson who seemed to get the edge while Selbee seemed stiff and nervous. The first 2-3 rounds were easily for Hudson and with this, many thought he would take the fight early and coast in the late rounds for the win. Two of the 3 judges gave Hudson the first 2 rounds and 2 of the 3 gave him the third. However in the fourth, it was Selbee who shook off the butterflys off in his first pro title shot and picked up the pace. Two of the three judges gave Selbee the 4th and 5th rounds and in round 5 Hudson, had less than 10 kicks for the first time in the bout. Only getting off 8 to make the minimum to Selbee's 15. By the sixth round, all 3 judges had scored it for Selbee which wasn't much of a change as Hudson kicked 9 times to Selbee's 19. In rounds 7 and 8, Selbee backed off his kicks and went to work with his hand combinations knocking Hudson down twice forcing referee Dan Stell to administer 2 standing 8 counts. From here on out, every round was Selbee's as for whatever strange reasons, the usually strong in the late rounds Hudson seemed to hit a wall and fuel was running out. However, Hudson's strong fan base didn't give up on their Champion, around round 8 or 9, the place sounded like a European soccer stadium as chants for "Kevin!, Kevin!" were equally met with chants for "Selbee!, Selbee!" In the final round, Hudson did enough to sway 1 of the 3 judges to give him the round while the others scored it 10-10 and 10-9 Selbee. What Hudson had in the end though was too little too late. Simply put, tonight was not his night...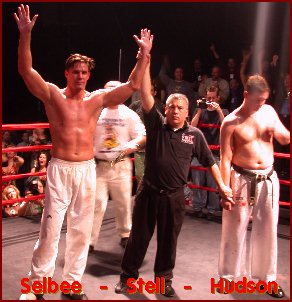 Tonight was not a night for storms and without a cloud in the sky there was no Hurrican Hudson. This was all Sunshine tonight and it belonged to Selbee. In rounds 5 through 10, Selbee outkicked Hudson 87 to 48. Selbee had a point taken away in round 9 for kicking too low while Hudson lost a point in round 8 for not getting all his kicks in. Although many thought this was all Selbee on the cards, this one ended in a Split decision, Judge Ray Thompson scored it 97-89 Selbee. Judge Jim Reneau scored it 96-91 Selbee while judge Sean Wohl scored it 95-94, Hudson.
Tonight was Mark Selbee (33 years of age) night who took the title from the Champion Hudson (31 years of age) in a great performance. It's the first of hopefully many titles for the young Selbee (Pro: 6-0/5,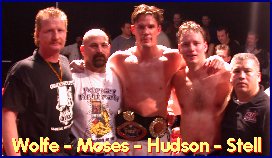 Amateur: 11-0/4) while for Hudson, (21-4/10) it's only a temporary setback in an excellent career. No doubt he will be back, and this loss will only make him more hungry for his next win. Tonight though belongs to Selbee, who now has his sights on maybe his first title defense, possibly on Moses next event scheduled for May or June of this year. Against who? No plans yet but if anyone is talking rematch, Moses better get a bigger venue...
Here's the results of the rest of the nights action. Listed in reverse order from the Semi Main event down to the first fight...
Co-Main Event: ISCF East Coast US Middleweight Title *Defense: *Jason Miller successfully defended his title against Todd Carney when he split open Carney's head with a dropping elbow. Carney's corner threw in the towel due to the excessive blood at 2:31 of round 1.


Co-Main Event: (Non-Title bout) ISCF MMA: Steve Headen (ISCF Southeast Us Middleweight Champion) had a big crowd on his side and the extra support pushed him past his limit of exhaustion as he defeated Franz Mendez by armbar submission at 2:15 of round 2.


IKF Pro Woman's Muay Thai: Sherri Thompson brought her impressive fight record to the house tonight and made short work of Andrea Blevens stopping her at the 1:42 mark of round 2 by TKO. Blevens had taken so many hard leg kicks that she could hardly stand which prompted referee Dan Stell to stop the bout.


ISCF MMA: Jeff Bedard (US Olympic Wrestling Training Center Resident) defeated John Wehby by unanimous decision after 3 rounds, 13-2, 13-2 and 15-0.


ISCF Lightweight MMA: (Non-Title bout) Keith Wilson made his name known as he defeated ISCF East Coast Lightweight Champ Shaun "The Executioner" Porter bt unanimous decision 14-1, 15-0 and 15-0.


ISCF Heavyweight MMA: Kevin Brooks came to the ring with one of the coolest strip-cut, haircuts we've ever seen and a physic to match. However ripped muscles and a cool haircut didn't scare the smaller and more slender Brad Lynde. If we could write this as a gentle defeat by Lynde, we would. But we'd be lieing. Lynde beat Brooks as if Brooks loved to feel pain. He must have landed 10 to 20 clean blows in a row to Brooks head. To our surprise, Brooks corner allowed it to continue without throwing in the towell. However, also to our shock, so did the referee. Finally when the IKF representative at ringside went over and made a comment to Brooks' corner, they finally threw in the towell. Brooks tried to stand but fell back down to the canvas. He was lost and in shock... He was beaten and battered and his eye was swollen shut. It was an awful beating he should have never had to take, but sometimes, pride and ego interupt logic in the MMA fight game.

But in their defense, no one wants to quit, and in MMA, sometimes quitting isn't an option. It's a fight game where fighters surpass their known limits and surpass the unknown ones as well. The words ULTIMATE describe this game best, for this truly is the ULTIMATE in contact sports. It's too bad though that Brooks may pay the price for this beating for a long time in pain.



ISCF MMA: Tom Kirk defeated Pee Wee McCall by TKO due to the severe beating he took in round one. It was so severe that McCall's corner refused to allow him to return to the fight after the break.


ISCF MMA: Cheyenne Buchanon (Suua Khai) defeated Rob Smith (Contact Sports Club) by heel hook at 1:46 of round 1.


Pro ISCF MMA Debut: Dan Anchetta (Hardcore Gym) defeated Doug Edwards (Contact Sports Club) by submission at 4:45 of round 1. Their bout is pictured twice at right.


ISCF Amateur MMA: Shawn Gonzalez (Ross) defeated Chandler Oakes (Myrtle Bch., South Carolina, USA) by verbal submission at 1:36 of round 3.


ISCF Amateur MMA: Andy Foster (United Karate) defeated Jim Cruce by armbar, 40 seconds into round 1.
For more information, Mr. Moses can be reached at not_tank@hotmail.com or call the Fight Party Hotline at (404) 315-7235.
---