SPECIAL GUEST
Don "The Dragon" Wilson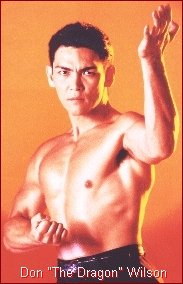 "The DRAGON"
Will Be In the House At The
2007 IKF World Classic!
Although he would still step into the ring with anyone today, in 2002 at age 47, Don "The Dragon" Wilson entered the ring for what would be his last real kickboxing bout. Wilson had continued his undefeated comeback streak since winning his IKF World Title back in 1999 with his 3rd victory in 3 tries (2 wins by KO/TKO and 1 by decision). in the bout, Wilson faced off against pro kickboxer Eddie Butcher of Baltimore, MA, USA where in round 6, Wilson landed an overhand right that put an end to Butcher.
After that fight his Professional Kickboxing Record stood at 71 wins, 5 loses and 2 draws with 47 wins coming by the Knockout. He has been regarded as one of the greatest kickboxer of all time. This year, up and coming Amateur Kickboxers will get a chance to rub shoulders with him all weekend long because he will be "In The House" at this years 2007 IKF World Classic Amateur Championship Tournament this coming August 10, 11th & 12th in Orlando, Florida, USA.
During his career Don won a total of 11 World Titles with several Sanctioning bodies that included the IKF, WKA, KICK, ISKA, STAR and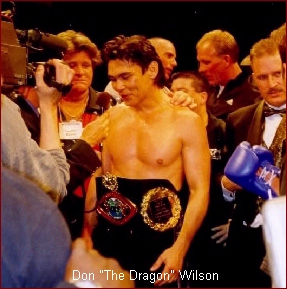 the PKO. Never backing down from a challenge, Don has fought champions all around the world, in Hong Kong, Japan, Italy, Canada, Germany, Great Britain, Thailand, Las Vegas and countless other locations.
In 1999 at 45 years of age, (Left) Don stepped back into the ring to fight for the vacant IKF Pro, FCR Cruiserweight World Title on May 15th, 1999 in Lowell, Massachusetts, USA against Dick Kimber for what is still this day, the highest kickboxing purse EVER paid, $150,000.00 and some additional training expenses. Kimber swore to everyone that he'd have the fight over before the fifth round. However when the Dragon unloaded on Kimber in round three, Kimber dropped to the mat and referee Dan Stell counted him out on the floor, a count that went into the round break. Kimber never stood during the count and to this date, Kimber never fought again. It had been over eight years since Don last entered the ring, but his trademark sidekick was stronger than ever. Wilson picked up the IKF Cruiserweight World Title for his efforts and Kimber kept his promise when this one was over in round 3. In 2001, having never been challenged for his title, Wilson Voluntarily Retired it to move down to the Light Heavyweight Division.

Over his career Wilson fought and defeated many Great fighters such as James Warring, Demetrius Edwards, Maurice Smith, Dennis Downey, Dennis Alexio, Branimir Cikatic, Mike Winkeljohn, Herb Thompson, Greg Smith, Muhammed Ashraf Tai, Panya Sornnoi, Pongdienoi Prasobchai, Rob Salazar, and a very controversial Draw against Jean-Yves Theriault which many thought Wilson clearly won.
After his first retirement from the ring, Wilson went on to yet another level of stardom as an action movie star. Movies to his credit include: The Last Sentinel (2007), Soft Target (2006), Sci-Fighter (2004), Stealing Harvard (2002), Redemption (2002), Moving Target (2000), The Capitol Conspiracy (1999), Whatever It Takes (1999), Inferno aka Operation Cobra (1998), Hollywood Safari (1997), Papertrail (1997), Night Hunter (1996), Virtual Combat (1996), Bloodfist VIII: Trained to Kill (1996), Cyber-Tracker 2 (1995), Bloodfist VII: Manhunt (1995), Batman Forever (1995), Ring of Fire 3: Lion Strike (1995), Bloodfist VI: Ground Zero (1995), Terminal Rush (1995), CyberTracker (1994), Red Sun Rising (1994), Bloodfist V: Human Target (1994), Out for Blood (1993), Ring of Fire II: Blood and Steel (1993), Bloodfist IV: Die Trying (1992), Blackbelt (1992), Bloodfist III: Forced to Fight (1992), Ring of Fire (1991), Future Kick (1991), Bloodfist II (1990), Bloodfist (1989) and Say Anything... (1989).
During this time Don married well known Film and Television Makeup artist Kathleen Karridene in 1996. They have three children together; Jonathan, Drayden, and Aubrianna. Over the course of his career Don won 11 world titles in 3 different weight divisions, something no other fighter has accomplished. Here is a list of his 11 World titles and some of his awards.
Wilson's Titles

1999, IKF Cruiserweight World Champion (190 lbs.)
1989, PKO Light-Heavyweight World Champion (170 lbs)
1988, ISKA Cruiserweight World Champion (182 lbs)
1984, STAR Super Light-Heavyweight World Champion (184 lbs)
1984, WKA Super Light-Heavyweight World Champion (184 lbs)
1983, STAR Cruiserweight World Champion (184 lbs)
1983, WKA Cruiserweight World Champion (190 lbs)
1983, KICK Light-Heavyweight World Champion (175 lbs)
1982, WKC Light-Heavyweight World Champion (175 lbs)
1980, STAR Light-Heavyweight World Champion (175 lbs)
1980, WKA Light-Heavyweight World Champion (175 lbs)

Awards

1988, STAR Fighter of the Year
1985, STAR Fighter of the Year
1984, STAR Fighter of the Year
1984, STAR Career Champion: Highest Rated Kickboxer of All Time
1984, Black Belt Hall of Fame
1984, Official Karate Hall of Fame
1983, Official Karate Magazine's Fighter of the Year
To read previous IKF articles about Don Wilson click HERE!